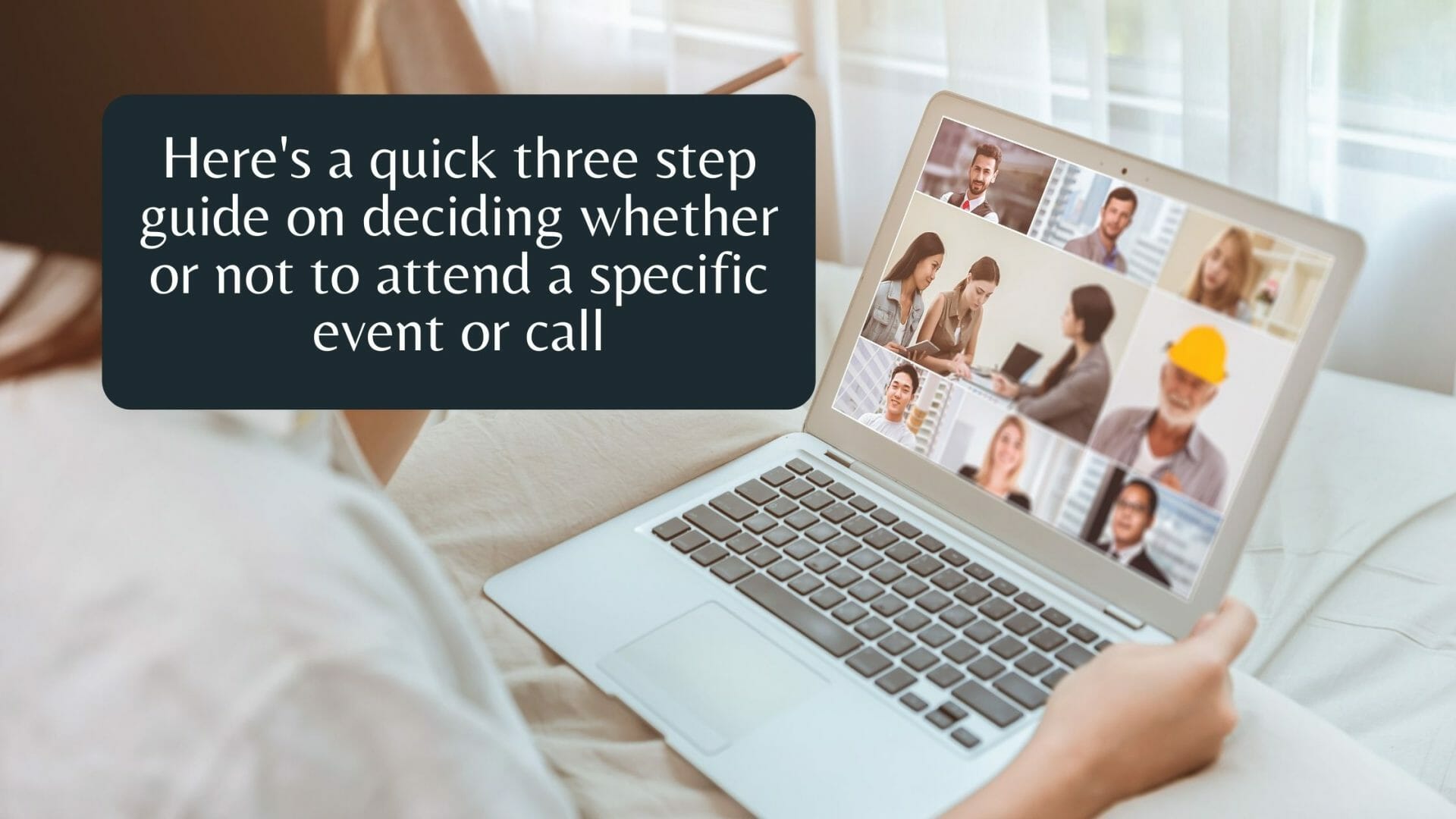 Do you have a love-hate relationship with zoom calls in 3-day events?
I know so many who do.
Are you finding that you're attending a ton of them but not seeing paying clients coming from them?
It could be that you're spending time on the wrong calls and events. I see this all the time with entrepreneurs who are struggling to make consistent revenue in their business and they attend every little call and event that comes across their path, especially the free ones. These people rarely pay for an event because they figure why should I pay for one when I can attend all these other ones for free?
The truth is, and you already know this, but you get what you pay for. Now I attend plenty of calls that are free but usually there within a membership that I'm paying for on a monthly or annual basis. Meaning most of the calls and events that I attend are technically paid cause and events because when their skin in the game you get more out of it.
I also choose events and calls that are more engaging for the attendee rather than ones where I'm just watching a webinar or listening to a speaker. At this point of my business there's very few things I need more training on. Don't get me wrong I still listen, learn, and implement new strategies all the time. But I picked these up from the calls I'm already attending.
If you're tired of attending zoom calls in three day events and not seeing results then there's two or three things you might need to tweak in order to change your results.
You want to change your results? You want to get more clients?
Here's a quick three step guide on deciding whether or not to attend a specific event or call.
1) Do some research. When I'm evaluating whether or not to attend an event or call that I've never been to before, I will go to the event website and or the Facebook page or event and view previous pictures because most people will post pictures. I will look for friends and colleagues in those pictures and if I see people that I know, which I usually do, then I will send them a quick message or email asking what they thought about that event and if it was engaging. If there aren't any pictures to see and I have no idea who's doing the event I will send a message to their contact email address and ask questions such as; does this event have breakouts for attendees to get to know each other? Is the chat room open or closed? Is this an interactive call where people get to introduce themselves or is this a multi-speaker webinar type of an event? Then I may also look to see who's hosting the event and make sure they have a viable website and look like they have a good following to know that they'll be enough people on the call.
2) What's your goal? Is your goal to make connections with prospects, referral sources, and or find other speaking opportunities? Because that's always my goal. I never go to an event just for the speaker these days. I always want to maximize my time with networking opportunities and at events where I can actually say who I am and what I do and or connect in the chat room. It's okay to go to an event where you want to learn but please know what that thing is that you want to learn don't just go to an event to soak up like a sponge everything everyone is talking about because then you'll just be overwhelmed with too much information. For example if you want to learn more about how to grow your Instagram account then seek out one or two Instagram experts and see where they're speaking or go to their events. Figure out what you want to learn first then seek out events to support that don't go to events and be a sponge, go to events with a purpose.
3) Work the room. When you do attend events and cause you need to properly work the room to maximize your connections. Most people I see are doing this inefficiently by copying and pasting information into the chat room dozens of times throughout an event, not strategically which is what you want to do. Beyond just posting in the chat you have to:
Listen to people and what they're saying to identify who might be a really good prospect for you
Reach out to them "on the spot" in the chat to see if they would like to schedule a call with you (for info on your services OR simply a get-to-know-ya type call that is NOT a sales call…. too many people lead with trying to book sales calls whereas I book collaboration calls) – You have to do this during the call though otherwise you have to spend way too much time in the follow up, when you should be moving on to the next call! (PS this also means you have to have your Zoom Blurb Templates ready for the chat! You can get access to my template sheet here if you want.)
Give people YOUR calendar link to save YOUR time in booking on all theirs
Private message people who interest you either for your biz or referral sources too over on social media – usually Facebook or LinkedIn you can search and find people pretty easily if you can see their first and last name on zoom and even sometimes their website url is shown too.
Send an email too – do all 3!!! PM in chat, PM on social and email them – all 3 for best results and ensuring that they see you in at least one place.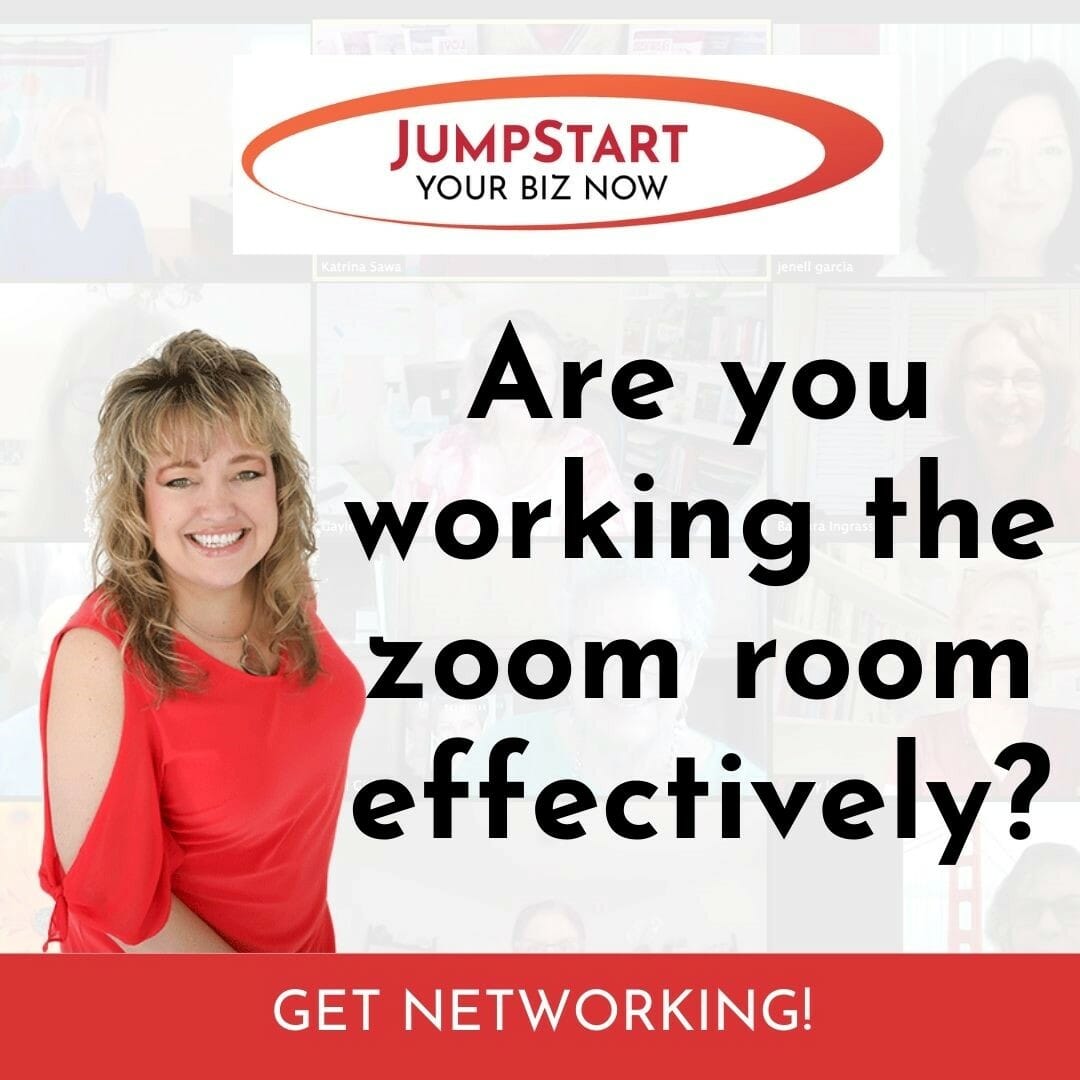 For more information on how to work the room on zoom events, calls and meetings whether you are the speaker, host, sponsor or simply an attendee, attend my 3-day true business training event in October (see below). I work WITH you on this very important marketing strategy – NETWORKING with purpose, among many other areas to jumpstart your business, marketing, revenues, expert status, pricing and more.
You can also go get access to my online training on this topic if you prefer, the Jumpstart Your Networking Training, here.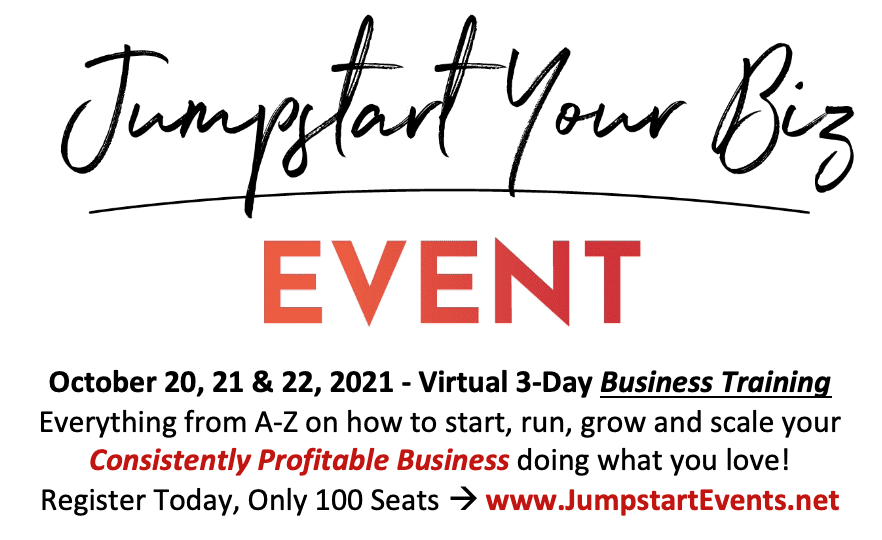 Registration is NOW OPEN for the October Jumpstart Your Biz Event!! Go sign up now while tickets are only $97… that price won't last long! This is my bi-annual business and marketing 3-day training event that always has new content, new strategies and I give out new templates and resources too. Plus receive a huge bonus of my entire Jumpstart Your Sales online course when you register! (This bonus will help you create and close more sales, especially high-end sales and it is a $297 by itself… you get it for just $97 when you register for the event!)
Let's make this YOUR BEST YEAR ever!
I know how to show you how to tweak what you're doing to get really BIG RESULTS in 2021! 
Here's to creating and enjoying a life full of lots of Love & Money!
"I decided to work with Katrina after her 3 day event, even though I went to the event with no intention of hiring a coach. I liked her business knowledge and her desire to help her clients succeed in their business. I have found while working with her for the last year, I continue to learn an incredible amount. She is constantly learning the latest business techniques and she freely gives this knowledge to her clients. My confidence has increased substantially since I have worked with Katrina and I consistently stretch out of my comfort zone. My business has transformed in ways I could have never imagined and she continues to help me with new ideas. I encourage anyone who is interested in growing their business and making their business more sustainable and fun- call Katrina."
"Katrina's straightforward approach gives you options and tools to make it easy to understand parts of your business. Her approach not only makes it easy but she tells you the mistakes she made and what did not work. Katrina will save you hundreds of hours of research, money and frustration on systems. She is the expert on internet marketing, video webinars, radio, and she will teach you how to be mobile so you can literally can operate and conduct business from anywhere. She can assist from networking to speaking events. She will show you how to be effective at marketing events to following up on after event. Katrina's step by step process takes the overwhelmed feeling away. She is the master of Social Media to assisting in website. Hire Katrina Sawa for your business coach."
"In the time that I have been in the Live Big Mastermind I have created a steady stream of 1on1 clients, speaking opportunities, written 1 book myself and been a co-author in 3 others AND created an online course. I relied on Katrina's clear instructions and each step of the way to create a foundation for success. I've been able to hire 2 VA's to delegate the things I don't want to do to be able to do all the things I love to do! I am on my way to a 6+ figure business and this would not have been possible without Live Big Mastermind and Katrina Sawa!"
Get Started Today
Sign Me Up!
Sign Up Now to Receive My Email Newsletters, Video Tips, Articles, Advice, Free and Paid Events and Opportunities, Plus, Tools and Resources to Grow Your Business Every Week!