Attend One or More of Our Free or Low Cost Virtual Zoom Calls and Events for Entrepreneurs
Want to Attract More Clients, Make More Money with the Confidence that comes with Getting Clarity Around What You're Selling, How You're Marketing and More?
Free Virtual Event: Jumpstart Your Business Planning November 28 at 9:00 am PST
Are you wondering why you're not making the money you thought you would by now? You could be missing some very critical elements of your business plan, marketing strategy or your systems that run your business. I find that many entrepreneurs are so busy "IN" their businesses they just don't always see these things! This 1-Hour Business Planning & Brainstorming Call is for you IF you want to make a LOT more MONEY doing what you LOVE and you're tired of working so darn hard at it. I only work with highly motivated entrepreneurs who want to create better lives for themselves, their families and those they intend to impact.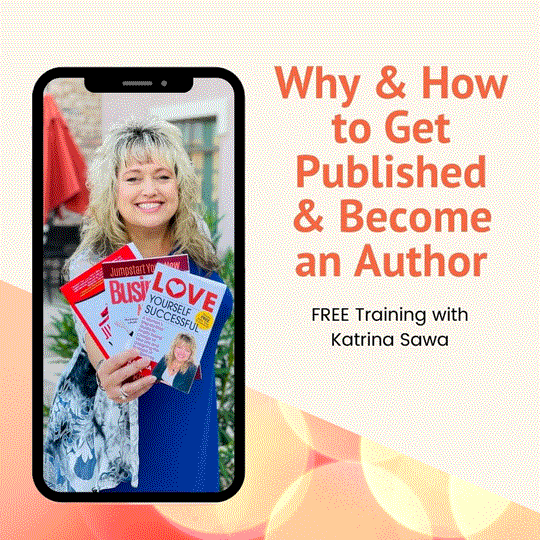 Free Virtual Event: Book Publishing Informative Call November 28 at 10:00 am PST
Are you wondering how to become an author, how to get your book published, what about designing a book cover, get an editor, what are the costs, how to become an Amazon Best-Selling Author??? Are you wondering all or some of these things now because you have a goal of getting a book done in the next 12-18 months? Well, show up to this informative call live and I'll share all the details you need to know BEFORE you write your book! Trust me, you want to plan ahead for all of this to at least know who will support you in getting this done. 
Additional Places You Will See Me or Hear Me Speak.
Join me for one or all of these events! They change monthly.
→ LEAP Business Incubator Mastermind every 2nd Tuesday – Join Colleen Biggs, CEO of Leap, and myself, Katrina Sawa. We're partnering monthly on leading this high-level mastermind that any women entrepreneur can attend. You may attend this event in person one time as a guest, then if you are not joining as a member, there is a $20 fee that will be applied per event. Click here to learn more and register for an upcoming mastermind
→ Advanced Email Marketing Conference hosted by my friend, Ellen Finkelstein happens Oct 23-Dec 4. I spoke on 10/30 about using AI for Developing Your Email Content and it was a good talk. You can get access to my talk replay if you pay for the upgrade, plus many other amazing speaker presentations too, or join for free and catch what you can on the calls every Monday!  Register here.
"Katrina's events drive you to action! Attendees learn tons of strategies that are instantly implementable. Kat truly cares about the success and growth of those in her community. You MUST ATTEND one of her Live Big Events!" – Alicia White, CEO Back of the Room Productions
I'm starting to look for speakers for my January 2024 in person conference for entrepreneurs. All topics that help business owners could be a good fit. Learn more and apply here now.
I've applied to start a local chapter of Polka Dot Powerhouse in the Placer County area of Northern California. If you are relatively local to this area and want to learn about this amazing women's connection company that you can be a part of, click the image to the right and watch the info call I did recently then email me and I'll send you info! katrina@jumpstartyourbiznow.com.
Hear What People Have to Say About Kat's Coaching, Mastermind, Events and Programs!
For over three years, as a member of her Live Big Mastermind, Katrina's coaching has increased my confidence as a business owner, productivity and sales. I now earn more than I ever dreamed and have more offerings than I could ever imagine. Her marketing strategies produce real results and it's why I recommend her coaching services to colleagues and my own clients. I know, trust and believe she can make a big impact on a person's business and life.
I have been working with Katrina Sawa for over 6 years now and can say she is a fantastic coach. She has a great mind for marketing and developing your business and she's even gotten me outside of my comfort zone by putting videos on my website, doing lives and even speaking.
I was just on my website and it looks fantastic!!!  My opt in looks good, and when I put in my info I see that you changed the thank you message and it is perfect!!! Thanks again for your help and advice, it was badly needed! There's more to be done, but you have taught me to at least do some of my back end stuff!
I got a ton out of your coaching. Many times with coaches, it's just the same old ideas. I have enough material to implement from the next several months.
I'm really excited about what I'm learning.  You can add me to your list of people who wish they had found you 10 years ago.  When the student is ready the teacher appears.
Katrina Sawa is known as the Jumpstart Your Biz Coach because she lovingly kicks her clients and their businesses into high gear, online & offline, and fast. 
Katrina helps entrepreneurs make more money doing what they love. She is the creator of the Jumpstart Your Marketing & Sales System, a tell-it-like-it-is speaker and International Best-Selling author with 22 books including: Jumpstart Your New Business Now, the Jumpstart Your _____ (blank) compilation book series, and Love Yourself Successful. 
She has been featured on the Oprah and Friends XMRadioNetwork, ABC and TheCW and she was awarded the National Collaborator of the Year Award by the Public Speakers Association and a 2-time Nominee for the Wise Woman Award by the National Association of Women Business Owners. She speaks to groups of all sizes, holds live training events annually.
Katrina is also the CEO of JumpstartPublishing.net where she helps 30-70 authors each year get their books published and become best-sellers.
Get Started Today
Sign Me Up!
Sign Up Now to Receive My Email Newsletters, Video Tips, Articles, Advice, Free and Paid Events and Opportunities, Plus, Tools and Resources to Grow Your Business Every Week!