Katrina Sawa is known as the Jumpstart Your Biz Coach because she literally kicks her clients and their businesses into high gear, online & offline, and fast. Katrina is the creator of the Jumpstart Your Marketing & Sales System, the F.O.C.U.S. Framework where entrepreneurs get more clarity on what to do and how to do it, and the Jumpstart Yourself as a Speaker System. She is a 12x International Best-Selling Author with 20 books. Katrina's first, hosted anthology book, Jumpstart Your _______ was published in Fall of 2018 and now every year Kat gets to help 12-20 entrepreneurs become authors as a new volume of Jumpstart Your _____ (blank) is published annually.
Katrina's most popular two books help entrepreneurs worldwide, start, grow and scale their businesses with more intention, ease and profit: Love Yourself Successful and Jumpstart Your New Business Now.
Katrina helps entrepreneurs make smarter marketing and business decisions in order to create the life and business of your dreams. She helps you create your big picture vision, plan and initial offerings if you're just starting out. She helps you develop a more leveraged, efficient business and marketing plan if you're more seasoned. Either way, she shows you all the steps, systems and marketing that need to be put in place in order to accomplish your big picture business, life and money goals. She does this via one-on-one coaching, her Live Big Mastermind, her Jumpstart Events, Webinars, Podcasts, numerous Facebook groups she runs as well as the International Speaker Network.
 Sign up for my emails, newsletter, video tips and even fun mail in your mailbox (if you give me your mailing address too).
You'll be glad you did!
"I believe you need to build your business the right way from the start if you're really SERIOUS and want to make a LOT more MONEY doing what you LOVE!" – Katrina Sawa
Taking Action in Complete Faith
When I first started my business, I was trading hour for dollar with clients in a typical marketing consulting business. I had some clients on retainer and some just paid me when they needed me. All of my income however depended on how many hours I worked. Can you relate?
Obviously with that type of business model it was hard to get ahead (or take a vacation!), even with raising my rates every so often.
Plus, in addition to that, I was living in an unhappy marriage with a husband who wasn't very supportive of me being an entrepreneur. He was always worried about the roller coaster of income and he would worry when I wanted to invest money back into my business which I knew I needed to do to learn and grow.
Not too supportive huh? That's where the concepts for my book, Love Yourself Successful, came from. I learned soon after that so many of my clients were going through the same lack of support in their lives as well.
My hope is that this DOESN'T sound familiar to you but I do unfortunately see this all the time with my coaching clients and it literally breaks my heart. I stopped settling and broke free of that marriage in 2005 and have increased my business every year since.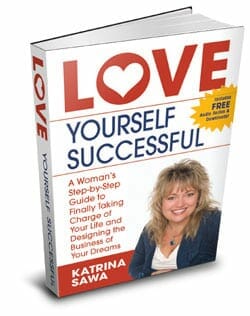 Now I live the life of my dreams!
I have a business that I'm passionate about, helping other entrepreneurs make money doing what they're passionate about. I am married to a man who adores me and who is the perfect fit for me. He and his beautiful little daughter light up my life and are now my "big why".
But it wasn't such an easy road for the three of us, 6 months after we started dating I discovered that I had to have two total hip replacements done – big surgeries that I did both in 2013. After I got up and running after that second one, he was diagnosed with cancer that he beat thankfully but it was not an easy 2014 either!
In those two years it really solidified in my mind the crucial aspect of having systems in your business! If I hadn't had a small team of people plus massive systems for lead generation, marketing, follow up and sales I would have lost about half my income for about an 18 month period.
This is important for you to read (and most importantly to 'hear') because if you're still trading hours for dollars, or still working in a job that you hate or feel like there's more to life than what you're living now even if you're already in your own business….then YOU'RE RIGHT! You could be SETTLING!
Let me help you and show you how to transform your life, your new business or even your existing business into a smooth-running, PROFITABLE and SUSTAINABLE business doing what you ABSOLUTELY LOVE to do!!