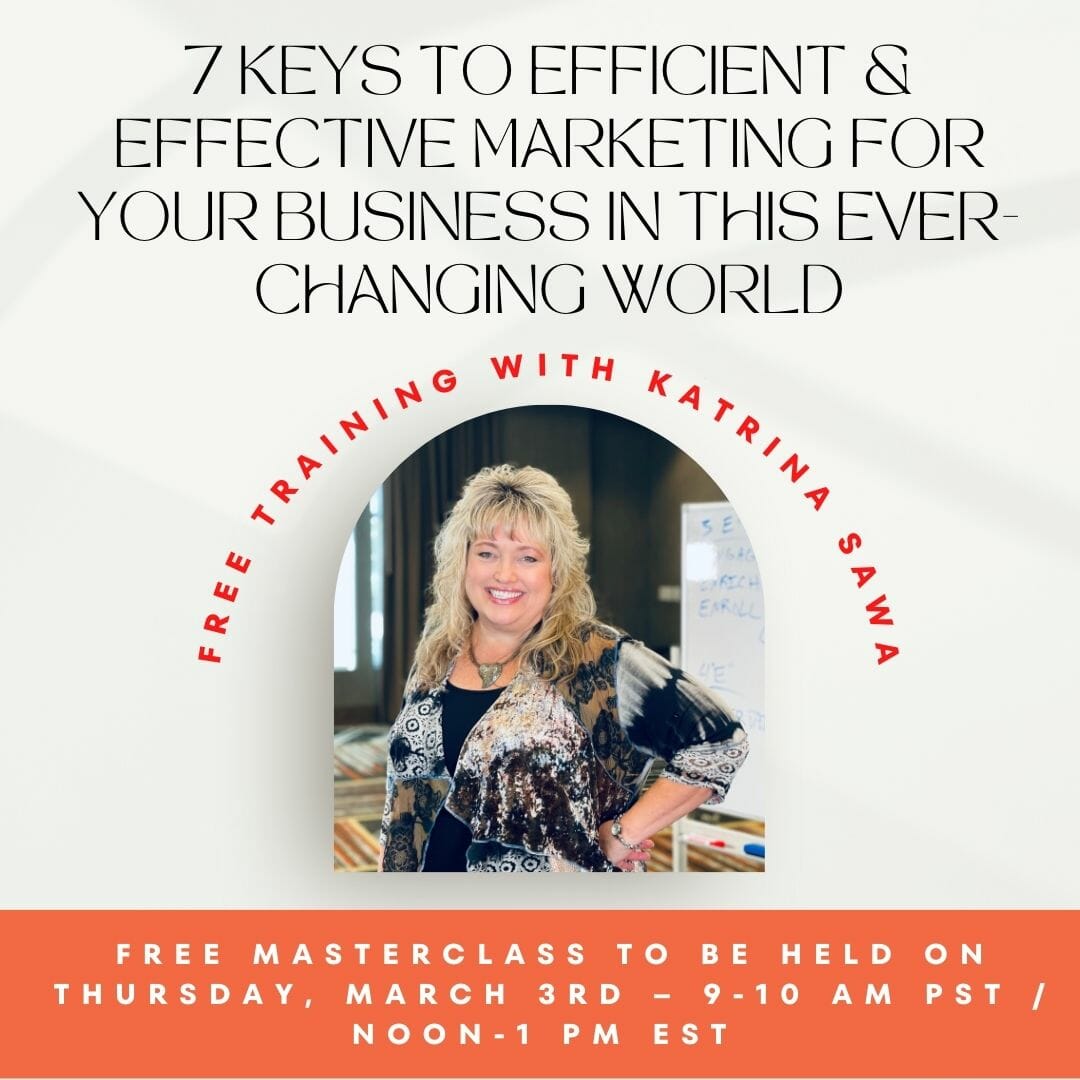 7 Keys to Efficient & Effective Marketing for Your Business in This Ever-Changing World
Free Masterclass to be held on Thursday, March 10th – 9-10 am PST / Noon-1 pm EST
Please join me on this BRAND NEW Jumpstart Your Marketing Masterclass!
I PROMISE to help you get CLEAR & FOCUSED for the next few months/year, no matter when you go through this!
There are WAY too many ways you can market your unique business and what everyone tells you may NOT be the right way for YOU…. Contrary to popular belief you DO NOT need to do it all! I will show you how to pick a lane on which marketing strategies to do based on your personality, likes and dislikes and what you can just stop doing.
The steps I'm going to walk you through are the things that brought me to a CONSISTENT multiple six-figure business year after year AND what I see my peers and clients doing also that bring them consistent cash flow.
I focus on MORE MONEY, LESS STRESS, having a LIFE, Love, Vacations, Family & more.
If you want THAT type of business, then follow along and let's go!
On this training, you will learn how to:
Simplify your marketing strategy
Stop doing the wrong things
Stay focused and consistent with automation, building an engaging community
Hire smart for tasks that you shouldn't be doing.
This call will be held live via Zoom with me, Katrina Sawa, and attendees will be able to speak, get laser coaching, ask questions, chat in the chat room. Recordings will not be available for free, there will be a small fee to watch so COME LIVE!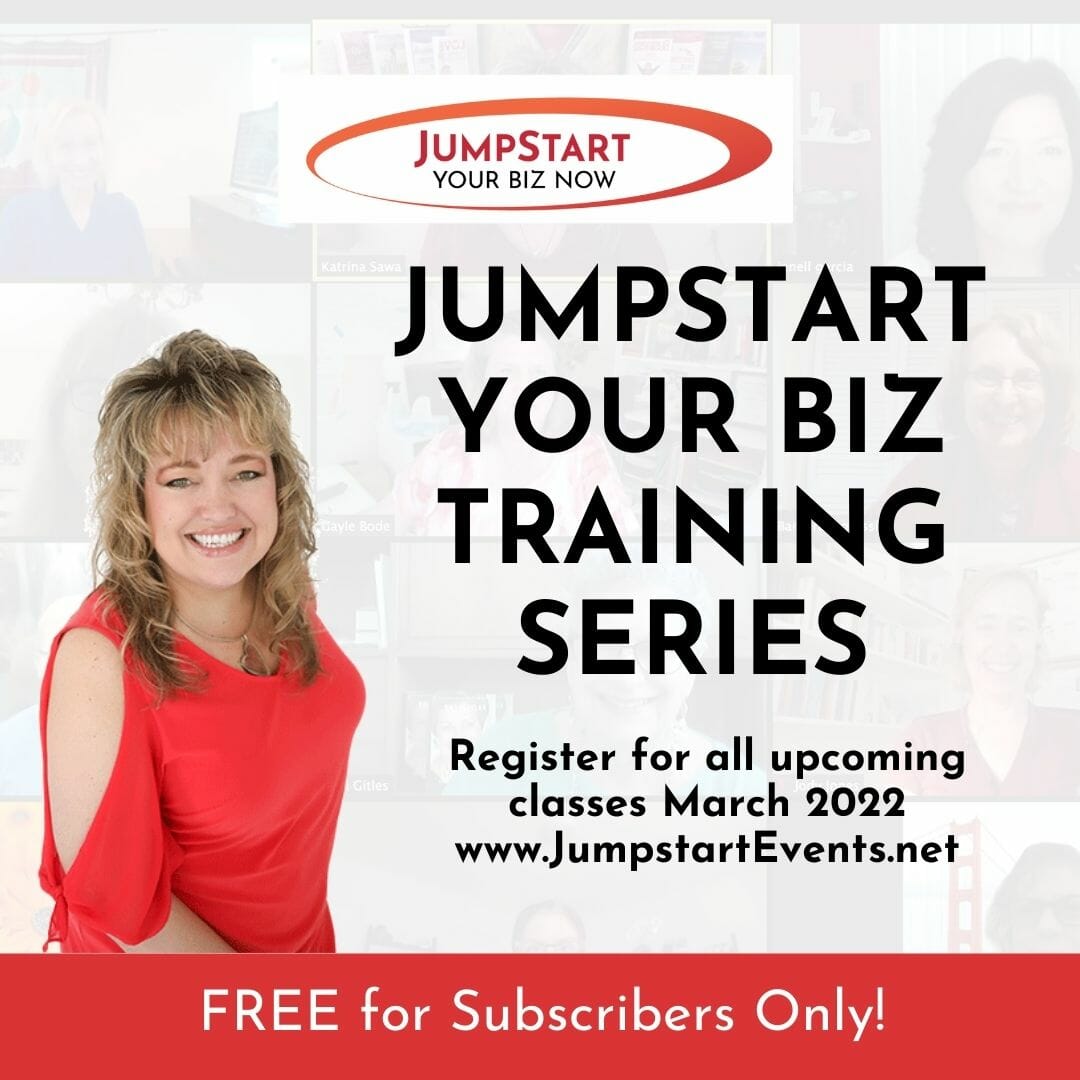 I'm hosting FREE MASTERCLASSES in March! Every Thursday from 9-10 am PST – You have to join LIVE to hear them, otherwise you'll pay for replays. FYI
Jumpstart Your Follow Up 3/17
Jumpstart Your Book 3/24
READ MORE ABOUT EACH OF THEM AND RSVP HERE.
BIG OPPORTUNITY TO SPEND 3 DAYS WITH ME March 30, 31 & April 1st – 3-Day Mastermind with Kat & her Live Big Mastermind Clients
I'm giving this never before opportunity to 10 highly motivated individuals/entrepreneurs who want to have a deep-dive planning and implementation session. There is NO obligation to join the group before or after. Just come, spend 3-day with us and watch your business TRANSFORM!  LEARN MORE & REGISTER HERE. 
SPEND 1 DAY WITH ME Virtually & Get Your Technology, Back-End Systems & Social Media Dialed In! – Friday, April 22nd from 9am – 4 pm PST 
My clients LOVE it when I host these Techy Trainings & Implementation days! The back end structure and systems in your business are the lifeblood of your revenues – don't ignore this, just come learn WHAT & HOW to do! LEARN MORE & REGISTER HERE.
Let's make this YOUR BEST YEAR ever!
I know how to show you how to tweak what you're doing to get really BIG RESULTS in 2022! Book a 1on1 strategy call with me here now!
Here's to creating and enjoying a life full of lots of Love & Money!
"Katrina gave me the push I needed to implement changes in my business and helped my marketing take off with her "jump start your business" bootcamp. IF you're not happy with how your business is going, it's not going to get better until you gain the right knowledge and learn the right way to proceed. I had been listening to different teachers, a little bit here and a little bit somewhere else. But no one gave me the methodology Katrina has. Hire Katrina and watch your results!"
"In just 3 short months in your Live Big Mastermind, wow, you helped me get clarity around my entire planning schedule, and how to make sure I keep the balance in my own business and life, especially since that's what I teach. I've simplified my website, and lead generation systems so things run a lot smoother now which is taking a lot of stress out. I've taken advantage of more speaking opportunities, online summits and am collaborating a lot more with other experts that are growing my reach tremendously. Plus I finally created and launched the high-end mastermind that I have been called to lead for years now and filled it with 5 new people in 30 days! I can't wait to see what else we create as I'm on target for my best year yet!"
Get Started Today
Sign Me Up!
Sign Up Now to Receive My Email Newsletters, Video Tips, Articles, Advice, Free and Paid Events and Opportunities, Plus, Tools and Resources to Grow Your Business Every Week!