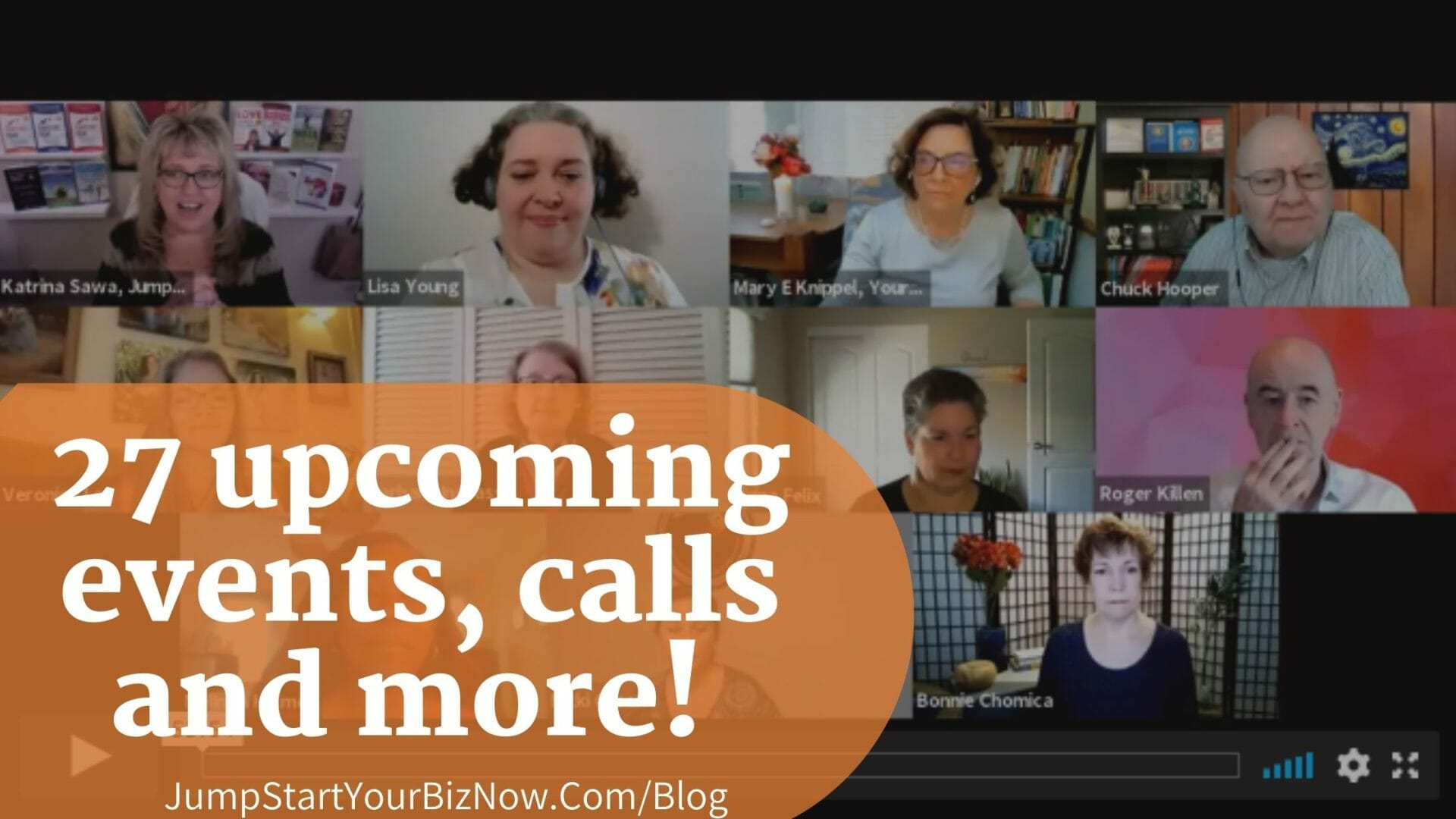 You're invited… 27 upcoming events, calls and more! (Yes… 27!)
Join me!
It's a busy time, and I know this is an overwhelming list – BUT WHAT IF some of these will really catapult your success?? Take a moment to really review the events and calls below… If I'm attending them, you may want to, right?
There are summits and giveaways all over the place, people are announcing in person events (I'm hosting one the end of March myself!) and it's fun to see so much "possibility" out there.
Whenever there is a lot going on, I hope you look at it as possibility for you and your own exposure, growth and $$??
Here are a 27 !! things coming up that I'm attending, hosting or speaking at, most are free – JOIN ME and let's get you some clients, speaking gigs or power partners, what do you say?
Get registered now and I'll see you soon! (Make sure you look closely at all of these!)
Remember to attend the International Speaker Network calls. Here are the next 2 – Tues, 3/1 at 4 pm PST and Fri, 3/18 at 9 am PST.
Mary will be speaking about finally writing that book you know you have in you and Colleen will be talking about how your network and community can increase your business!
Book Launch for another book that I'm a part of! It happens Tues, March 1st
If you can go buy this book that day, you'd help out me and the other 49 women authors who wrote a chapter in this transformational book. Thanks! CLICK TO BUY ON 3/1.
Have you heard of Speakers Playhouse? They have weekly free calls where speaker bookers announce spots they have open for YOU to speak! There's networking too – I really try not to miss these events. LEARN MORE HERE.
Then SP also hosts other events and summits… they just RAN MY Love Yourself Successful Summit in fact and they did a great job!
Podapalooza is a fun event coming up with tons of podcasters looking for guests, networking, training and more! One day, March 5th REGISTER HERE
Entrepreneur Rocket Fuel Toolkit Giveaway happens March 15-31 and I'm contributing… details for that coming later BUT DO YOU WANT TO CONTRIBUTE? You can – LEARN MORE HERE
I'm hosting 4 FREE MASTERCLASSES in March! Every Thursday from 9-10 am PST – You have to join LIVE to hear them, otherwise you'll pay for replays. FYI
Jumpstart Your Business 3/3
Jumpstart Your Marketing 3/10
Jumpstart Your Follow Up 3/17
Jumpstart Your Book 3/24 
Top Talent JV Mastermind – Free Virtual 3-Day Event
If you're looking for a diverse community of business owners and entrepreneurs to connect with, collaborate with, and network with, then look no further than this event hosted by David and Isabel Fagan. They not only encourage you to talk about what you do but to brag about your accomplishments! It's INVITE ONLY so mention my name when you REGISTER HERE.
I'm Speaking on the Entrepreneur Int'l Network Meetup over Zoom on March 8th at 4 pm PST
If you're looking for a diverse community of business owners to network with, this group is free and they meet weekly! (Also known as Vancouver Business Network)  Topic: 8 Secrets to a Consistent Moneymaking Business LEARN MORE & REGISTER HERE.
GOING LIVE ON Facebook – LinkedIn – Twitter – YouTube with some of my clients! WATCH MY CHANNELS!
How to Create the Business of Your Dreams – Thursday, 3/10 @ 3pm PST with: Susan Glusica, Barbara Ingrassia, Kimberly Koste, Christine Campbell Rapin & Bonnie Chomica
How to Create the Life You Love – Wednesday, 3/16 @ 1pm PST with: Shawna Champlin, Agnes Loughlin, Marlena Uhrik & Dr. Heather Tucker
Rock the DOT Day with Polka Dot Powerhouse March 13th
If you're looking for a diverse community of AMAZING business women to support you in life, health, business and so much more, you MUST check out PDP!! I love it, lots of fun activities this day. LEARN MORE HERE.
I'm speaking 3/15 in Stockton at the eWomenNetwork Accelerated In-Person Networking event 
Come join me! Topic: 8 Secrets to a Consistent Moneymaking Business!  REGISTER HERE.
I'm speaking 3/16 Virtually for the New Mexico chapter of Polka Dot Powerhouse
Come join me! Topic: 8 Secrets to a Consistent Moneymaking Business!  REGISTER HERE. Members AND Non-Members Welcome!
The Women Speakers Association meets monthly for a Global Virtual Networking event if you want to join me?
Members and Non-Members Welcome!  REGISTER HERE.
I'm being interviewed on Kim Speed'sEmployee to Entrepreneurs PODCAST, Friday 3/25 at 8am PST
Taking place inside her Facebook group, I'll be talking about the transition from my past job and the path that took me to where I am now, the struggles, successes and advice for someone who is starting a new biz now. IT WILL HAPPEN LIVE HERE
BIG OPPORTUNITY TO SPEND 3 DAYS WITH ME March 30, 31 & April 1st – 3-Day Mastermind with Kat & her Live Big Mastermind Clients
I'm giving this never before opportunity to 10 highly motivated individuals/entrepreneurs who want to have a deep-dive planning and implementation session. There is NO obligation to join the group before or after. Just come, spend 3-day with us and watch your business TRANSFORM!  LEARN MORE & REGISTER HERE.
SPEND 1 DAY WITH ME Virtually & Get Your Technology, Back-End Systems & Social Media Dialed In! – Friday, April 22nd from 9am – 4 pm PST 
My clients LOVE it when I host these Techy Trainings & Implementation days! The back end structure and systems in your business are the lifeblood of your revenues – don't ignore this, just come learn WHAT & HOW to do! LEARN MORE & REGISTER HERE.
Sooo much is also going on with my Clients – they are ON FIRE hosting their own free masterclasses, etc.! Check these out:
Presenting With Passion & Confidence Workshop with Christine Campbell Rapin March 7th at 11am PST – REGISTER HERE – Come to this live event to learn:  
– The 3 essential elements every presentation needs to be effective. 
– How to incorporate personal stories to instantaneously gain credibility and connection with your audience.
– Tips and tricks to deliver with passion and confidence regardless of your level of speaking experience.
Repurpose Your Content for More Profits March 9th at Noon PST with Bonnie Chomica – it's a never-ending challenge to come up with not just any content, but content that CONVERTS, right? Well then you want to join this class to learn tips to make it easier! REGISTER HERE.
Master Your Networking Infomercial: Use Storytelling To Stand Out From the Sea of Sameness  – March 9th at 11am PST with Christine Campbell Rapin – REGISTER HERE – You'll learn 4 key points including: 
– The 3 Step Formula for Effective Storytelling 
– Alternative Infomercial Styles  
– The "So What" Factor Opportunity to Practice Your Infomercial
Hormone, Weight and Gut Connection Masterclass with Dr. Erin Foley – replay available now – if you're frustrated with your weight ladies, this is for you! REGISTER FOR REPLAY.​
Let's make this YOUR BEST YEAR ever!
I know how to show you how to tweak what you're doing to get really BIG RESULTS in 2022! 
Here's to creating and enjoying a life full of lots of Love & Money!
"Katrina gave me the push I needed to implement changes in my business and helped my marketing take off with her "jump start your business" bootcamp. IF you're not happy with how your business is going, it's not going to get better until you gain the right knowledge and learn the right way to proceed. I had been listening to different teachers, a little bit here and a little bit somewhere else. But no one gave me the methodology Katrina has. Hire Katrina and watch your results!"
"In just 3 short months in your Live Big Mastermind, wow, you helped me get clarity around my entire planning schedule, and how to make sure I keep the balance in my own business and life, especially since that's what I teach. I've simplified my website, and lead generation systems so things run a lot smoother now which is taking a lot of stress out. I've taken advantage of more speaking opportunities, online summits and am collaborating a lot more with other experts that are growing my reach tremendously. Plus I finally created and launched the high-end mastermind that I have been called to lead for years now and filled it with 5 new people in 30 days! I can't wait to see what else we create as I'm on target for my best year yet!"
Get Started Today
Sign Me Up!
Sign Up Now to Receive Kat's Email Newsletter, Video Tips & Free Jumpstart Your Biz Audio & Checklist!