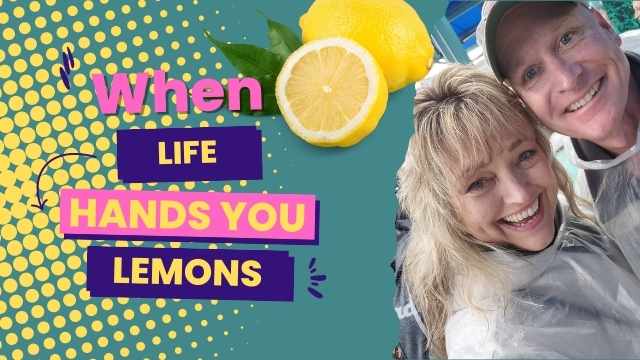 When life hands you lemons…
For the last 7 days I was supposed to be in Puerto Vallarta, Mexico with my husband on a sunny, beach, all inclusive, New Year's vacation.
But then Southwest airlines had a meltdown and canceled our trip. Yep, the wonderful vacation we've been planning for months with the only availability that we had due to our custody time with Riley, Jason's almost 14-year-old daughter.
Every Christmas holiday we've been taking either a week vacation with her, or without her, depending on custody time and desires, etc.
We get one second week vacation we can request every year with her, and then we're subject to only 3-day getaways over the weekends we have her unless for some abnormally strange reason her mom agrees to swap days. We don't count on that ever.
We only get two weeks a year where we can actually go somewhere with Riley and one week a year we can go somewhere without her, for a romantic getaway if we want. Of course, we could take off longer anytime we want, but we would have to give up time with Riley which we don't want to do.
To say that we were disappointed last Tuesday (and still) is an understatement.
When I posted this on Facebook, we got lots of love and encouragement to make lemonade out of the lemons we were just handed. Not exactly what I wanted to hear. But yeah, what else were we supposed to do?
After spending 4 hours trying to research and scramble to find another way to Puerto Vallarta on Tuesday last week we gave up and booked a bed and breakfast in Pacific grove, California (near Monterey). For those of you who think California is always sunny, think again. There was only one sunny day this whole entire week and luckily, we got there just in time to enjoy it on Wednesday. We got to go to the beach, although in sweatshirts instead of bathing suits, and played tourist on Cannery Row.
Then we got to be spontaneous again and decide where to go next! Since we were halfway to LA, and Thursday was going to be very rainy we thought we'd drive down to Hollywood and go to Universal Studios on Friday since it was only a 20% chance of rain. So, we bought our plastic ponchos and needed them sparingly throughout the day and although it was super cold, we had fun at Universal Studios. Plus, we were able to stay at a very swanky boutique hotel while we were there for two nights and enjoyed tons of yummy food thus far. (Along with a big giant donut from The Simpsons world LOL.)
The funny thing is every single day we encountered or ate something Mexican. From huevos rancheros to breakfast tacos, to crab and lobster enchiladas to a fun Los Muertos scull we found for our bar, we were reminded how disappointed we were not to be in Mexico every single day.
After LA we had about 2 and 1/2 days to make it home before we needed to pick up Riley and so we thought we should make our way back North but didn't want to drive the whole entire day, so we were trying to figure out where to stop in the middle of California on the way home. And if you've ever driven up the middle of California either I-5 or 99 you know there's not much there, it's pretty bleak. No offense to anybody who lives in that area, but the only good thing is garlic and wine.
We timed the drive to an area that had a couple of wineries open on New Year's Eve where we also found a hotel and set our sites for Madera California. The wineries were lovely, both preparing for New Year's Eve festivities that evening. Being the early birds that we are, however, we chose a 5:00 p.m. dinner time at The Vineyard and then turned in for some ice cream and a movie.
Here's to hoping you had a festive and fireworks filled New Year's Eve! I was wondering whether the fireworks would actually happen because it was pouring everywhere and come to find out later that they canceled them in Sacramento because of rain. So, we didn't miss much.
On the way home from Madera however, we had to get rerouted from 99 to I-5 because of flooding over the highway close to home. Apparently Northern California wasn't ready for all this rain we're getting, and many areas are completely flooded and overrun with water. Thankfully, our home was intact, and everything was fine when we returned.
We got home about a day before we needed to pick up Riley, but we were very excited to pick up our new dog that we decided to adopt before the holidays, Luna! I introduced you to her a couple weeks ago in an email…
We got her all new food, some play toys, and a bath the next day to start the new year right.
So, now we have to decide whether to reschedule Mexico for the spring or wait till the end of next year. No thanks! I'm not waiting till next December to take our romantic Mexican getaway. I'm taking this week to plan something new and better as soon as humanly possible.
As much as we were disappointed about not going to Sunny Puerto Vallarta over new year's, my husband Jason and I were able to have a spontaneous, deeply connected experience together which was exactly what we needed.
Luckily, we're both fans of lemonade and I know this experience made us closer and more cognizant of living in the moment, making the best of things, and spending time together unplugged.
Looking forward onto 2023 I had decided a few weeks ago that my word or phrase for the year would be "Focusing on What Matters".
This is what matters. Family matters. Not a whole lot else comes before family besides me of course. Friends and clients are very high up on the list, but family is what gets you through the hard times and comforts you in the good times.
Although I don't work 24/7 and don't consider myself a workaholic anymore, I still feel like I can make more time for more family time. This is a goal for me in 2023.
My other top goals?
Keeping on the health and nutrition track that I've been on all year this past year. I lost 40 pounds and have been eating really well and I'm now at a point where I can maintain a healthy weight although I might be encouraged to lose a few more before bikini season!
I do want to strengthen my body this year, however. Sometimes people do weight loss and exercise at the same time but not me. I had to do one at a time just because there's a lot of my plate so last year, I did the losing weight with counting calories on Noom (many of you asked how I did it and that was how, it kept me accountable).
This year I have to get the courage and ambition up to strengthen my body meaning lifting weights and or exercising to a certain extent. Some people love exercise, I'm not really a fan but I'm going to work on making it a goal this year. Slow and steady wins the race, right?!
Then, there's the business goals, and the money goals. This year I almost hit the money goal that I've had for the last 5 years. It's been a lot to go but I almost got there which is great. I'm increasing the goal this year to more than I would ever have dreamed to be making per year in my life. But now I know it's possible, and doable.
I will be elated to have a year full of all of this and more!
I want this for all of my clients and any of you reading this anywhere. Of course, my goal is to help people make more money in their business but ultimately, it's to create your happiest life ever. And your happiest life ever most likely includes, or should include, an amazing love life, lots of love and admiration for yourself, fun adventures, and the business that brings you joy, satisfaction, and a whole lot more money than you've ever dreamed possible!
Please reach out if you love to talk with me about how to help you do that, sooner than later! I have all kinds of ways and opportunities to work with me or learn from me or get inspired so you can focus on what matters most and reap the rewards!​
Let's make this YOUR BEST YEAR ever!
I know how to show you how to tweak what you're doing to get really BIG RESULTS in the next year! Book a 1on1 strategy call with me here now! Here's to creating and enjoying a life full of lots of Love & Money!
Katrina Sawa, The Jumpstart Your Biz Coach
One of Katrina's strengths is that she has the systems you need to automate your business with ease. From sales scripts, to social media marketing plans, to email marketing guides, she has it all figured out for you.
When COVID hit, I was unexpectedly furloughed from two jobs and thrust into a position of uncertainty.  I met Katrina and knew, immediately, she was the one to help me launch the business I've always wanted.  As a Doctorally prepared Nurse Practitioner, I have wanted a business on my own for many years yet unsure where to start.  Katrina has helped guide me from day one!  In four short months, I went from a panic state of, "I'm not working!" to effectively running my own business and generating nearly $5,000 in just one month! Katrina helped me discover my true value and has encouraged me to charge an hourly rate which is definitely what I am worth–which is much higher than being an employee.  Her work has guided me to grow a business very quickly from simply an idea to reality. If you are considering starting a business or looking to take yours to the next level, jump now!  Katrina is the one to jump start your business!  She truly is a gift and is one of the best business decisions I have ever made!
Get Started Today
Sign Me Up!
Sign Up Now to Receive My Email Newsletters, Video Tips, Articles, Advice, Free and Paid Events and Opportunities, Plus, Tools and Resources to Grow Your Business Every Week!