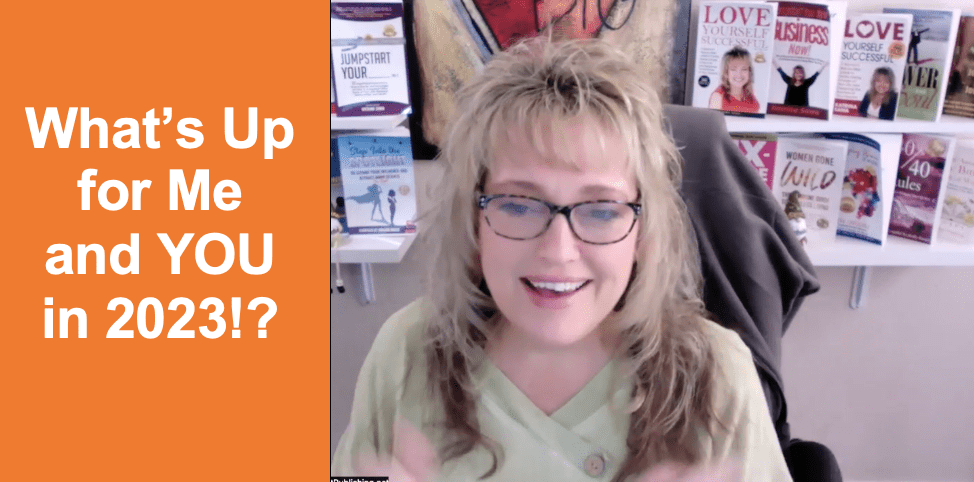 What's Up with Me in 2023??
Well, I have a few projects as usual… what's really fun is that I get to travel for a few speaking gigs and conferences AND I get to do a bunch virtually too. I am really enjoying the post-covid world we live in where there are so many options!
I used to think that I had to travel to dozens of conferences, workshops, mastermind events and even speak to dozens of groups in person only if I wanted to get a bunch of clients. Since most of my clients came from speaking and networking, I felt pressured to do more travel. 
Heck, I even tracked spending about $30,000 per year on traveling to OTHER events. No, I didn't get paid to speak or travel. I did it on my own dime. Why? Because it totally paid off in the follow up / long run. I still believe this is true. I just now know I can get just as many clients doing it all virtually. 
The thing is that I LOVE EVENTS!! I love the connection and deep conversations you can have at live events. I love the true bonding that can happen so much more than online. I love finding great power partners and other speaking gigs too just from showing up!
These days I pinpoint the geographical areas that I want to go… then I find speaking gigs in those places. I also plot out the bigger, more important conferences that I want to attend whether I'm a speaker or not – they feed me personally and professionally.  I often look for speaking gigs or opportunities to network or host events while in all those areas too to really maximize my trips. 
That's one of the things I'm doing in 2023 and I did in 2022. I held 3 3-Day Mastermind deep dive intensives in 2022 – two here by me in Northern California and one in Virginia Beach. This way too my clients can join whichever ones they want to, some are closer than others. 
In 2022 and in 2023 both I'm inviting those who aren't already working with me to those deep dive 2 or 3 day masterminds. They won't be larger than 12-15 people on purpose and are a little bigger of an investment than a "workshop" because you get very personal attention. Plus, I always add in some fun excursions, add-on activities, photo shoots and more! It's a great value when you look at all that goes into it and what you can get out. And you don't have to commit to long-term coaching agreements either!
So, I hope you watch for those mastermind events when I start announcing them on the EVENTS PAGE HERE. 
Watch the video for other things I wanted to share with you…. 
I also have a few new short-term ways to work with me either on your business, your book, or your website including a VIP day with me for those who like to work FAST and in deep dive situations. This is the way I like to get spot coaching too, it's just targeted and faster.
For those who like and appreciate a good online training – I've reduced the prices of all my DIY trainings so they are easy to grab and go through to learn a specific thing. (all valued at over $500 but under $100!) Check out my ONLINE DIY TRAININGS HERE.
One of my BIG goals this year is to send more direct mail to people in my database, to let them know I'm thinking of them, and to create more of a WOW Customer Experience. I know it will make a much bigger difference! (PS If you'd like to RECEIVE some of that direct mail or WATCH me, then go over to this page and make sure I have your correct mailing address now.)
Please reach out if you love to talk with me about how to help you jumpstart your business sooner than later!
Let's make this YOUR BEST YEAR ever!
I know how to show you how to tweak what you're doing to get really BIG RESULTS in the next year! Book a 1on1 clarity session with me here now! Here's to creating and enjoying a life full of lots of Love & Money!
Katrina Sawa, The Jumpstart Your Biz Coach
One of Katrina's strengths is that she has the systems you need to automate your business with ease. From sales scripts, to social media marketing plans, to email marketing guides, she has it all figured out for you.
When COVID hit, I was unexpectedly furloughed from two jobs and thrust into a position of uncertainty.  I met Katrina and knew, immediately, she was the one to help me launch the business I've always wanted.  As a Doctorally prepared Nurse Practitioner, I have wanted a business on my own for many years yet unsure where to start.  Katrina has helped guide me from day one!  In four short months, I went from a panic state of, "I'm not working!" to effectively running my own business and generating nearly $5,000 in just one month! Katrina helped me discover my true value and has encouraged me to charge an hourly rate which is definitely what I am worth–which is much higher than being an employee.  Her work has guided me to grow a business very quickly from simply an idea to reality. If you are considering starting a business or looking to take yours to the next level, jump now!  Katrina is the one to jump start your business!  She truly is a gift and is one of the best business decisions I have ever made!
Get Started Today
Sign Me Up!
Sign Up Now to Receive Kat's Email Newsletter, Video Tips & Free Jumpstart Your Biz Audio & Checklist!