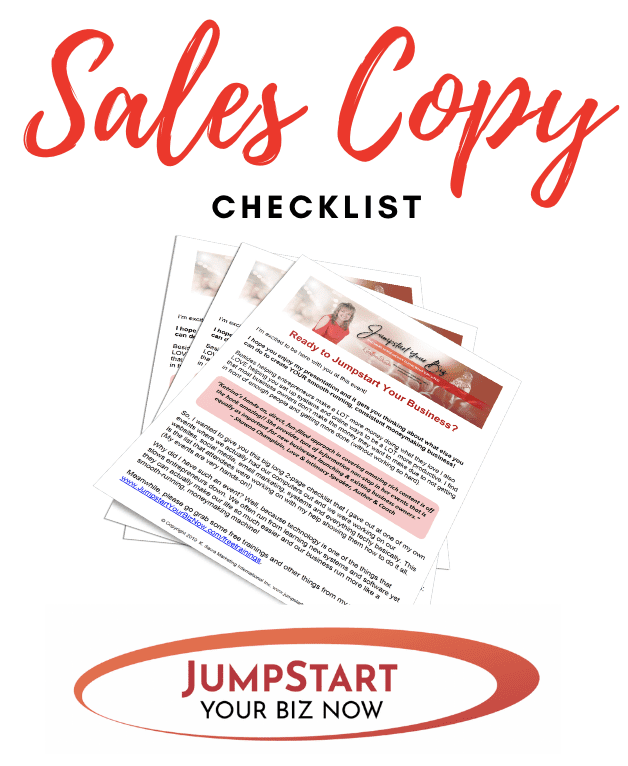 I'm sitting in a big zoom event today

 
(scroll down for link to join us tomorrow)
 

and what's coming up for a lot of entrepreneurs is that they aren't making consistent cash flow…some have been at this for years too and it breaks my heart…
They also aren't making sales directly from their websites and webpages which is a shame because this is something that can be learned…

 

sales page copywriting.
So I wanted to share a few tips about writing sales-oriented webpages, marketing copy, emails, flyers and more… this is the process I go through when writing my pages and those of my clients (I do this "WITH" you by the way on coaching calls if you want help with this!). 
Here is the basic Sales-Copy Checklist…(in order of importance by the way)Large Attention-Getting Headline (not program title)
Video of you regarding what this page is about and why

Questions to agitate where your prospects might be right now

Why you created this & who this is for

Invitation to join you

Share the promise or outcome

Outline what they will get/what's included

What Bonuses are included

All logistical details

Total Value ($) of all they will get

The investment – justify the cost…

Sense of urgency (disappearing bonuses, deadline or for the first X people)

Testimonials (written & video)

FAQ's (cancellation policy, bring a friend, lodging)

YOUR full contact info to make it easy for them to reach out

Disclaimer for any legalities (optional)

Guarantee perhaps (optional)

Your headshot and bio about you
If you want to get the detailed download around this where I go into much more depth… email me back and ASK! If you don't ask, you don't receive (good lesson to learn). 
I just don't want any of you to struggle with this because it can really stagnate your sales. Learning more how to talk about your offerings in person and writing about them too is an ESSENTIAL skill! 
This is also something that I teach in depthly about during my Jumpstart Your Biz 3-Day Workshop Events that I host… right now during covid, they are on zoom, twice a year. And what I teach at each one always changes… I'm constantly learning myself so what I teach is WHAT'S WORKING RIGHT NOW. 
I hope you really consider attending, even if you've been before. One of the things I know for sure is, repetition is the key to full understanding. And there's ALWAYS more to do, implement, offer, and learn.
Here's the page to go get registered today – it's just $97 this week!! Hurry before the rate increases, PLUS you get my Jumpstart Your Sales 3-part Training ABSOLUTELY FREE (an additional $297 value) when you register! https://jumpstartyourbiznow.com/jumpstartvirtualfall2021
*** Even if you can't attend live this event, you'll get the free sales training and the recordings of the event so for $97 it's just crazy NOT to sign up!
Let's make this YOUR BEST YEAR ever!
I know how to show you how to tweak what you're doing to get really BIG RESULTS in 2021! 
Here's to creating and enjoying a life full of lots of Love & Money!

Get Started Today
Sign Me Up!
Sign Up Now to Receive My Email Newsletters, Video Tips, Articles, Advice, Free and Paid Events and Opportunities, Plus, Tools and Resources to Grow Your Business Every Week!