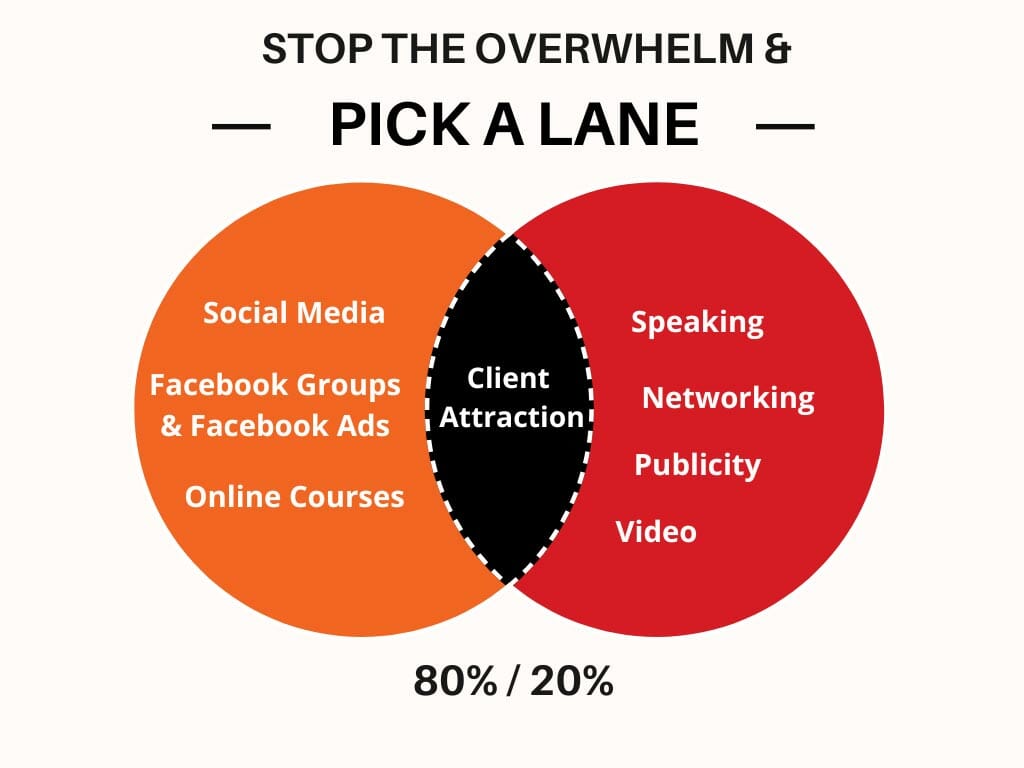 Marketing Basics for Consistent Cash Flow
Marketing basics for consistent cash flow is one of my most requested speaking topics.
I think consistent cash flow is what every entrepreneur wants, and the more the better, right? The problem is that there's too many choices out there these days in regards to what types of marketing and how you can promote yourself.
And then, of course, you've got people online saying, "You must do this or you won't succeed, you must do that or you won't make any money, you're not really in business if you're not doing blank."
And I say, don't listen to everybody out there, pick what you like to do and keep it simple. One of the things I'm talking about in that presentation is how you need to PICK A LANE!
The two lanes that I see in marketing these days are:
1. Networking and Speaking. If you're the type of person who likes to network, and/or find clients from networking events and/or when you give short or long speaking presentations then that's one lane. It doesn't matter if you're an introvert or an extrovert by the way to do this lane to be really good at it. You just have to have a passion for it and know how to maximize and monetize these areas fully. (which includes follow up!)
2. Social media and online marketing. Social primarily, along with some other online activities, like running a Facebook group, running an online challenge, and or Facebook ads etc. This Lane is for people who don't necessarily want to spend their time on zoom calls or in person networking and speaking events. Those who prefer this lane however, might give tips or speak on one-way videos to their social followers. But primarily these folks will want to be online – computer, tablet or phone, to grow and scale their business. Let's be clear though, with THIS lane it's critical that your website be very professional, engaging, freshly designed, and efficient for capturing leads.
Which lane do you prefer?
I prefer the first one and spend about 90% of my time in that lane, also doing follow up, nurturing with those I meet, like with YOU via email, phone and direct mail. I love this lane!
To give you an idea of how much time I spend, where. I was on LinkedIn and Facebook today a total of 15 min, posted something on each. Haven't gone back yet to see if anyone has commented but that's usually what I do towards the end of the day or even the next morning. Plus, I check my DMs and my own groups for new people and comments or questions. Then I spent 4 hours on 3 different networking events today. All of which I found some good prospects, booked 4 calls and a podcast appearance and I got 3 new members in my Int'l Speaker Network. It was a very productive day I think.
I'm not suggesting that you have to do only one or the other lane and that's it. However, I do recommend perhaps simplifying your expectations on what you really need to do. And for the lane that you like the most, spend 80-90% of your marketing time there with 10-20% of your time in the other lane. That's what I might suggest so you can stop pulling your hair out doing things you don't like to do.
Oh and the question I don't get but should get more often is "how much time do I need to spend 'marketing' each week?" WELL… now that does depend on a lot of factors like how much you want to make, what your average price point is for a client, and what other things you have on your plate, including other clients. Let's chat about that and I can lay it out for you!
There's just way too much to do these days to put the expectation on yourself that you have to do IT ALL 100%, that's ridiculous.
And if you don't like going live inside a Facebook group and constantly promoting to get new members into your group, hanging out in there 2 hours a day for the primary source of your marketing then by God, don't do that! However, if that sounds super fun to you and the other speaking and networking stuff sounds like a drag then, do it! But do "IT" well, whatever you do.
Way too many entrepreneurs are spinning their wheels spending 10 or more hours a day trying to do every single thing everyone suggests you should do to promote yourself and grow your business. You don't have to do that, it doesn't have to be that hard. Do what you love and your energy will reflect that and you'll attract more amazing ideal clients!
I love helping clients focus on the two or three things they really like to do and then show them how to automate, delegate, or systematize the other thing so they're still positioning themselves in the right way in both lanes to a certain respect. Don't ignore it all together but do learn how to be present enough so you look like the expert that you are!
One of the biggest things about being more consistent in your marketing and reaching consistent cash flow status that's higher than you've ever seen before is making sure that you set up your systems and your website as the hub of your business.
You can't ignore this piece no matter which lane you choose. If you're not seeing enough cash flow then you're not talking to enough people and/or you need to hone your sales skills too perhaps.
Marketing and sales are the lifeblood of any business and you want to constantly be honing your skills and figuring out how to focus in better to be more concise, clear, and inviting so that more people want to work with you or buy from you.
If you want to evaluate where you are with your marketing, your sales, your website, your pricing, and your business systems then why don't you go take my free jumpstart your biz quiz. It will show you the gaps and what's missing and what opportunities you have to get more clear and focused!
Go take the quiz today and uncover the areas that you want to focus on this year to see more consistent cash flow!
Let's make this YOUR BEST YEAR ever!
I know how to show you how to tweak what you're doing to get really BIG RESULTS in the next year! Book a 1on1 clarity session with me here now! Here's to creating and enjoying a life full of lots of Love & Money!
Katrina Sawa, The Jumpstart Your Biz Coach
One of Katrina's strengths is that she has the systems you need to automate your business with ease. From sales scripts, to social media marketing plans, to email marketing guides, she has it all figured out for you.
When COVID hit, I was unexpectedly furloughed from two jobs and thrust into a position of uncertainty.  I met Katrina and knew, immediately, she was the one to help me launch the business I've always wanted.  As a Doctorally prepared Nurse Practitioner, I have wanted a business on my own for many years yet unsure where to start.  Katrina has helped guide me from day one!  In four short months, I went from a panic state of, "I'm not working!" to effectively running my own business and generating nearly $5,000 in just one month! Katrina helped me discover my true value and has encouraged me to charge an hourly rate which is definitely what I am worth–which is much higher than being an employee.  Her work has guided me to grow a business very quickly from simply an idea to reality. If you are considering starting a business or looking to take yours to the next level, jump now!  Katrina is the one to jump start your business!  She truly is a gift and is one of the best business decisions I have ever made!
Get Started Today
Sign Me Up!
Sign Up Now to Receive My Email Newsletters, Video Tips, Articles, Advice, Free and Paid Events and Opportunities, Plus, Tools and Resources to Grow Your Business Every Week!