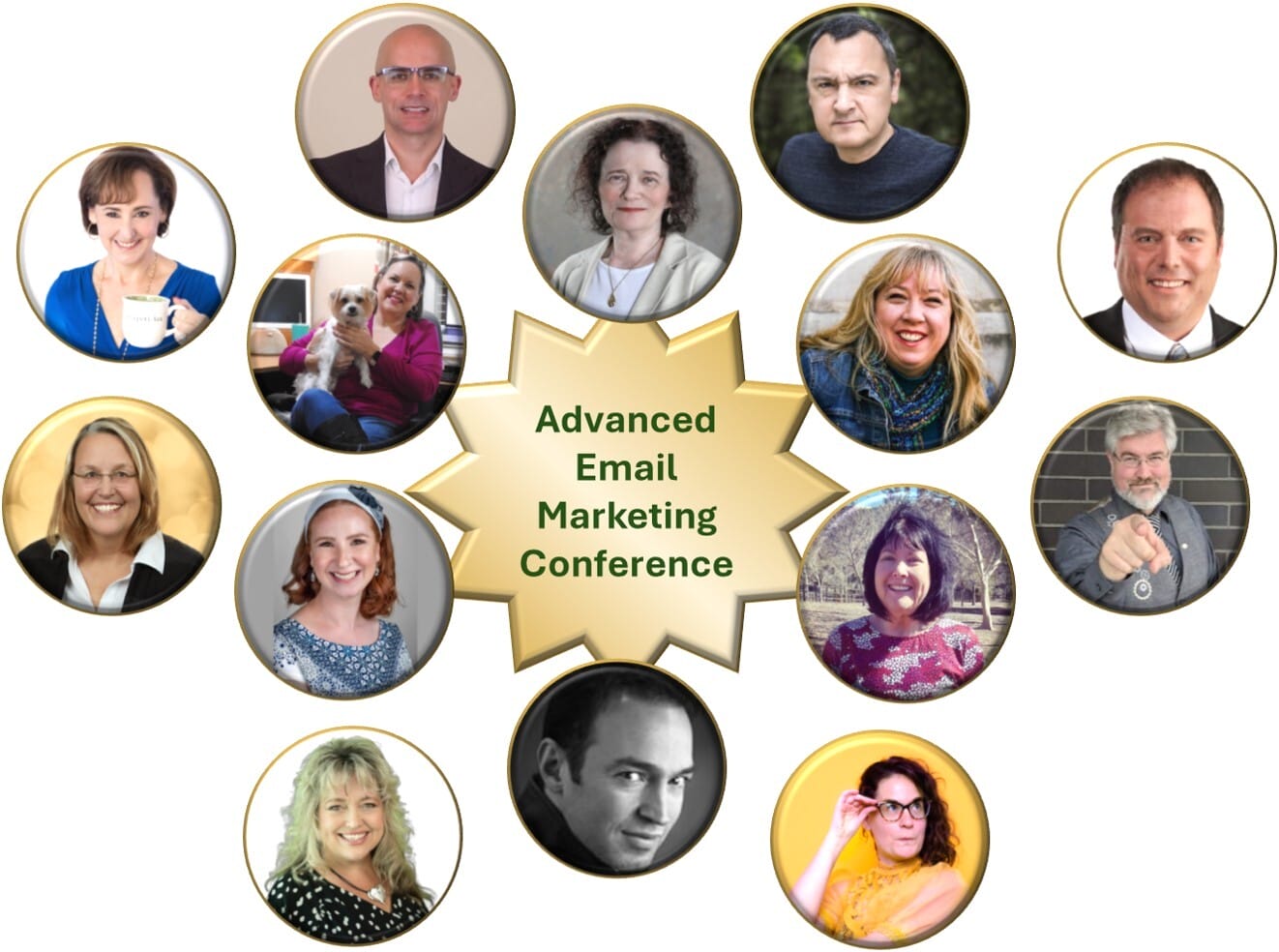 You know you should always be growing your list.
But what if you could get better results from your current subscribers? More opens, clicks, and sales. Wouldn't that be a game-changer?
My fellow colleagues, Connie Ragen Green and Ellen Finkelstein, have organized a free online conference to get you there. They've gathered email marketing experts from many approaches to give you actionable steps you can take to improve your email marketing results.
They're calling it Advanced Email Marketing Conference and it starts Monday, October 23rd at 12 noon Pacific / 3 pm Eastern.
It's conveniently scheduled for 2 hours each Monday for 7 weeks, so you don't have to give up full days of your time. Each Monday, 2 speakers will give you their best tips and techniques.
I'm excited to be one of the speakers! My topic is, Email Content Planning Using AI.
If you are actively emailing your clients, this is not to be missed!
Strategy, technology, copywriting, and more – they have it all!
Click here to register for free. You can choose the Executive Level for permanent access to the recordings and some great bonuses – that's just $49.
When you click, you'll see the full list of speakers and their topics.
Let's make this YOUR BEST YEAR ever!
Allow me to guide you through the process of tweaking your current approach and getting BIG RESULTS. Book a one-on-one clarity session with me here now! Here's to creating and enjoying a life full of lots of Love & Money!
Katrina Sawa, The Jumpstart Your Biz Coach
One of Katrina's strengths is that she has the systems you need to automate your business with ease. From sales scripts, to social media marketing plans, to email marketing guides, she has it all figured out for you.
I got a ton out of Katrina's coaching. Many times with coaches, it's just the same old ideas re-used 10 years later. I have enough material to implement from the next several months.
Get Started Today
Sign Me Up!
Sign Up Now to Receive My Email Newsletters, Video Tips, Articles, Advice, Free and Paid Events and Opportunities, Plus, Tools and Resources to Grow Your Business Every Week!