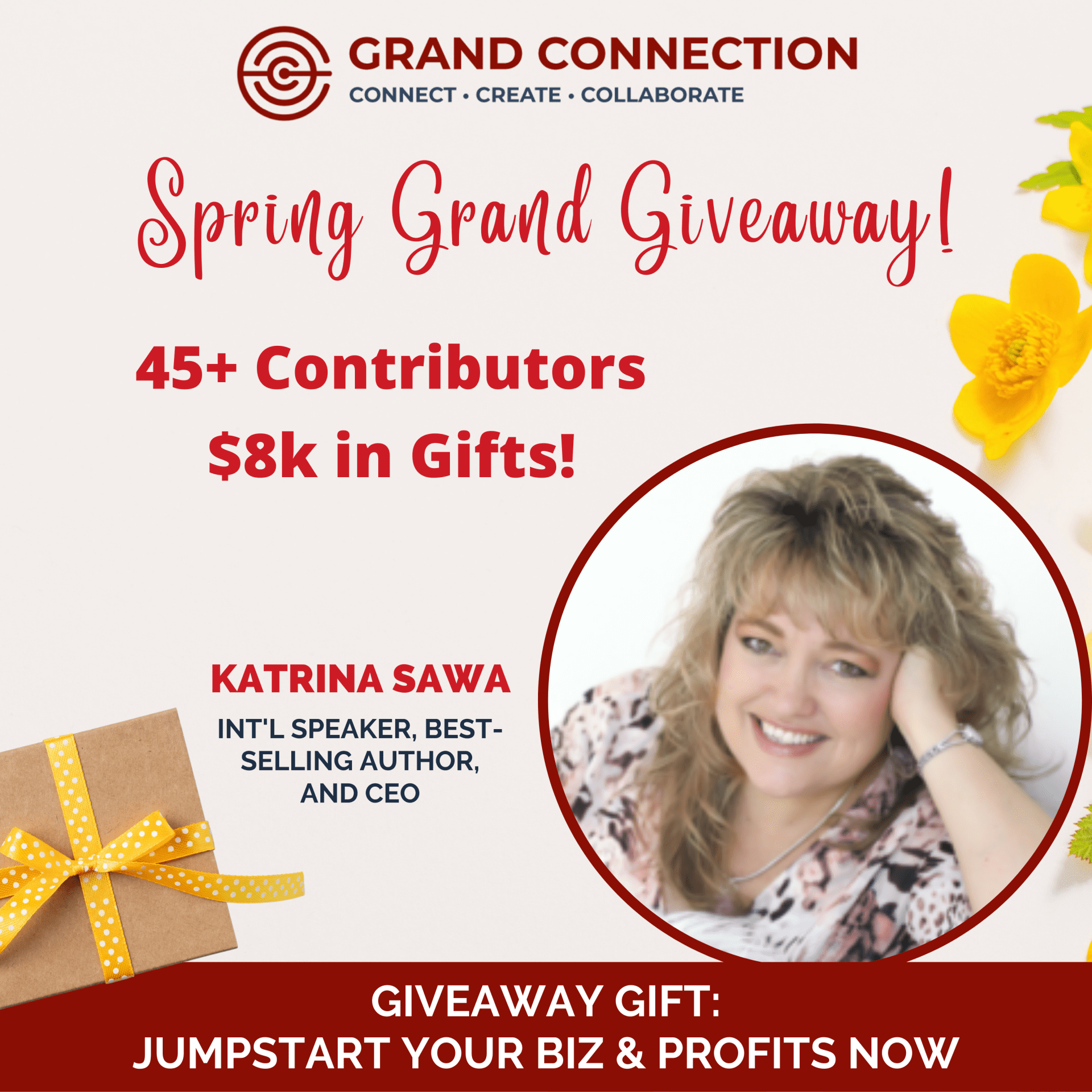 Free Tools to Succeed. Get ACCESS to over $8,000 worth of Grand gifts!
Do not miss out on The Spring Grand Giveaway hosted by The Grand Connection. Get your gifts before they close June 5. 
Treat yourself to the Grand Giveaway to support your success. This fabulous giveaway has Thousands of dollars in FREE GIFTS for you!!!
Some of the gifts topics include: 
Compassion, Storytelling, Getting Energized, Business Growth, Marketing, Empowerment, Speaking, Health, Intuitive Readings, Meditations, Stress Reduction, Productivity, Book Writing, Home Building, Relationships, Skin Care, Retirement Planning, Work-life Balance, Abundance, Business Systems, Lead Generation, Social Media, Networking Skills and more!
I'm contributing my Jumpstart Your Biz & Profits:
This gift will share tips on how to do all of this by positioning yourself as a sought after expert in your industry and then putting yourself out there in a way that makes people want what you've got. The 1-on-1 coaching call PLUS the 2 trainings, you can even get more tips on monetizing in your business more.
Your grand gifts come in various forms:
1:1 coaching, trainings, courses, audio recordings, books, worksheets, videos, e-reports, tip sheets, checklists, assessments, evaluations, consultations, toolkits, online programs, mini courses, pre-corded training, event tickets, formulas, systems, frameworks, makeovers and more!
How GRAND is that?! There is something for everyone….
Curious? Read more.
I'm telling you, it's going to be worth your while. Here's the link again to get $8,000 worth of FREE gifts! 
This opportunity is only available until June 5th.
Let's make this YOUR BEST YEAR ever!
I know how to show you how to tweak what you're doing to get really BIG RESULTS in 2022! Book a 1on1 strategy call with me here now!
Here's to creating and enjoying a life full of lots of Love & Money!
"Katrina gave me the push I needed to implement changes in my business and helped my marketing take off with her "jump start your business" bootcamp. IF you're not happy with how your business is going, it's not going to get better until you gain the right knowledge and learn the right way to proceed. I had been listening to different teachers, a little bit here and a little bit somewhere else. But no one gave me the methodology Katrina has. Hire Katrina and watch your results!"
"In just 3 short months in your Live Big Mastermind, wow, you helped me get clarity around my entire planning schedule, and how to make sure I keep the balance in my own business and life, especially since that's what I teach. I've simplified my website, and lead generation systems so things run a lot smoother now which is taking a lot of stress out. I've taken advantage of more speaking opportunities, online summits and am collaborating a lot more with other experts that are growing my reach tremendously. Plus I finally created and launched the high-end mastermind that I have been called to lead for years now and filled it with 5 new people in 30 days! I can't wait to see what else we create as I'm on target for my best year yet!"
Get Started Today
Sign Me Up!
Sign Up Now to Receive My Email Newsletters, Video Tips, Articles, Advice, Free and Paid Events and Opportunities, Plus, Tools and Resources to Grow Your Business Every Week!