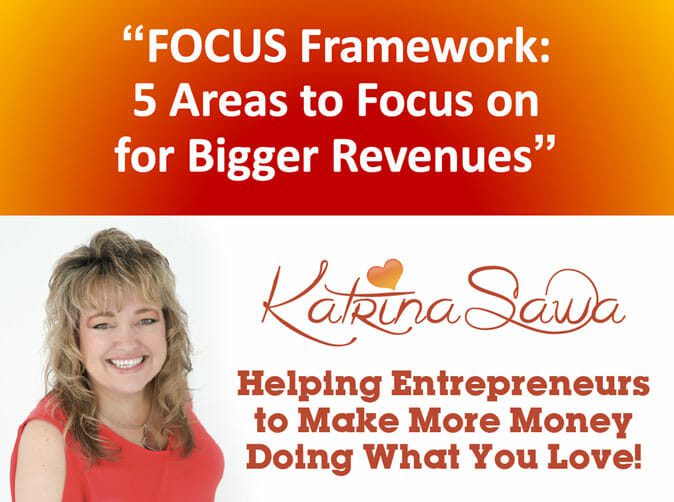 F.O.C.U.S. Framework: 5 Steps to Faster Sales Results!
ASK YOURSELF:
1)  Are you wondering why you're not making the money you thought you would by now?
2)  Have you been doing "all the things" everyone says you should or that you know to do to get clients?
3)  Are the clients or prospects who ARE coming your way balking at your prices, coming up with excuses why they CAN'T rather than jumping in with two feet?
Well, you could be missing some very critical elements of your business plan, marketing strategy or your systems that run your business. I find that many entrepreneurs are so busy "IN" their businesses they just don't always see these things!
I'm on calls with entrepreneurs every day – some hire me, some are clients and some are just people I see on networking events. ALL of them I could easily give them 3-5 ideas on things they can do right now – that they could improve on. If I'm noticing these things right away… your prospects are too.
Come to this free call with me where I'm going to identify the 5 Areas in your business that probably need a lot more attention in order for you to see much faster sales results.
This live training session will be valuable for you no matter what type of business you have or what stage you're in. Trust me, it's better to learn this stuff as early as possible in your business to see more success faster.
Let's make this YOUR BEST YEAR ever!
I know how to show you how to tweak what you're doing to get really BIG RESULTS in the next year! Book a 1on1 clarity session with me here now! Here's to creating and enjoying a life full of lots of Love & Money!
Katrina Sawa, The Jumpstart Your Biz Coach
One of Katrina's strengths is that she has the systems you need to automate your business with ease. From sales scripts, to social media marketing plans, to email marketing guides, she has it all figured out for you.
When COVID hit, I was unexpectedly furloughed from two jobs and thrust into a position of uncertainty.  I met Katrina and knew, immediately, she was the one to help me launch the business I've always wanted.  As a Doctorally prepared Nurse Practitioner, I have wanted a business on my own for many years yet unsure where to start.  Katrina has helped guide me from day one!  In four short months, I went from a panic state of, "I'm not working!" to effectively running my own business and generating nearly $5,000 in just one month! Katrina helped me discover my true value and has encouraged me to charge an hourly rate which is definitely what I am worth–which is much higher than being an employee.  Her work has guided me to grow a business very quickly from simply an idea to reality. If you are considering starting a business or looking to take yours to the next level, jump now!  Katrina is the one to jump start your business!  She truly is a gift and is one of the best business decisions I have ever made!
Get Started Today
Sign Me Up!
Sign Up Now to Receive Kat's Email Newsletter, Video Tips & Free Jumpstart Your Biz Audio & Checklist!