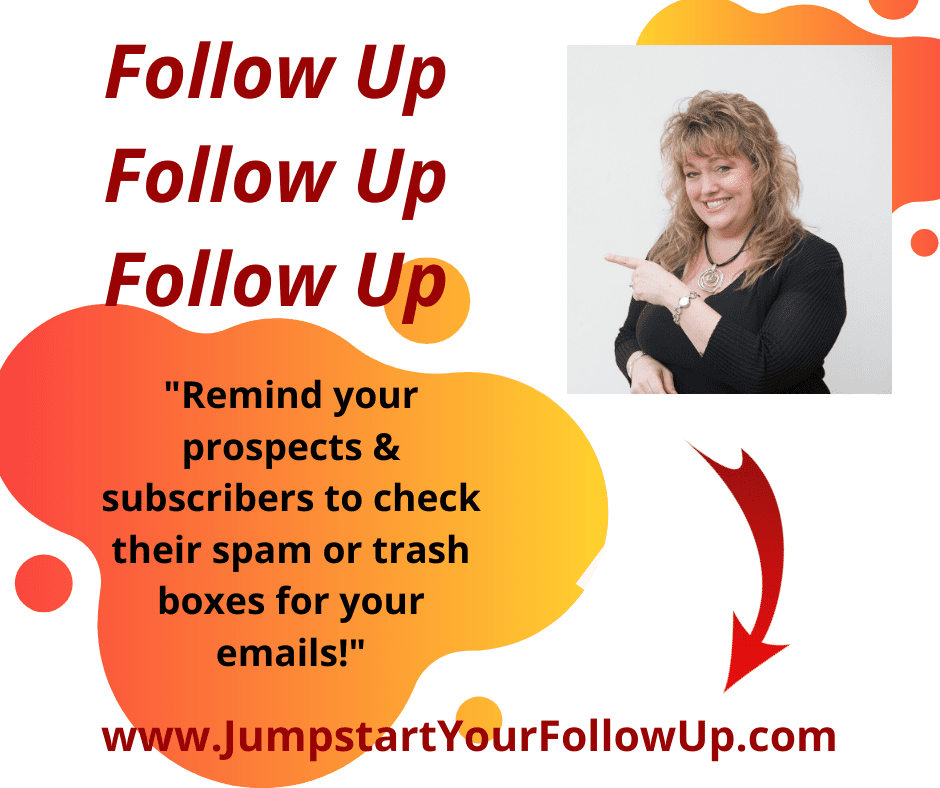 I just did a speech to a group of entrepreneurs this week about Automating Your Follow Up. Do you realize that you need to do more follow up??
Raise your hand, you know you do! I need to do MORE for sure and I teach this stuff!
So what IS your follow up plan after you attend a Zoom or in person event?
Has it changed since most events are virtual? I hope not…
Follow up is JUST as CRITICAL as it used to be and even more so now that you technically didn't just "exchange business cards" in person, right?
Many of the follow up strategies that I've been teaching since I started this business back in 2002 are still valid and exactly what I teach today except now I add this:
Following up in MANY ways/places is CRITICAL for people to "see your stuff" – meaning… you can't just send an email these days one or two times as the majority of the time it will go to spam, trash or promo folders and they WON'T SEE IT AT ALL.
You want to follow up by sending people a private message on social media too, whichever platforms you use primarily for sure unless you know which is THEIR favorite, then make sure you do it there too. Do them all. Sending something via email, then Facebook, then LinkedIn as well is something I do for example, they are bound to check one of them and find my info. I just reference that I emailed them about this, and to go look for my email and take me out of spam or trash… (where they inevitably find it)
Making phone calls is STILL URGENTLY IMPORTANT if you really want to get someone's attention faster. Although people often only listen to voice mail it seems on a weekly, not daily basis, it's still very important to leave a voice mail. I leave super detailed ones too, reminding them that I sent them an EMAIL and to go look and take it out of spam or trash! (Do this too, trust me.)
Finally… one of the things I've recommended FOREVER and still recommend doing EVERY SINGLE TIME you really want someone's attention is DIRECT MAIL!!! I can't express enough how vitally important it is to slip something in the mail. It's not as important WHAT it is, but that you do something. I do have a lot of fun, creative ideas however that make YOU MORE MEMORABLE. Everyone loves opening fun mail, cards, bulky packages, etc. Make it fun, not boring and you'll be surprised at how much people will pay attention when you do this.
I hope those tips are helpful – now go do them or delegate them so you can get more clients!!
Let's make this YOUR BEST YEAR ever!
I know how to show you how to tweak what you're doing to get really BIG RESULTS in 2021! 
Here's to creating and enjoying a life full of lots of Love & Money!
PS – Ready to really jumpstart your business, your revenues, your client base, your systems, marketing and more? 
I love motivating, educating and inspiring entrepreneurs on how to jumpstart their businesses, make more money, tweak and shift what you're doing right now or how to do things differently so you can be more productive, profitable and impactful. I offer coaching, have a mastermind, live events, virtual trainings, and zoom calls for networking, training and masterminding that you can join. Do something to take action today!
"I only worked with Katrina for a short time to have her give me a jumpstart from where I was in my business. I realized I needed better marketing in place, more systems and possibly some new programs and offerings so that I could really amp up my revenues and in just three short months she helped me do all of that. Now I have a much more up-to-date marketing and business plan that I clearly understand what to do with and how to accomplish it. Oh and in that time I also attended two of her live events and they really were chock full of useful marketing and sales strategies that I'm also already implementing to get more higher paying clients. Thanks Katrina!"
OMG Thank you soooo much!
I've been drowning in a sea of confusion and tactics knowing that "the right person" would be able to help focus me quickly & easily, just not who that was.
Happy and grateful beyond words that I met you Katrina — you're the real deal! With your compass set at true north, at long last I've got the direction I need to a viable strategy / can navigate.
What you were able to explain to me in 5 minutes today is worth more than you charge for years!
Thanks again! My to do list is no longer a wild guess LOL.
Get Started Today
Sign Me Up!
Sign Up Now to Receive My Email Newsletters, Video Tips, Articles, Advice, Free and Paid Events and Opportunities, Plus, Tools and Resources to Grow Your Business Every Week!