So what makes an effective funnel or free gift these days? 
A funnel is a process that you take people through who could be interested in your programs, products, and services. It's a process. It's not a software. It's not a fancy techy tool. In fact, it can be quite simple to implement. Many of you reading this may already have funnels in your business, however, if you don't feel they are working very well right now then maybe it's time you reevaluate what you're offering and what you're doing? We often need to do this to keep up with the marketplace, technology, our competition, and the needs of our potential prospects.
Why do you need funnels and freebies in your business?
Every business should have some sort of initial funnel (or two or three). These are the ways people enter into your business to learn more about what you do and how you can help them. What makes them effective however, is that they work to get people opted in to your email list and moving through your sales process organically.  Having effective funnels in your business means you have  less manual labor chaos in the back end. It means you no longer have to touch every new lead that comes in. It means you can automatically have people move through a sales process funneling the ones who are genuinely interested in working with you or buying your services to the ultimate end results: buying your programs, products, or services.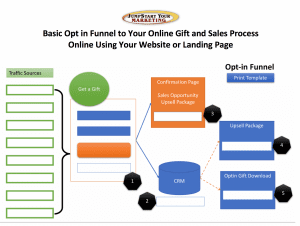 5 Steps to Creating an Effective Funnel:
1)  Funnels typically start with a landing page of some sort that offers something for free to entice people to want to give you their contact information in order to receive such a freebie. This landing page however can just be a simple page on your website, it doesn't have to be inside a software called Clickfunnels, Kajabi, or any other online platform.
2)  You do need a way to take people's names and emails however which usually requires some sort of Email Marketing System\software.
That email marketing system can be something that is free or low-cost. My goal with clients when developing funnels and freebies is to do it the most affordable way possible. I love helping people find the best technology necessary to fit their business and their needs. Oftentimes that means all you have to spend is $20 to $70 per month. It doesn't have to be costly to have funnels and optin boxes, and autoresponders and such. You just have to know which software is the right one for you based on your goals, your needs, and the things that you're selling. Then sending out an email immediately after someone opts in for your freebie is called an autoresponder.
3)  After you entice people to give you their contact information on your landing page with an opt-in form, then you need to take them to a Next Step which I recommend setting up on a simple thank you webpage. A thank you page is just another page on your website, it is just hidden and not visible in your navigation. Your email system would send them a follow-up email telling them to go grab the freebie over on this thank you page. 
The thank you page is where you would deliver the free thing, whether it's an ebook, a video, or a download of some sort, I also recommend you put a video of yourself on this page so they can get to know you better. Putting a video on your opt-in page would also be a good idea these days, especially since people are more reluctant to give their email addresses out until they really trust someone or trust a website. The video will allow them to get to know you faster and I recommend videos on almost every web page on your website these days because of this. 
4)  You also then want to figure out a Next Step for them on your thank you page, something they can do after they consume your freebie. Something like coming to a free call with you, or buying a book or something low-priced.
It's really important to have a next step that people want, not necessarily what you want them to do. I know that the number-one goal is always to get them on the phone usually, especially if you want to sell them into something higher end, however that's not always the next step people want to take. They usually want to get to know you better before they're willing to have a conversation with you. Having a conversation with you means they're opening themselves up to being pitched at or sold to (at least that's what most people perceive). 
5)  After they consume your freebie and get the first follow-up email message from you, you want to schedule additional follow-up emails, perhaps phone calls, or Direct Mail…  Depending on what contact information you collected in the beginning usually it's just email and therefore you can only send more emails. However, if you ask, for a phone number or a mailing address on the thank you page in order to get another wonderful free thing, then you can contact them in other ways. When you contact your new prospects in other ways, other than only email, you will have a better chance at them paying attention, and taking action on a Next Step.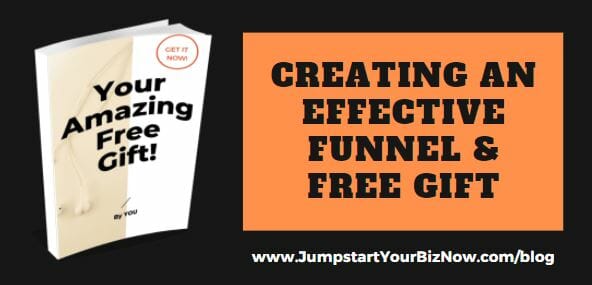 I have clients ask me all the time on the process of setting up this type of funnel. Unless you've heard about this and seen it multiple times, it can be a new thing you have to learn just like anything else. The important thing to know is that you don't have to spend a lot of money on this  unlike some people will tell you. You simply need two pages on your website, the optin page and the thank you page, and an email follow-up sequence which we call autoresponders. That's it.
One of the Email Marketing Systems I recommend these days because it's lower priced and it also has the capability for many other things when you're ready for them (such as taking credit cards and offering online courses, memberships, and affiliates), is Mailerlite. You can create pages, opt in boxes, email autoresponders all for $23/mo or less! 
A system I don't recommend anymore is MailChimp for sure because they changed the number of "lists" you can have for the lower price and want way too much money now for more than 5 lists. And everyone needs more than 5 lists these days with all the forms and pages you'll have you want to jump ship from Mailchimp as soon as you can! 
The key to effective emailing is segment marketing, sending specially crafted emails to smaller segments of your entire list so you can make them more personal and significant.
If the free thing you plan to give away however is not appealing to the majority of your ideal prospects then you may have to create multiple free gifts to try out different things and see which things people really want the most from you. Don't overthink the freebie, just think what people ask for, what people have questions around, and what things will be solutions to their biggest problems.
Some of my clients struggle with creating small ebooks, or simple free reports. 
The basic outline for your free report could be the following:
  Cover page with title, copyright, and contact information
  Introduction –  This is where you explain who this report is for and why they should care
  Why you? –  This is where you explain why they should listen to you and or how you came about this information and why it's important for you to share it
  Body of content –  This is where you give some really juicy advice, tips, and information about whatever it is you think they need to know. go deep in here with the level of advice however, don't skimp or give too much of an overview or they won't want more. Everyone always asks how long this part should be and my answer is always, "it doesn't matter". Write whatever you think will impress them as well as entice them to want more!
  What's next? –  This is where do you suggest when are to next steps they might want to take because now that they have this information they'll need additional support or information. do you want to make a very direct cause of action and our offer, something low price or free again ideally so they will keep going oh, and keep getting to know you and trust you.  definitely make sure you include link two pages on your website to take advantage of said next steps and or more description on why they need it and what it's going to do for them. You can include testimonials as well to show proof.
  About the author –  This is where you might show case you're short bio and a photo and any amount of credibility or expertise you might have.
  Finally, always remember to add your full contact information to the footer of every page in case they print it off. You are always with them on every sheet. This is something most people forget to do. 
What new freebie can you create this month? How will you put it into an easy to access funnel to help you grow your business and your email list?
If this is something you really could use some support around I'd love to speak with you. I can coach you of course and help you figure out what types of freebies would be good, what to include in them and what best next steps to offer too. Plus, I or my team of VAs, can help you implement them into YOUR software or systems so they hurry up and get done and you can hurry up and start seeing results. 
Sign up to schedule a free consult with me here, I don't bite. In fact, many people receive great information even if they decide not to work with me, it's all good, if you don't ask though, you don't receive, right? Plus, this may get put off for months if you don't some talk with me now because you might get stuck with:
 what to create that people will want

 what to write about or include

 what to put on your web pages to offer it

 what to say in your videos

 what to write in your emails

 who this is for and why they should care

 what to drive them to for a Next Step
Don't get or stay stuck, that's silly… let me help you get this all in place FASTER so you can see results FASTER. I'm great at this, trust me. Reach out and schedule today!
Let's make this YOUR BEST YEAR ever!
I know how to show you how to tweak what you're doing to get really BIG RESULTS in 2021! 
Here's to creating and enjoying a life full of lots of Love & Money!
P.S. What I wrote in this blog post, could be a great free gift! Did you notice that? All I need to add in is more info about Why Listen to Me, right? If I can do this some random week for my blog, then you can do this!

Get Started Today
Sign Me Up!
Sign Up Now to Receive My Email Newsletters, Video Tips, Articles, Advice, Free and Paid Events and Opportunities, Plus, Tools and Resources to Grow Your Business Every Week!