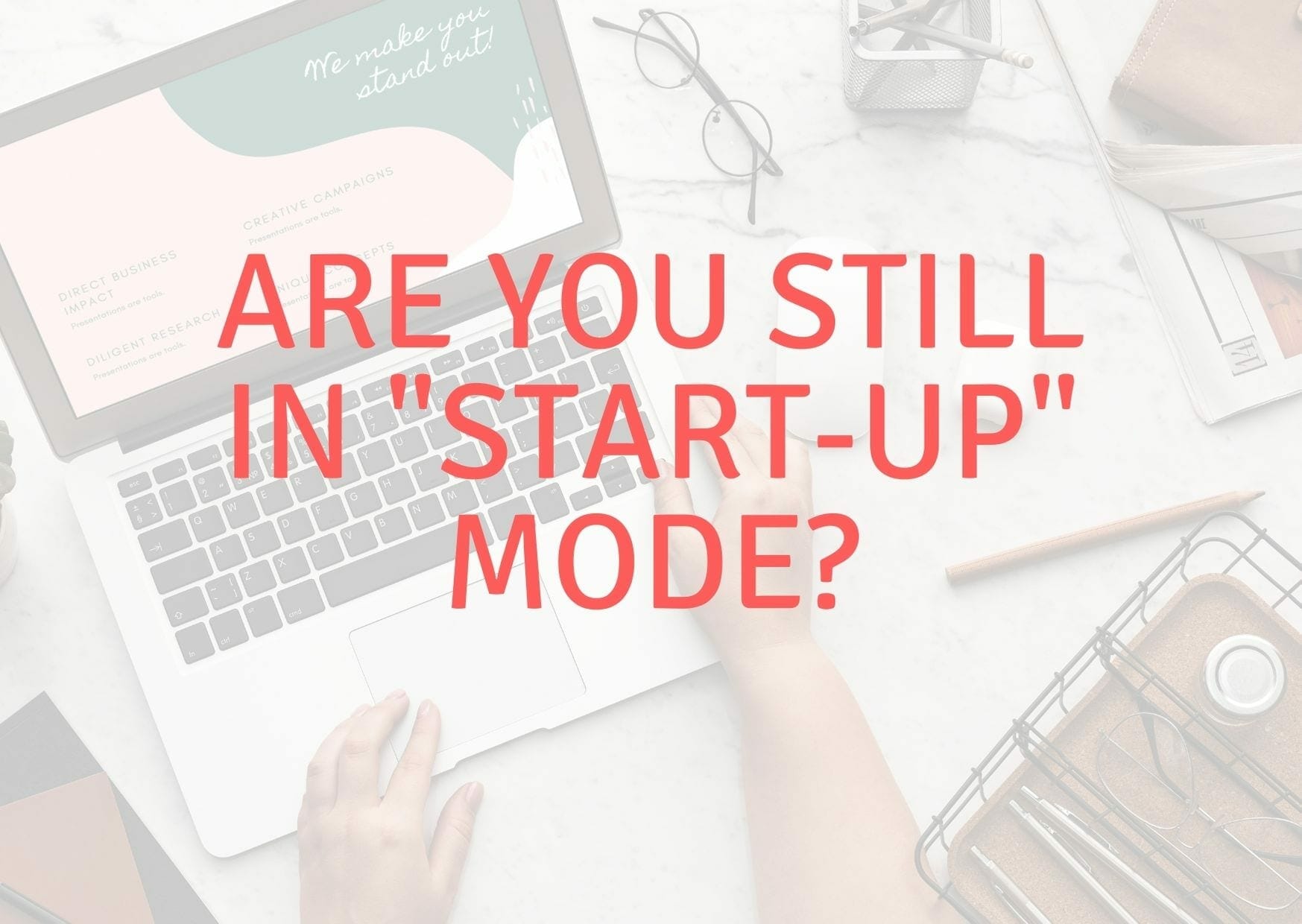 Are you still in "start-up" mode to some extent? 
What do I mean by that… Start up mode to me is not a bad thing by the way, it just may mean, you really are just starting your biz OR you are not yet where you want to be in your biz…. AND you could be missing some KEY components of a smooth-running, consistent moneymaking business.
You still aren't doing revenue generating strategies consistently, meaning weekly.
You still don't have a whole lot of people on your email list, like under 2000 people.
You still worry about your income and having to make sales on a consistent basis to pay the bills.
Your website is up but it's surely not running as the "HUB" of your business.
You are still taking payments via Square or PayPal.
You may not yet know "exactly" and be able to articulate "clearly" the services and products that you provide OR be able to sell people into them easily.
You are still trying to do it all yourself…you don't see how else to get stuff done?
Those scenarios and a whole lot more describe to me that you're NOT yet where you want to be in your business. You may have some of them nailed but not others, either way… there's more work to get done to set up your basic foundation. Some you may not know where to start, or what to do or even how to do it. Others you need some help because you are unsure of how to proceed… that's normal, however you can't just stay like that. You have to continue with baby steps if not leaps to keep the consistent, action in motion… 
You can certainly go at your own pace but if you can go faster, wouldn't that bring you to your dreams and goals faster? 
I get that if "life" is a little imbalanced right now, it's hard to focus on your business. But now IS the perfect time to do this… if you focus now, you can come out of 2020 swinging, right? 
"What's holding you back from starting your business?" 
OR… "Really getting serious about building your business up more (faster) and making some amazing money while making a bigger impact?" 
Whenever I ask this question, the same answers tend to crop up over and over again. Such as:
"I don't have a product/service."
"I don't have a list."
"It's not a good time."
"I don't really think of myself as an expert." 
"I'd feel bad charging for what I do."  
The last two are actually more related than they might look. At their core, the underlying question is, "Who am I to do this?" 
The real question is – who are you not to? 
You have amazing gifts. Gifts that can really help people… and that are uniquely yours. 
Because no one has had the same experiences as you. No one processes things just like you do or expresses themselves in exactly the same way.  
I don't want to sound preachy, or like I know all there is to know about building a business… because that's not the case. 
But I do know that for me at least (and for a lot of my clients and students) sharing that gift is a kind of sacred duty. It's something we do because the world needs people to teach and share. 
(And it's why I like to say that I'm here to help tens of thousands of entrepreneurs just like you… because I want to help you create the most amazing future for yourself, your family and those you serve. Which ultimately helps to heal our world.) 
Starting a business is a big undertaking. It can be scary to put yourself out there. But then I think about all the entrepreneurs I know who might not have started theirs if they let their self-doubt take control… 
Like Darla, who helps people recovering from trauma get their life back… 
Jennifer, who teaches other professionals how to master sales so they can serve a lot more people with their gifts… 
Helen, who helps seniors and their families have peace of mind when having to deal with elder placement and care before and during crisis… 
Pat, who teaches about alternative financing for businesses and credit options for individuals so they can manage through life with more ease… 
Or Andrea, Grace and Mishele, who all three help people in creating peaceful, organized, beautiful spaces and environments to live, work and play so they can be more productive, relaxed and happy…    
I cringe when I think of all the many lives that wouldn't have been improved by these entrepreneurs (and so many others I know) if they hadn't gotten past that feeling of, "Who am I to do this?"  
Take it from me, a woman who doubted herself all throughout the first few years of her business, working from home, hustling… until I found and hired my first mentor who helped me believe in myself and showed me HOW to build this business, the "right" way. From one mentor to another I invested over $250,000 over the last 15 years in my business, no joke. 
Was it worth it? You bet it was!! Because I learned how to create and run a business that brings in that much, if not more, every year now! It's consistently and clear processes, systems, team and your own belief that makes this happen. 
You don't need to be a superhero or a technology magician to change the world. 
You just have to be willing to put yourself out there. You have to be willing to share your gifts. You also have to be willing to ask for support and guidance when you know you need it.  
And in case you need a little added motivation, I want to invite you to my Nov event to get you that jumpstart you need right now…
I really hope you consider attending my Jumpstart Your Biz Event happening Nov 11-13 on zoom. This virtual training and workshop will give you the roadmap YOU need to tweak things a bit in your business so that you can start seeing a LOT more revenue coming in and finally feel like you have a business and it's getting momentum! Learn more here. Tickets on sale ONLY through October 29th!
I've added 3 BONUS COACHING CALLS for everyone who registers for the Nov Jumpstart Your Biz event too and the final one is Friday, October 30th!! So get your ticket now… and go listen to the replays of the first two calls to get going NOW. Then join us in a couple weeks for the next one… you'll be glad you did.
I'm sending out REALLY COOL SWAG BOXES for the Jumpstart Your Biz event – I've never done this and I'm so excited for you to get one!! Plus, you'll get my workbook for the event, a book, my physical ROADMAP to help you and more! (only for the first 100 who register by October 29th!)
You're going to get what YOU need or your money back, I promise! And that, I know, is a big promise but it's to show you how serious I am in providing true, real-world, proven strategies that will work right now to build your business quickly.)
"I only worked with Katrina for a short time to have her give me a jumpstart from where I was in my business. I realized I needed better marketing in place, more systems and possibly some new programs and offerings so that I could really amp up my revenues and in just three short months she helped me do all of that. Now I have a much more up-to-date marketing and business plan that I clearly understand what to do with and how to accomplish it. Oh and in that time I also attended two of her live events and they really were chock full of useful marketing and sales strategies that I'm also already implementing to get more higher paying clients. Thanks Katrina!"
I look forward to helping you build the business and life of your dreams!

Award Winning Speaker, Jumpstart Your Biz Coach
& International Best-Selling Author with 11 books
Contact me anytime!
Office Landline: 916-872-4000
Email: katrina@jumpstartyourmarketing.com