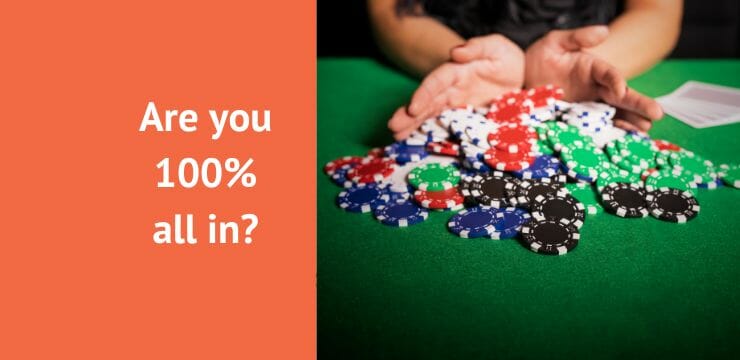 I'm getting a little edgy in this post today because it's my BIRTHDAY MONTH… and… well, I can!
Birthdays also sometimes mark a time when you make some decisions, right? Yep… check it out.
So… for the rant/education about Entrepreneurialism.
Are you "All In" in your business? I mean 100% all in?
If not, why? What's stopping you?
Fear?
Doubt?
Time?
Passion?
Purpose?
Capital?
What is it?
Entrepreneurialism isn't for everyone.
It takes determination, grit, passion and belief in yourself that you are capable and you CAN do this.

It takes consistent imperfect action.

It takes MASTERY with marketing and sales – THAT'S for sure!

It takes investing in yourself with mentoring and training. You didn't just wake up with all the knowledge in your head on how to do this after all…But too many people think this way. They think because they've made hundreds of thousands for other companies or marketed in their jobs previously that they will instantly become rich doing their own thing.

It takes a whole lot more too…. so are you sure this is for you? You know, it's ok if you just go back and get a job, right?

You have to be HUNGRY to do whatever it takes.
I can tell you it's taken me 20 years to become an "overnight success"!
I've stayed up all night working many many times.

I've worked through the weekends many many times.

I've invested over $250,000 over the last 20 years in mentors, masterminds, workshops and trainings.

And I have a business degree with a marketing concentration!

I still don't know what I don't know and learn every day.

I keep investing because there is always more to learn and do.

And… each time I do invest, I get to the next level of ME and my business.
Highly successful entrepreneurs have the following traits and habits…. Is this you? I hope so, but if not, there's no shame in it.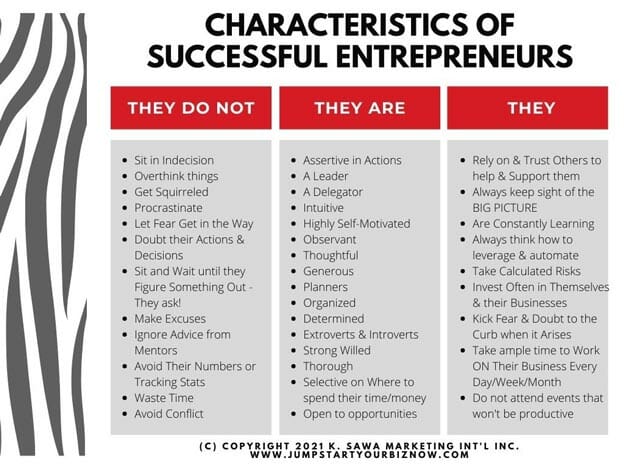 I'm sharing all of this because I'm getting ready to change a few things in my business… it's time. I'm taking a few people with me who have these qualities or who are working on them.
I want to spend my days supporting entrepreneurs who have a fire in their belly, who believe they're worth it and who are hungry to build a very high income earning business for themselves and their families. You will want to make a BIG impact of course AND you're tired of being the best kept secret.
You want more:
– freedom
– financial success
– fun
– growth
– leverage
– love
If this is you – Click here and let's have a conversation this week! Stop waiting for "someday". I will find a way for you to get the support you need, at whatever budget you have, but you have to be SERIOUS and not let pesky excuses get in your way. You can't say "I can't afford you", especially when you don't know how much it costs! I have many options to help give you a jumpstart.
Marketing and sales are the lifeblood of any business and you want to constantly be honing your skills and figuring out how to focus in better to be more concise, clear, and inviting so that more people want to work with you or buy from you.
Help you develop pricing and packaging that makes people want what you've got consistently.

Show you where to find YOUR ideal clients and prospects and HOW to get them to pay attention and/or take a next step.

Position YOU as the expert you are but others may not notice because you're not focused on "what you look like". (This is one of the biggest mistakes entrepreneurs make… you don't see what we see.)

Elevate you and your offerings so that others raise their hands to learn more.

Help you believe more in yourself, your worth and the value you bring.

Help you build the business and life of your dreams – whatever they are and however big they may be.
I'm feeling deeply moved to change up some of my business models in order to free up some of my time. I want to serve those who want to be supported and mentored. I want to serve those who are tired of waiting to reach six or seven figures. I want to serve those who believe it's possible but just don't know how to get where you want to go. You need the how. You need accountability, structure, systems, and simplification so you can stop working so dang hard!
I no longer want to serve those who are half-assed at doing their business. I don't have the energy to motivate and inspire people who are going to make excuses for why they can't do something or why they can't achieve more income with their business.
My husband and I are starting on a new quest of investing in real estate. He's been in the real estate industry either with home inspection, pest inspection, or mortgage for a couple decades and it's time.
It's time to create more generational wealth for my family and also for my clients.
I no longer want to serve people who waste their time going to event after event after event after event and don't actually implement anything, or barely anything they learn. I know that you are afraid fail, or afraid you won't achieve, or afraid you're not good enough, or afraid somebody's better than you, or afraid to charge what you're worth, or afraid you're bugging people, insert any other fear, doubt, or disbelief in yourself.
Do something. Read my book, Love Yourself Successful. Do something to better your situation, improve your earning potential, then make a better life for yourself and your family! But please, please stop making excuses for why you can't.
Instead, ask yourself, how can I?
I'm looking for 8 highly motivated, passionate entrepreneurs who want to be mentored by a very experienced business and marketing coach who truly cares to see you achieve as much success as you can possibly imagine and who will give you everything I've got!
I've got an opportunity for you
 to work with me over the next 6 months and truly watch your business transform as well as your own confidence, personal beliefs, and I want to know who's ready?
Click the link below if you're interested and let's partner up to have you finally build the business in life of your dreams!
Let's make this YOUR BEST YEAR ever!
I know how to show you how to tweak what you're doing to get really BIG RESULTS in the next year! Book a 1on1 clarity session with me here now! Here's to creating and enjoying a life full of lots of Love & Money!
Katrina Sawa, The Jumpstart Your Biz Coach
One of Katrina's strengths is that she has the systems you need to automate your business with ease. From sales scripts, to social media marketing plans, to email marketing guides, she has it all figured out for you.
When COVID hit, I was unexpectedly furloughed from two jobs and thrust into a position of uncertainty.  I met Katrina and knew, immediately, she was the one to help me launch the business I've always wanted.  As a Doctorally prepared Nurse Practitioner, I have wanted a business on my own for many years yet unsure where to start.  Katrina has helped guide me from day one!  In four short months, I went from a panic state of, "I'm not working!" to effectively running my own business and generating nearly $5,000 in just one month! Katrina helped me discover my true value and has encouraged me to charge an hourly rate which is definitely what I am worth–which is much higher than being an employee.  Her work has guided me to grow a business very quickly from simply an idea to reality. If you are considering starting a business or looking to take yours to the next level, jump now!  Katrina is the one to jump start your business!  She truly is a gift and is one of the best business decisions I have ever made!
Get Started Today
Sign Me Up!
Sign Up Now to Receive Kat's Email Newsletter, Video Tips & Free Jumpstart Your Biz Audio & Checklist!