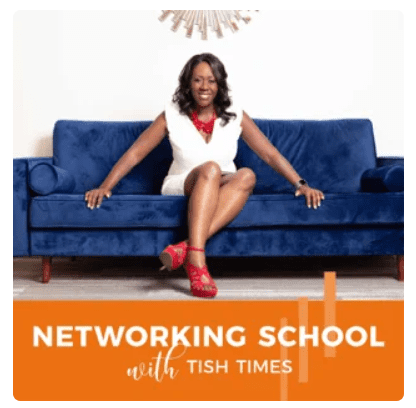 I was just interviewed on an episode of the Networking School Podcast with my friend Tish Times! Check out the interview where we discuss:
Incorporating "being" not just "doing" in life and business
Love affects how you do your business
The power of efficiency — maximize time and work less
Opportunities to connect are out there. Just ask, pay attention and show up
Delayed decisions = delayed success
Go listen in, please make sure you SUBSCRIBE to the show and leave a REVIEW which will help my episode get boosted! 
Networking School is a podcast to help entrepreneurs stop phony networking and start making money with intentional business networking. A podcast created because your time is too valuable to waste on non-productive relationships and ineffective networking events. Join Tish each week to learn new ways to connect. 
Let's make this YOUR BEST YEAR ever!
I know how to show you how to tweak what you're doing to get really BIG RESULTS in 2021! 
Here's to creating and enjoying a life full of lots of Love & Money!
READY TO GO "ALL IN" IN YOUR BUSINESS IN 2021 WITH ME? Where do you want to start? Dipping your toe or all in?
Attend some of the free calls that I run on zoom every month in the Int'l Speaker Network! https://www.iSpeakerNetwork.com?.
LEAVE A COMMENT AND SUBSCRIBE TO MY CHANNEL https://www.youtube.com/katrinasawa
Learn more on how to really get more paying clients from virtual networking events too with the Jumpstart Your Networking 3-week training!  https://jumpstartyourbiznow.com/jsynetworking/
Get Started Today
Sign Me Up!
Sign Up Now to Receive My Email Newsletters, Video Tips, Articles, Advice, Free and Paid Events and Opportunities, Plus, Tools and Resources to Grow Your Business Every Week!