Productivity & Technology Implementation Worksheet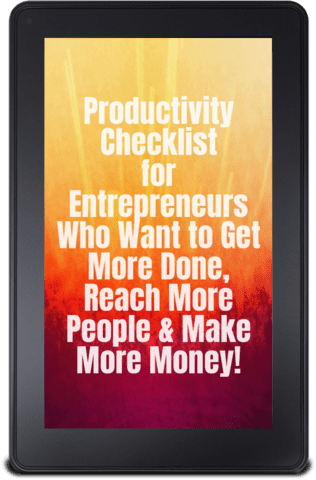 Ready to Jumpstart Your Business?
If you want to know what else you can do to create YOUR smooth-running, consistent moneymaking business, then this free download is for you!
Besides helping entrepreneurs make a LOT more money doing what they love I also LOVE helping you set up systems and online ways to be a LOT more productive, organized and efficient. THIS will also HELP YOU make more MONEY! This is why you see me doing SO much stuff all the time, I'm freakin' super organized and systematized.
I find that most business owners don't make the money they want to make due to not getting in front of enough people and getting more done (without working so hard). Then secondly though, its due to not being efficient with all those leads and your follow up, and sales processes. That comes down to using TECHNOLOGY to support you connecting FASTER with more people easily.
So, I decided to share this big, long 2-page checklist that I give out at my live training events and to my high end clients who use this is a guide when figuring out what else they can do to grow and scale. This checklist includes things to be more productive and efficient with regarding your website, social media, email marketing, systems and everything techy basically.
Why do I focus so much on technology, websites, and systems? Well, because these things will make your life so much easier and your business run more like a smooth-running, moneymaking machine! Sign up and get access today!
(And yes, I'm asking for your phone number and mailing address too because I can, this is a very valuable checklist that you can take straight to your team to implement right away. I could charge for it, but instead, I'm giving it but in return I feel it's fair to ask you for more info – plus I send cool stuff in the mail! And you may want to WATCH what I do for mail and phone follow up for what YOU could do!)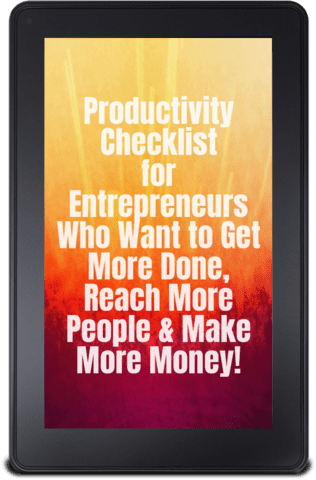 Sign up and receive your Productivity & Technology Implementation Worksheet!
Katrina Sawa is known as the Jumpstart Your Biz Coach because she literally kicks her clients and their businesses into high gear, online & offline, and fast. 
The Jumpstart Your Biz Coach, Katrina Sawa helps entrepreneurs make more money doing what they love. She is the creator of the Jumpstart Your Marketing & Sales System, a tell-it-like-it-is speaker and International Best-Selling author with 20 books including: Jumpstart Your New Business Now, the Jumpstart Your _____ (blank) compilation book series, and Love Yourself Successful.  She has been featured on the Oprah and Friends XMRadioNetwork, ABC and TheCW and she was awarded the National Collaborator of the Year Award by the Public Speakers Association and a 2-time Nominee for the Wise Woman Award by the National Association of Women Business Owners. She speaks to groups of all sizes, holds live training events annually and she's the founder of the International Speaker Network.