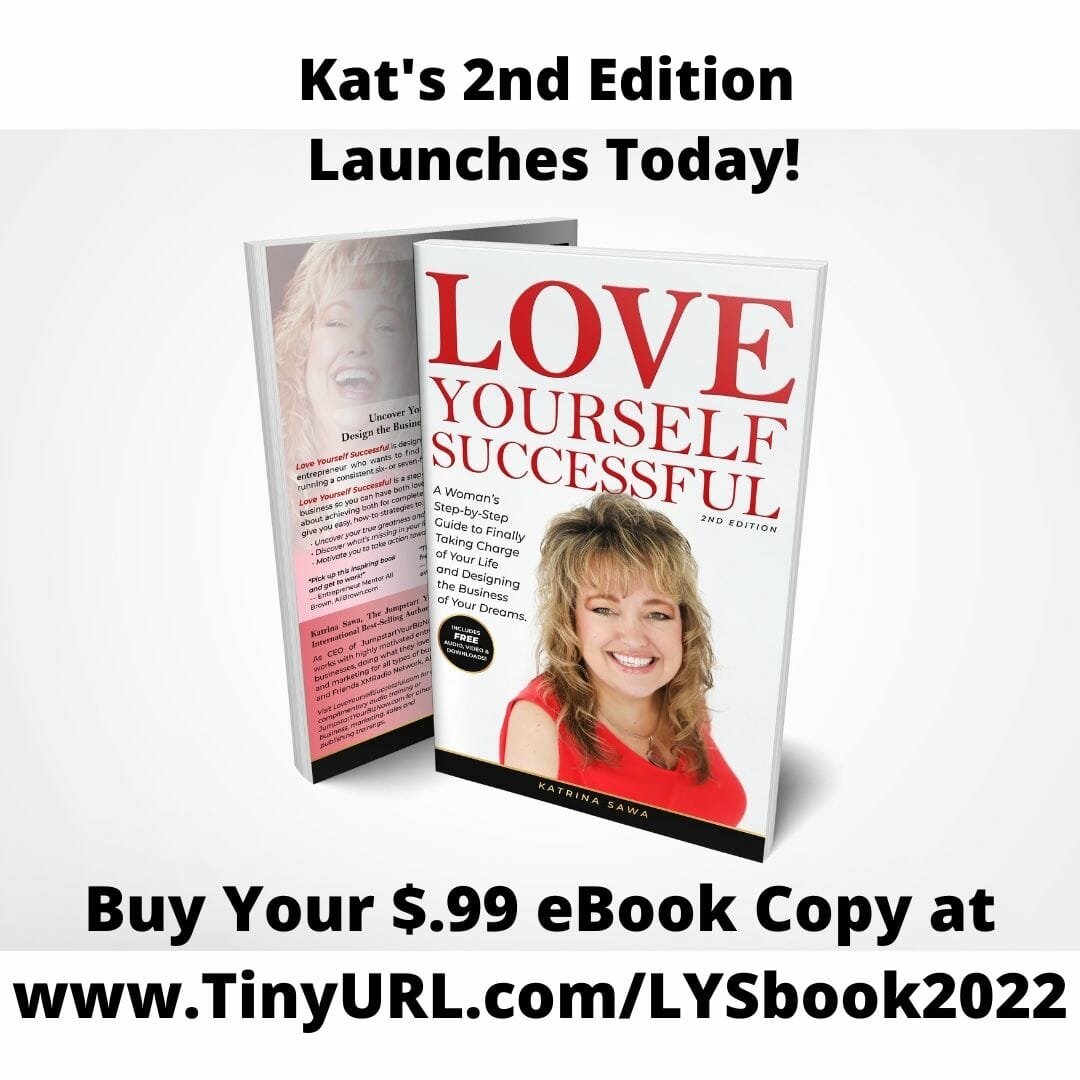 The Love Yourself Successful Live Online Summit And Gift Giveaway
It's today! The 2nd Edition of that book is here! I revised it this year for the 10 year reunion of it first coming out.
The BOOK LAUNCH IS TODAY AND WEDNESDAY!!
I'm doing this in conjunction with my Love Yourself Successful Summit & Gift Giveaway happening Tues and Wed this week too.
Why? Because I totally believe we have to focus on the LOVE side of our lives every day, just like we focus on our businesses…. I've proven this over and over again with clients and in my own life. You have to trust me.
Even if you have the old version of the book, I'm hoping that you support me and grab a copy (ebook or print) of the NEWLY updated Love Yourself Successful!!
You can go buy the ebook for just .99 on Amazon and help me get to Int'l Best-Seller!
You can buy the print book starting next week, but the ebook purchase helps me get to the best-seller status. Inside the book, I share the 4 Types of Love every entrepreneur needs to focus on to make a lot more money in your business! This is for entrepreneurs and non-entrepreneurs too because I talk about how to rid yourself of toxic people, how to go after what you really want and get it and how to stop settling in your life or business.
Here are the links to buy Love Yourself Successful Book!
US:  https://www.amazon.com/dp/B09S3QNJR1
CAN:  https://www.amazon.ca/dp/B09S3QNJR1
AU:  https://www.amazon.com.au/dp/B09S3QNJR1
UK:  https://www.amazon.co.uk/dp/B09S3QNJR1
BR:  https://www.amazon.com.br/dp/B09S3QNJR1
IN:  https://www.amazon.in/dp/B09S3QNJR1
FR:  https://www.amazon.fr/dp/B09S3QNJR1
NL:  https://www.amazon.nl/dp/B09S3QNJR1
DE:  https://www.amazon.de/dp/B09S3QNJR1
IT:  https://www.amazon.it/dp/B09S3QNJR1
ES:  https://www.amazon.es/dp/B09S3QNJR1
MX:  https://www.amazon.com.mx/dp/B09S3QNJR1
JP:  https://www.amazon.co.jp/dp/B09S3QNJR1
When you buy the ebook this Tues or Wed, you will also receive 2 additional free gifts! My Love Yourself Successful 3-part Audio Training and my 5 Steps to Living a Big Life Audio! Just grab your Amazon Order # and go here:  https://jumpstartyourbiznow.com/lysbooklaunch2022
After you go buy the book (thank you very much!)…..
Please join us LIVE TODAY for the Summit & Giveaway!
Stop waiting for "someday" and take charge of your life, your relationships and your business now!
You deserve a bigger, fuller, happier life… one with more love, good health, less stress, and harmony as well as a business that's more profitable, productive and makes a bigger impact!
Join me at the Love Yourself Successful Summit and Online Gift Giveaway – LIVE Feb 15 & 16! I'm excited to host this during the month of love because it's time to get more LOVE in your LIFE and MONEY in your BUSINESS!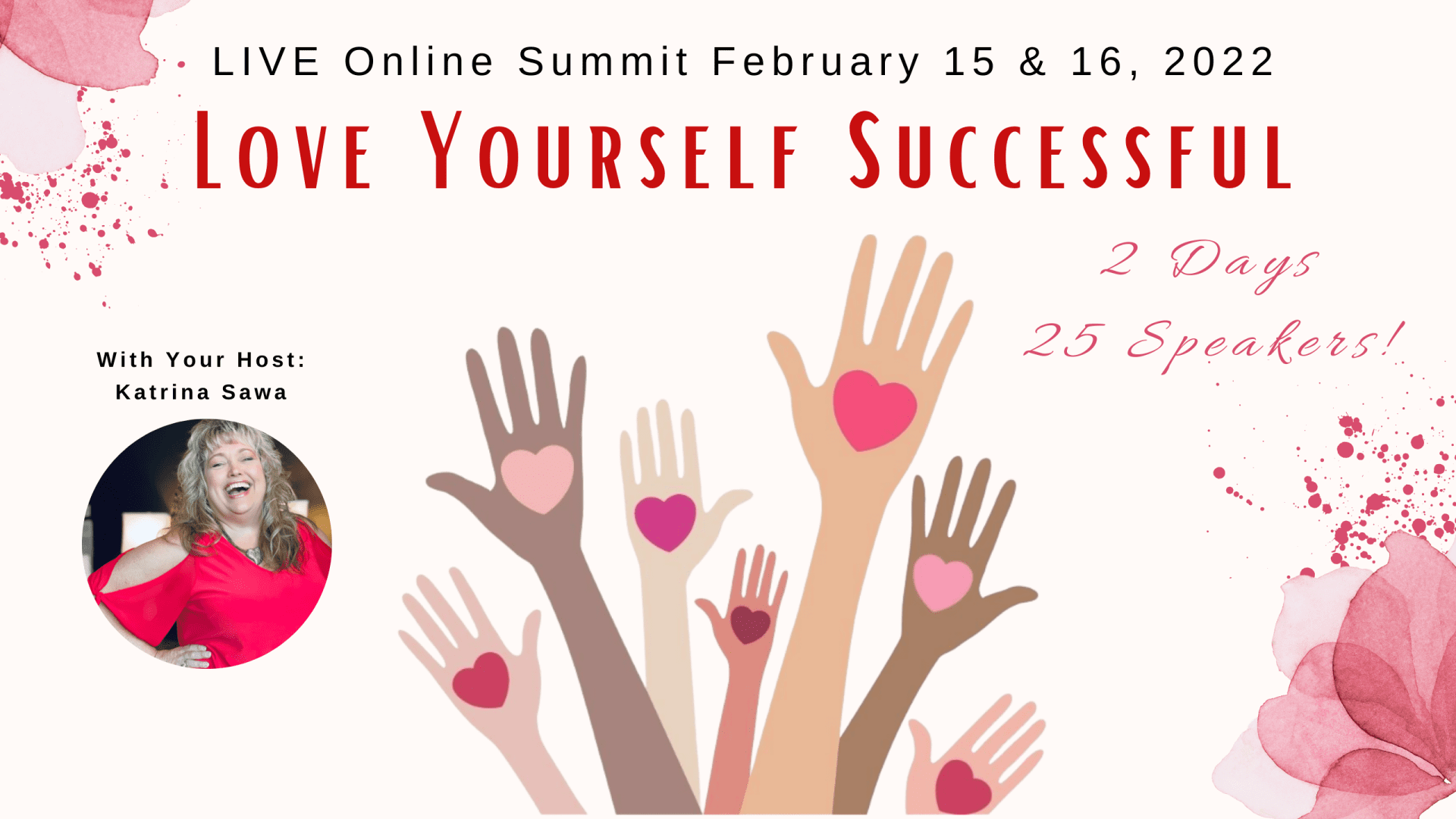 The sooner you reserve your spot to the Love Yourself Successful Web Summit – the sooner you can get access to the thousands of dollars in Free Trainings & Downloads in the Gift Giveaway portion of the event.  They are live right now!
I want to share a few opportunities (for speaking, attending, authoring, sponsoring) that are available to you now and for a limited time… do it now or they could be gone.
CALL FOR SPEAKERS on Other Upcoming Online Summits happening first few months of 2022
All topics, open to anyone, read fully what they're looking for and apply here. Tell them I Katrina sent you!
CALL FOR SPEAKERS – Int'l Speaker Network twice monthly webinars and networking calls.
If you support speakers and entrepreneurs, this could be a good audience for you to speak to. There are only about 18 spots left for all of 2022 so learn more and go apply to speak here now!
REGISTER NOW – Love & Money LIVE! My annual seminar is coming back IN PERSON March 30, 31 & April 1st in Sacramento, CA!!
Entrepreneurs are hungry for that in person connection these days plus there is nothing like immersing yourself in a 3 day training like this that can catapult your business substantially. Plus, you can sell at my events, and we cover a lot! Learn more and register with early, early bird registration (going up in January – reserve your seat now! This event is for you if you want more exposure, clients, higher-end programs, more structure, systems, and freedom in your business so that you can also enjoy more love in your life in the process! We can't just focus on our businesses and getting clients these days to see massive monetary results. We need balance, self-care, love and support from those in our life, otherwise we don't end up doing all the things necessary to make the money! I call this "The Love Factor" and I wrote a book about it in case you weren't aware… I'm taking a couple speakers and about 6-8 vendors only, and only those who serve entrepreneurs (email to inquire, I'm very selective for this event).
[CALL FOR SPEAKERS]
I'm looking for speakers, sponsors and vendors for anyone who helps speakers in any way. It will be an International Speaker Conference, IN PERSON EVENT IN DALLAS summer 2022. I'm in talks with all national speaker associations and some big keynote speakers – this should draw 200+ speakers and wanna be speakers no problem. Prices are very reasonable. I want 30+ vendors, and we have 26 speaking opportunities, to make this the ONE speaker conference to attend in 2022!! Fill in this general info form for all the details: https://tinyurl.com/2022ISC
The Jumpstart Your ____ (blank) book, Volume 5 in the series is open for authors right now.
Save $600 if you're one of the first 6 authors to sign up… all previous books have gone to Int'l Best-Seller status on Amazon and we've published over 60 authors! You "fill in" the blank with what YOU do or are an expert in! Coaching calls with me to help you figure out what to write, what call to action to have, how to set that up on your site, how to position yourself, sell books and more! Learn more and secure your spot here now
Let's make this YOUR BEST YEAR ever!
I know how to show you how to tweak what you're doing to get really BIG RESULTS in 2022! 
Here's to creating and enjoying a life full of lots of Love & Money!
"Katrina gave me the push I needed to implement changes in my business and helped my marketing take off with her "jump start your business" bootcamp. IF you're not happy with how your business is going, it's not going to get better until you gain the right knowledge and learn the right way to proceed. I had been listening to different teachers, a little bit here and a little bit somewhere else. But no one gave me the methodology Katrina has. Hire Katrina and watch your results!"
"In just 3 short months in your Live Big Mastermind, wow, you helped me get clarity around my entire planning schedule, and how to make sure I keep the balance in my own business and life, especially since that's what I teach. I've simplified my website, and lead generation systems so things run a lot smoother now which is taking a lot of stress out. I've taken advantage of more speaking opportunities, online summits and am collaborating a lot more with other experts that are growing my reach tremendously. Plus I finally created and launched the high-end mastermind that I have been called to lead for years now and filled it with 5 new people in 30 days! I can't wait to see what else we create as I'm on target for my best year yet!"
Get Started Today
Sign Me Up!
Sign Up Now to Receive My Email Newsletters, Video Tips, Articles, Advice, Free and Paid Events and Opportunities, Plus, Tools and Resources to Grow Your Business Every Week!