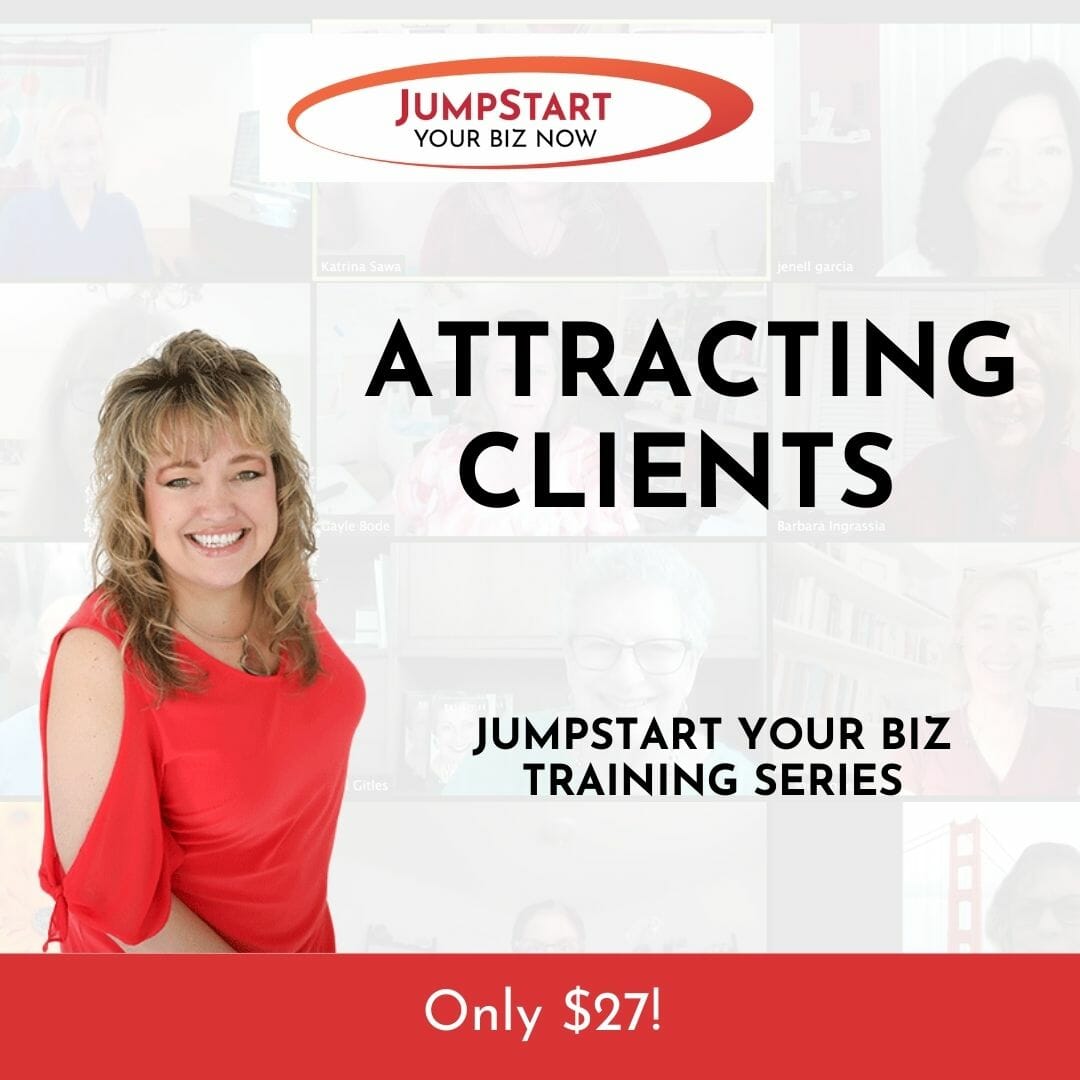 Is your lead magnet working?
If you know what a lead magnet is then you should know whether yours is working or not. Whether or not it brings in dozens of new leads every week or way more or not much at all?
I hope you're bringing in dozens and dozens of new leads every single week through your marketing and sales processes but my experience is that most entrepreneurs are not.
Lead magnets is just a term for your free stuff. Here are a few examples of what you could give away:
a free eBook
free guide
free "live" webinar
free recorded webinar or audio
free video series
free mini e-course
free consult (Please do not make this your only freebie though! Most people will NOT do this if they haven't met you yet or even if they have, they want something less risky first to get to know you.)
free ticket to an event
free actual book, mailed to them
free checklist, template, infographic, exercise
free meditation
free sample pack of products (if you have easily) to ship
or some other free way for people to try you out
These can all be considered "lead magnets".
I personally think that most entrepreneurs need to have more than one lead magnet or free gift at this point. One is sometimes not enough because the topic, title, or subject of your lead magnet may not be attracting the attention of your ideal prospect. And if it doesn't attract the attention of your ideal prospect then they will not enter their information in hopes to receive it which means they will come to your website perhaps look around and then leave. "OH NO!"
It's critical that with all the work you do to get people to come to your website in the first place that they don't leave without getting on your email list in some way; otherwise they may never come back and you may never get another chance to market to or connect with them on a regular basis having them in your community.
Now, whether the marketing that you're doing is actually getting people to come to your website or not, is a different problem or challenge, a lot of entrepreneurs aren't finding the best ways to do that either. You might be engaging them on social media and they might be following you but what happens when social media changes, or shuts down, and you no longer can communicate with them?
Your number one goal of your website needs to get visitors on your email list, and the number one goal of your marketing needs to either get them to your website to get on your list or to get them to engage with you to have a conversation personally one-on-one.
Those are the two "simple, yet not-so-simple" things you need to do. Stop making this hard. Stop thinking that you have to do EVERYTHING every successful entrepreneur or online marketer is doing themselves OR telling you to do. You probably don't. That should be exciting to hear!
Your website though, does have to be the HUB of everything you are doing, the HUB of your business.
Having your website be interesting enough and engaging enough to get someone to give you their contact information is a feat in and of itself and I love helping people figure out what you can do on your website to tweak it so that it makes a bigger impact on the people who visit it.
There are also systems that need to be in place on your website to make it easier for people to get access to you, and or to sign up for your freebie, an upcoming event, or even buy something from you. Without that technology and functionality, you're going to be dead in the water for a long time and I hate to see that happen.
Here's a few mistakes I see with people's lead magnets and/or websites:
The free gift itself doesn't talk much about you – they need to get to know YOU or they may not take a "next step".
The free gift doesn't have any live links, contact info or a call to action.
The free gift doesn't showcase your client success stories, have testimonials or other credibility/proof.
The free gift doesn't have a deliverable page, or thank you page, you only share the info via email.
The thank you page doesn't have more personal info with or about you either, ideally a video there so people can "feel your energy" is a great idea.
The thank you page only delivers what they signed up for… zero additional info, next steps or deeper ways to learn more.
The free gift (if written) wasn't designed well, it looks amateurish and therefore people don't believe your value.
The website in general looks amateurish – the time of doing your own website design is LONG GONE! There are way too many really great looking sites for people who do what you do, you cannot afford to NOT invest wisely in a great looking website (FYI we build sites for under $3,000 in most cases!!).
So, what can you do about getting some of these things in place sooner than later?
Check out my training on Attracting Clients
Even if you have a lot of this already in place and you think you have your website, and your lead magnet, and your whole lead generation systems in place, I would urge you to come because too many entrepreneurs I see are too over confident that they have their stuff together when in fact it really does need a lot of work in order to be a lot more efficient and revenue producing.
Let's make this YOUR BEST YEAR ever!
I know how to show you how to tweak what you're doing to get really BIG RESULTS in 2021! 
Here's to creating and enjoying a life full of lots of Love & Money!
Get Started Today
Sign Me Up!
Sign Up Now to Receive Kat's Email Newsletter, Video Tips & Free Jumpstart Your Biz Audio & Checklist!