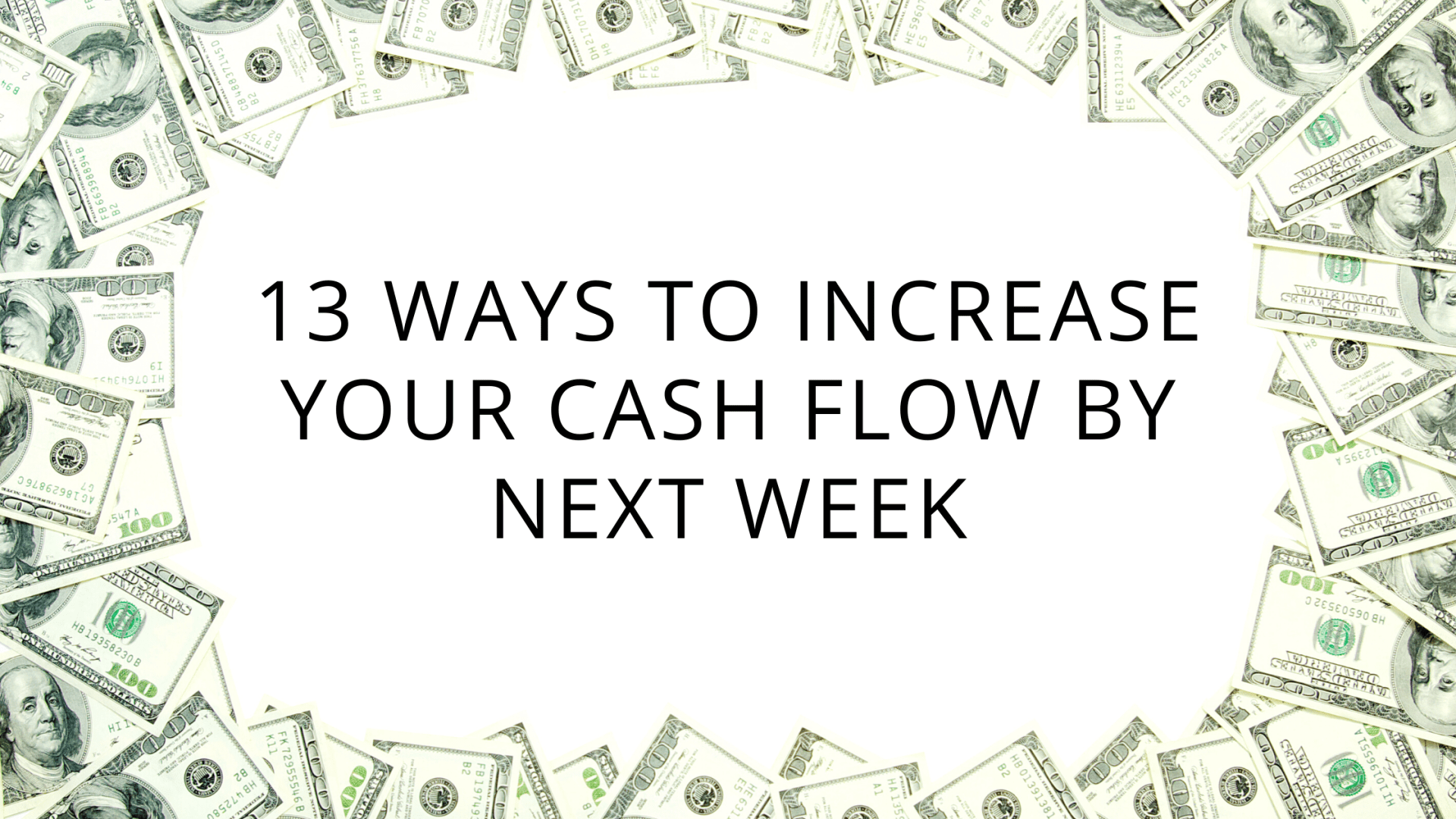 Are you Ready to Increase Your Cashflow by Next Week? 
I thought I would share a jumpstart your biz tip with you about 13 Ways to Run a SALE!
Nothing gets people buying products or programs like a special promotion to your email subscribers. And, no, it's not cheesy to have a sale, businesses have sales all the time. And, I know, you don't want to discount your programs, products and services because they're valuable at their retail rates.
But this can work if you need an influx of cash… that's all I'm sayin'. And it works if you position it right. Here are 13 ideas to consider. Choose one that would work for your business and give it a try. What have you got to lose?
IMPORTANT: You'll need to put some type of time limit on the offer to encourage folks to buy now and not later. It's also better if you explain to your readers WHY you're having the sale. You're not Wal-Mart and you can't just drop prices whenever you feel like it. Instead, give your prospects a reason. (Even a funny one — see tip 13!)
1. Close-out sale. Have inventory you want to get rid of? Making room for other products or new versions of products? Then offer the current version at a significant discount.
2. "Scratch and dent" sale. Have any books, old CDs or workbooks that were returned to you by customers? Offer them at a hearty discount for people who don't mind i f they're a bit worn. (Yes, some people still have this stuff!)
3. Half price sale. Knock off 50% from all your DIY products or courses, or select just one.
4. Coupon sale. Allow customers to enter a coupon or promo code to get a discount. (If you have a decent shopping cart program you should be able to set this up in seconds.)
5. Free shipping sale. Offer free shipping for a limited time. Or, upgrade folks to express shipping at no extra cost.
6. "We'll finance it" sale. Offer a payment plan – this works great for higher priced items and programs. (Again, if you have a decent shopping cart program, you should be able to set up timed, recurring billing.)
7. Free 30-day trial. Get their credit card information at the time of order, but don't charge them until the month is up. Another variation is the 30-day trial for $1 or $7. This is good for low-end memberships.
8. Pre-publication sale. Start taking orders before your product is even ready. (Seeing orders come in is also a great incentive for you to finally finish creating that product, course or book!)
9. VIP discount. Give a special offer to a certain group. Show your email subscribers, your clients, your speaking audiences, etc. that they're special and sent a targeted email just to them.
10. Buy one get one free! Yes, this can even work for your online products, courses and services. The purchaser can give the extra copy to a colleague as a gift, or two people can split the cost and essentially get your product or service at half price.
11. Special bonus. Give something extra if people purchase before a certain date, a call with you, an extra download, or your book. (This is a great strategy to increase your sales without cutting your prices.)
12. Package discount. Offer a big discount if they order all your products/services or a select combination thereof.
13. Birthday s ale. Or any fun occasion… Valentine's day, your anniversary, groundhog day, your dog just had puppies, your kid just lost his first tooth — have fun with it!
Many of these options work better if you already have a course or training to sell.  Or maybe you feel like your course or training needs an overhaul before you can offer it again.
Come to my next Free Training Class, April 7th for my subscribers and learn how to Create Courses and Trainings.  We'll be covering….
What you can add into your course/training to add a lot more value but not take up more of your time
What platforms to put your courses on or hold your trainings on (it may not be what you think AND you could save a whole lot of money!)
Launch strategies
Retainment, engagement and follow up strategies
And so much more!
I'm offering these classes for no charge to you because you're on my email list, you're paying attention, and you have taken the time and effort to come and check me out or check out a few of my programs, events before perhaps and/or my free recorded trainings.
You can register now for these trainings about pricing your programs, technology and more here, they start next week!
So, what can you do about getting some of these things in place sooner than later?
You're never going to find a more all inclusive workshop as my Jumpstart Your Biz Virtual Workshop happening April 28th 29th and 30th. Especially for the low price I keep it at and I do that because I want to help more people. This training frankly could be worth $5,000 for 3 days with us working on the big picture business and marketing planning and implementation that you'll be doing.
When you reserve time in your calendar and show up LIVE, I promise you will:
Get clarity on your offerings, what you're selling and the importance of multiple offerings and price points (yes, including having a really high-end offer – you can do this!!)
Get real proven and up to date strategies how you need to market, get exposure, build relationships and community. (I share HOW to do this too)
Get more confidence in your value, pricing and worth so you can hold sales conversations with more ease and success and serve your clients at a much higher level – the level they NEED!
Get clarity on what technology you will need to have a consistent, smooth-running, money making business.
The importance of building a team, even if it's small, and how to start delegating things so you can get more systematized and have more freedom.
Most importantly, you'll understand which things, marketing tactics, tech, etc. that you DO NOT NEED TO DO or have which will save you $1,000's!
See your big vision get bigger because you'll see truly what else is possible for you and your business. You don't know what you don't know.
Understand how critical it is to stay focused on and/or increase your big money goals at all times even if you think "I don't need to make a lot of money".
Understand how to manage YOUR calendar and to do list so more things get done the way YOU work best.
Learn my 3 Year Entrepreneur Evolution Plan and how to making the smallest of tweaks could double or triple your revenues.
Have a lot of fun, meet some really great people as well as probably find 2-5 potential prospective clients and/or referral sources!
If you want interactive learning with real expertise, exercises, case studies, visual aids and proven best practices being modeled right before your very eyes then…
REGISTER HERE NOW or at least go watch my video, read the page and see what you're going to get for just a $147 investment.
(And the bonus online networking trainings is another $197 value too – it would be silly NOT to register for this event, even if you can't make the whole thing, you will learn a ton from the time you CAN spend and by utilizing your workbook, my book that you get too and the bonus training… all for $147, let's go!)
Let's make this YOUR BEST YEAR ever!
I know how to show you how to tweak what you're doing to get really BIG RESULTS in 2021! 
Here's to creating and enjoying a life full of lots of Love & Money!
Get Started Today
Sign Me Up!
Sign Up Now to Receive My Email Newsletters, Video Tips, Articles, Advice, Free and Paid Events and Opportunities, Plus, Tools and Resources to Grow Your Business Every Week!