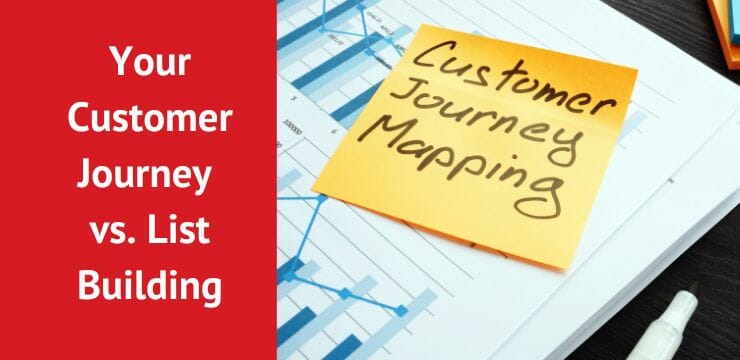 Your Customer Journey vs List Building
Ah… the dreaded list building. That means marketing, right? So many entrepreneurs tell me how much they 'hate' marketing. It comes super easy to me which is why they hire me to help them!
But it's NOT all about list building…. that's a big part of it, because it's true, it IS a numbers game. The more people you get in front of or who read/watch your stuff every month, the more opportunities you have to get more clients.
Watch this video where I share what it's also about…
Your WORDS – What you're saying in those emails, posts, videos, calls, and podcasts matters. If you don't know how to word things right, you may not be seeing traction.
Your POSITIONING – What you "look like" to those who might consider working with you. If you don't 'look' like a highly successful expert in your field, they probably won't buy.
Your CONSISTENCY – Do you follow through, follow up and walk your talk? I know it's overwhelming to run your own business which is why you need mentors, team and embracing that this requires training and learning new things and THAT is just the cost of doing business.
Your PRODUCTIVITY – Are you being and working as efficient as possible and utilizing technology to its fullest? Or are you shying away because you're scared, intimidated, or resistant to ask for help.
Your CONFIDENCE – Which allows for higher pricing, more visibility, and outside the box thinking and playing. Stop playing small, get some support to help expand what's possible for you and show you how damn great you are!
All of this has to flow together to create a smooth-running, consistently profitable business doing what you love.
Yet, too many people focus JUST on funnels and lead magnets.
I help you with ALL of this in case you weren't aware.
Come have a conversation with me… trust me, you DO NOT NEED TO BE "READY" before doing this, in fact it's better if you aren't! I give you the "reality check" of what you need to know, learn, or implement in order to make more money FAST. Sign up here now so we can get you on the schedule. http://www.AskKat.biz
Hopefully this gives you some NEW MARKETING STRATEGIES TO TRY OUT! Happy collaborating!
Click the link below if you're interested and let's partner up to have you finally build the business in life of your dreams!
Let's make this YOUR BEST YEAR ever!
I know how to show you how to tweak what you're doing to get really BIG RESULTS in the next year! Book a 1on1 clarity session with me here now! Here's to creating and enjoying a life full of lots of Love & Money!
Katrina Sawa, The Jumpstart Your Biz Coach
One of Katrina's strengths is that she has the systems you need to automate your business with ease. From sales scripts, to social media marketing plans, to email marketing guides, she has it all figured out for you.
When COVID hit, I was unexpectedly furloughed from two jobs and thrust into a position of uncertainty.  I met Katrina and knew, immediately, she was the one to help me launch the business I've always wanted.  As a Doctorally prepared Nurse Practitioner, I have wanted a business on my own for many years yet unsure where to start.  Katrina has helped guide me from day one!  In four short months, I went from a panic state of, "I'm not working!" to effectively running my own business and generating nearly $5,000 in just one month! Katrina helped me discover my true value and has encouraged me to charge an hourly rate which is definitely what I am worth–which is much higher than being an employee.  Her work has guided me to grow a business very quickly from simply an idea to reality. If you are considering starting a business or looking to take yours to the next level, jump now!  Katrina is the one to jump start your business!  She truly is a gift and is one of the best business decisions I have ever made!
Get Started Today
Sign Me Up!
Sign Up Now to Receive Kat's Email Newsletter, Video Tips & Free Jumpstart Your Biz Audio & Checklist!