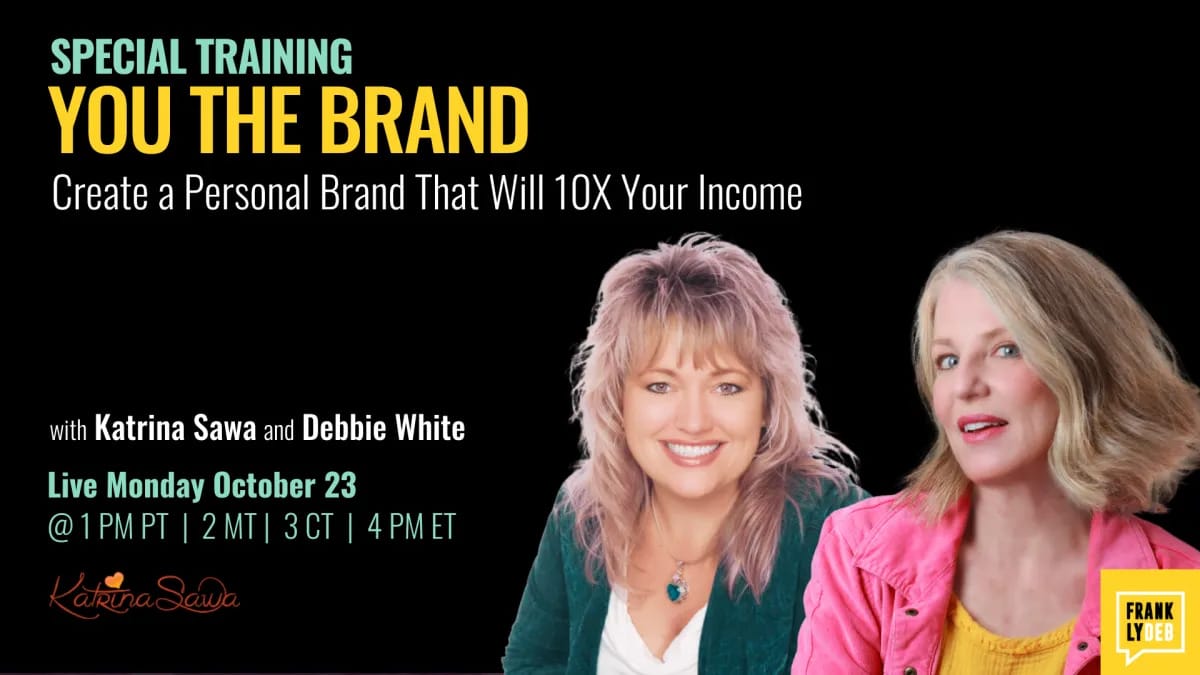 Hey there, amazing entrepreneurs, service providers, and experts! I am absolutely thrilled to share an incredible opportunity with you.
Are you ready to take your business to the next level and skyrocket your income? If so, then You The Brand: Create a Personal Brand That Will 10X Your Income is the event you've been waiting for.
Event Details:
Date: October 23rd at
Time: 1 pm PT | 3 pm CT | 4 pm ET
Platform: Zoom Meeting
Price: FREE
When it comes to entrepreneurship, you are not just selling products or services; you are selling yourself. Your personal brand is the essence of your business identity, and it has the power to set you apart, attract your ideal clients, and multiply your income exponentially. And this event is designed to show you how to do just that!
So, who's leading this exciting event? Let me introduce you to the dynamic duo of business success:
DEBBIE WHITE: As a Marketing Strategist and CEO/Founder of Frankly Deb, Debbie specializes in helping entrepreneurs attract and convert ideal clients on repeat. Her strategies are practical, proven, and designed to boost your brand's success. With her guidance, you'll learn how to position yourself as a brand that resonates with your perfect-fit clients.
KATRINA SAWA: The JumpStart Your Biz Coach, Katrina is renowned for her expertise in helping entrepreneurs make more money doing what they love, and fast. Her insights and strategies have transformed countless businesses and lives. Now, she's here to guide you on the path to creating a powerful personal brand that will revolutionize your business.
Here's a sneak peek of the fantastic things you're going to learn at You The Brand: Create a Personal Brand That Will 10X Your Income:
How to Stand Out: Discover the secrets of differentiating yourself from the competition. In a crowded marketplace, being unique is your superpower. Learn how to harness it to your advantage.
Positioning for Success: Understand how to position yourself as a brand that attracts your perfect-fit clients. When your brand resonates with your audience, you'll see remarkable results.
Website Magic: Your website is your online storefront. Find out how to optimize it to drive more revenue to your business. A well-structured website can be a game-changer for your brand.
It's time to invest in yourself and your business. The knowledge and strategies you'll gain from this event will be invaluable in taking your brand and your income to new heights.
Are you ready to transform your business? Secure your spot today by visiting the sign-up page here:
Let's make this YOUR BEST YEAR ever!
Allow me to guide you through the process of tweaking your current approach and getting BIG RESULTS. Book a one-on-one clarity session with me here now! Here's to creating and enjoying a life full of lots of Love & Money!
Katrina Sawa, The Jumpstart Your Biz Coach
One of Katrina's strengths is that she has the systems you need to automate your business with ease. From sales scripts, to social media marketing plans, to email marketing guides, she has it all figured out for you.
I got a ton out of Katrina's coaching. Many times with coaches, it's just the same old ideas re-used 10 years later. I have enough material to implement from the next several months.
Get Started Today
Sign Me Up!
Sign Up Now to Receive My Email Newsletters, Video Tips, Articles, Advice, Free and Paid Events and Opportunities, Plus, Tools and Resources to Grow Your Business Every Week!