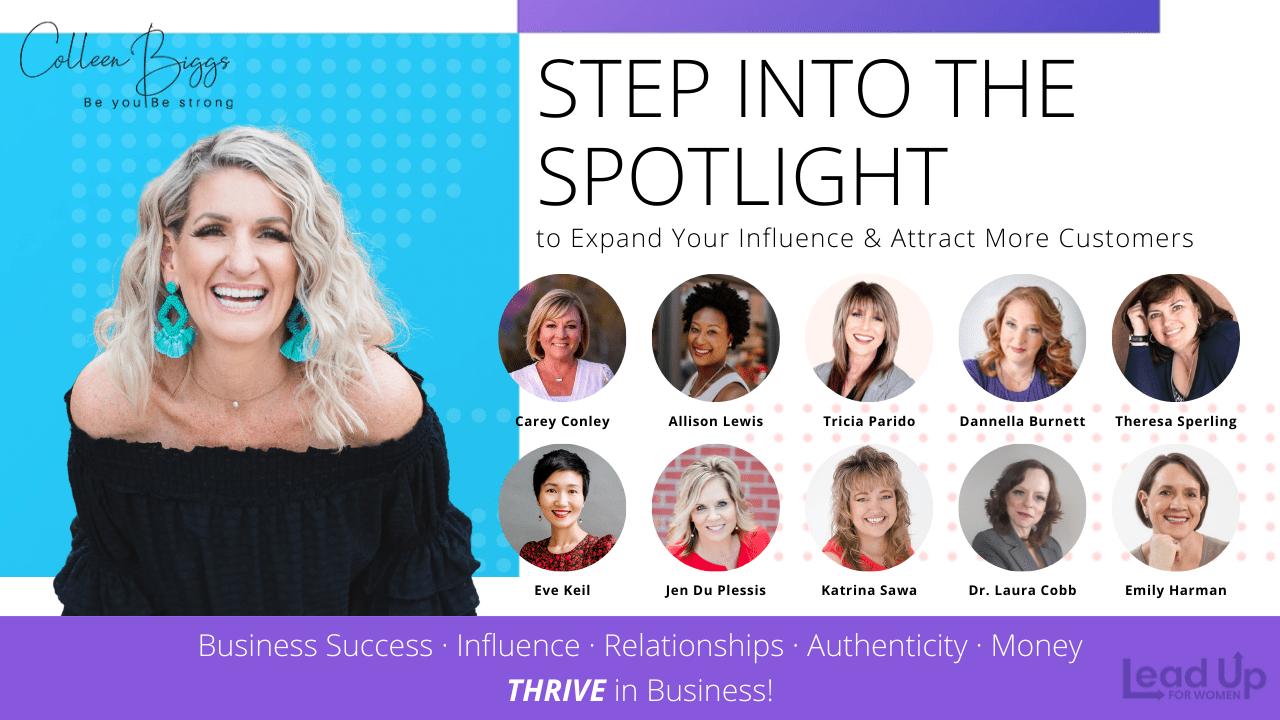 I wanted to remind you about the Step Into the Spotlight to Expand Your Influence speaker summit that is happening July 12 & 13. I hope you will join me!
Brought together by my good friend Colleen Biggs, the founder of Lead Up for Women, this fantastic event will focus on subjects including maximizing your money and profits from stage, how to be an influencer online, creating your VISION, and how to become an online authority.
Come join us for FREE! We will meet you where you are at, home!
Register Now STEP INTO THE SPOTLIGHT
W.I.F.M! What's in it for me? I'm glad you asked???
Maximize your money & profits from the stage
Tips on how to be more of an influencer online
Finding your Power and your WHY
Create who you want to become
Create a VISION that will help you through any situation
How to become an online authority
Increased strength in the belief of your unique power and what sets you apart from others
The Step Into The Spotlight to Expand YOUR influence summit is for those ready and willing to take action in their business and want to implement the proven strategies immediately! We know you aren't tire-kickers waiting around for others to pull the trigger for you!
With that in mind, there is no risk for you to attend this event. The only risk would be NOT to attend the Step Into The Spotlight to Expand YOUR influence event and find yourselves in the exact same place a year from now.
I'm honored to be one of the experts in the area of Developing Your Online Authority.
Tickets are FREE!!! All you need to do is save YOUR COMPLIMENTARY SEAT!!!! 
Register Now:  STEP INTO THE SPOTLIGHT
Let's make this YOUR BEST YEAR ever!
I know how to show you how to tweak what you're doing to get really BIG RESULTS in 2021! 
Here's to creating and enjoying a life full of lots of Love & Money!

Get Started Today
Sign Me Up!
Sign Up Now to Receive My Email Newsletters, Video Tips, Articles, Advice, Free and Paid Events and Opportunities, Plus, Tools and Resources to Grow Your Business Every Week!