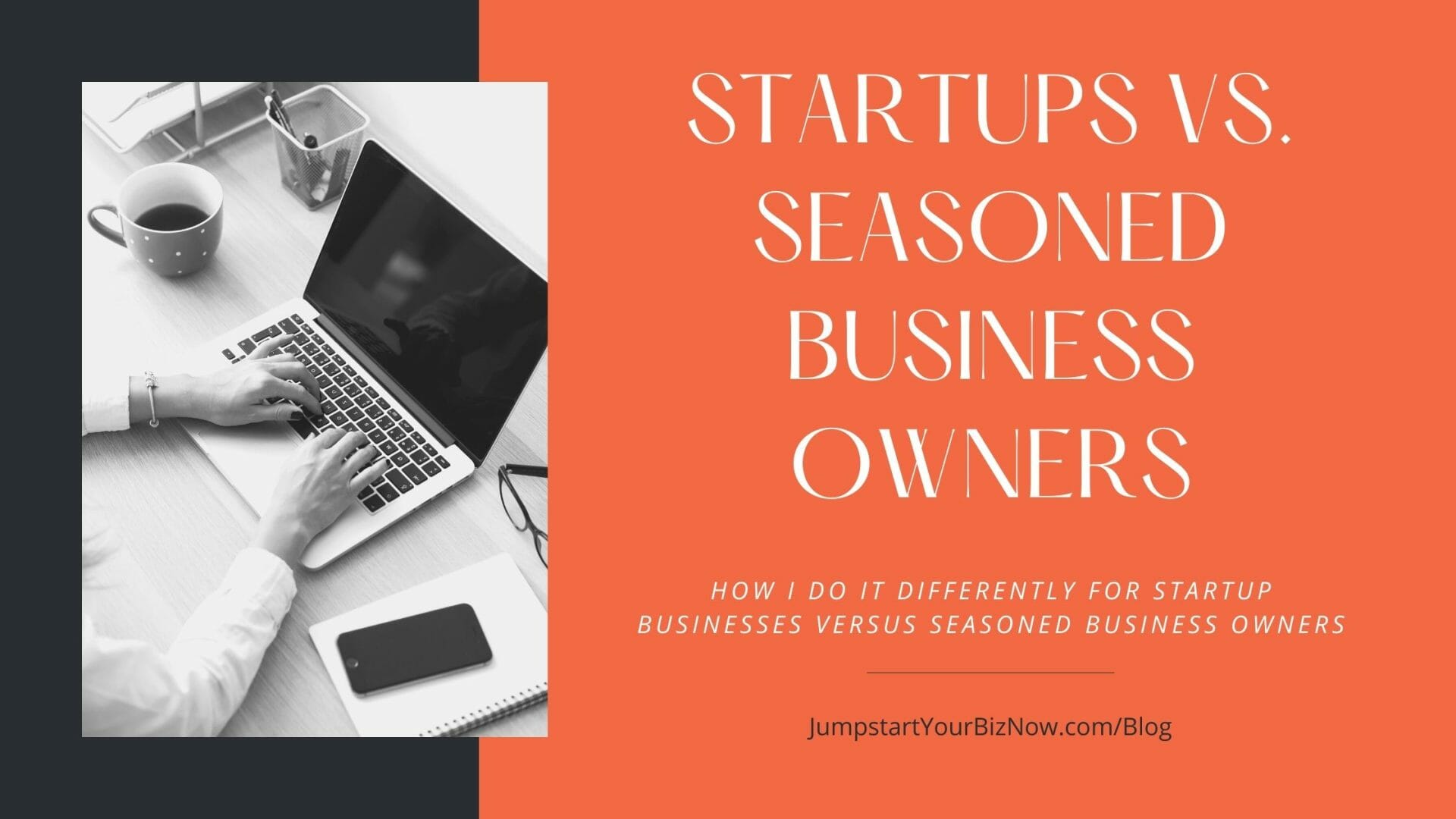 Startups vs. Seasoned Business Owners
A lot of people know me for the jumpstart and that's exactly what I do but I want to explain how I do it differently for startup businesses versus seasoned business owners. And why you should care frankly…
What's in it for you, right?
For startup businesses, or newer business owners in the first few years of your business, usually it's about attracting clients and making money. Sometimes it's about becoming more visible, becoming known, and building your list which are all things you actually need to do to attract clients and make money.
Sometimes businesses I find are not interested as much in making money as they are in making a difference, and that's okay too. However I would challenge you to definitely focus on bringing in revenue in your business, because revenue allows you to make and create more opportunities for your clients and followers. More revenue also allows you to hire team and install better software and technology to run your business more like a smooth running machine.
Seasoned business owners are often looking for more freedom, more automation, and more leveraged programs, products, and services, to reach more people, help more people, all without working longer hours. Seasoned business owners also tend to have more cash flow on hand to invest in more advanced strategies such as creating a new podcast, writing and publishing a book, hosting a live or virtual event, upleveling your branding, or traveling to speak and more.
It's important to know at which stage in business you are because I often see newer businesses jumping into more advanced strategies when they have very little if any cash flow and then they struggle really hard because they don't see the clients coming in as fast but it's because they didn't focus on that first.
My whole goal is to help you focus on your "order of importance".
Your order of importance may be completely different than the next person that I talk to and it could be completely different than anyone I talk to all month, for example.
Your business is unique, and you need unique solutions and roadmap on how to design the business and life of your dreams!
One thing I hear often, unfortunately, are people who've invested in other coaches and not gotten what they needed. It breaks my heart to hear those stories because I know you've invested your hard-earned and/or saved money and you have little to no results to show for it.
The truth is that you probably just didn't know what you didn't know at the time to make a better buying decision OR the person was very good at marketing with little integrity in the backend (or not taking the time to learn about you enough) to make sure what they were selling is in fact what you needed.
I definitely don't sell you anything that isn't your true next step based on your goals. In fact, I stop some from buying into my compilation book if they need clients now to pay their bills. It's just not the right time…
You have to know YOUR "order of importance" and 90% of the time people I talk with can't see it.
You're too close to it. Or you listen to others who have these amazing ideas to do X, Y, or Z… yet what they're sharing is NOT your best next step…and you get swept away! Squirrel! 
You don't know what you don't know just like I don't know what I don't know now… we all have blind spots and need them uncovered by someone honest who can show them to us.
All I can say, when it comes to having been burned or feeling frustrated on what you've already invested in and not seeing results… You have to keep going. And yes, you have to keep investing because you STILL probably don't know what or how to do it all yet. But now you're a little bit more gun-shy as to who to invest what with, right?
I get it. I've been there.
What I can tell you is that I'm different. If you've never had a conversation with me before or been in one of my events where I go deep with attendees, or clients, then you may not know what's truly in my heart.
I may come off a little tough and very direct but do you want someone to coddle you and enable you to stay small? I'm really good at what I do, I should be, it's been 20 years now and thousands of business owners!
At least I do it with LOVE. I do!
My heart is aching for every entrepreneur that I run into to learn what you need to know in order to be hugely successful. To achieve the goals YOU want and design the business the way YOU want it to be. That's what I want for you, and that's what I help you build when you put your trust in me to support you.
Oh, and I do it with you! If you think I'm just going to sit there and tell you what to do and hope that you know how to do it (like other coaches I've heard do) you're completely wrong. I want you to grow your business and make a lot more money doing what you love as fast as humanly possible and I show you how or do it with you.
That's what giving you a jumpstart really means to me. No matter where you are in business or what your business is frankly, we create the right roadmap and action plan for you to succeed as fast as humanly possible.
If you're new, I'm perfect because I will help you not waste any time or money in the wrong places immediately out of the gate. We'll make sure you are focused on the right activities to get clients and grow quickly. I talk through it all with you. I share HOW to sell, what to say, send, post and record. It's easier than you think, and YES! You can do this!
If you're a seasoned business owner, not yet where you want to be, I'm perfect because I know the struggles you're going through and I have hundreds of resources and ideas to help you mitigate any circumstance you might be faced with along with all kinds of ideas to scale and grow while giving you more freedom in the process.
If you're ready to find out how a coach who really gets you, and invests their time to get to know you and what you really want to accomplish, and what might be possible if you say yes to giving it a shot….
Then schedule a call with me today.
(This link leads directly to my calendar, please choose the strategy session option. Please only schedule if you're considering doing something with me if we're a fit. Keep in mind we can do as few as 3 1on1 calls, you don't have to commit long-term to get a jumpstart!)
If you're excited to get some fresh new ideas and money-saving advice too then take this step.
And no obligation whatsoever because if we're not a fit, we're not a fit.
Are you ready for a jumpstart?
Let's go!

I have 2 things coming up that you can participate in or get access to:
I'm doing a 2nd 3-day deep dive MASTERMIND again in June. After the March 3-day Mastermind that was OFF THE HOOK AMAZING!!! I have to do another one. OMG. Learn how you can attend to get a huge jumpstart on your business AND transform your mindset and confidence around what's possible. Learn more here.
Call for SPEAKERS & VENDORS for the IN PERSON International Speakers Conference is now open, but hurry only 19 pay-to-play/speak-to-sell speaker slots available and max 15 vendor spots. August 1-3 – in Dallas TX – 200+ attendees. Go read all about it and submit your info if you're a good fit!
Let's make this YOUR BEST YEAR ever!
I know how to show you how to tweak what you're doing to get really BIG RESULTS in 2022! Book a 1on1 strategy call with me here now!
Here's to creating and enjoying a life full of lots of Love & Money!
"Katrina gave me the push I needed to implement changes in my business and helped my marketing take off with her "jump start your business" bootcamp. IF you're not happy with how your business is going, it's not going to get better until you gain the right knowledge and learn the right way to proceed. I had been listening to different teachers, a little bit here and a little bit somewhere else. But no one gave me the methodology Katrina has. Hire Katrina and watch your results!"
"In just 3 short months in your Live Big Mastermind, wow, you helped me get clarity around my entire planning schedule, and how to make sure I keep the balance in my own business and life, especially since that's what I teach. I've simplified my website, and lead generation systems so things run a lot smoother now which is taking a lot of stress out. I've taken advantage of more speaking opportunities, online summits and am collaborating a lot more with other experts that are growing my reach tremendously. Plus I finally created and launched the high-end mastermind that I have been called to lead for years now and filled it with 5 new people in 30 days! I can't wait to see what else we create as I'm on target for my best year yet!"
Get Started Today
Sign Me Up!
Sign Up Now to Receive My Email Newsletters, Video Tips, Articles, Advice, Free and Paid Events and Opportunities, Plus, Tools and Resources to Grow Your Business Every Week!