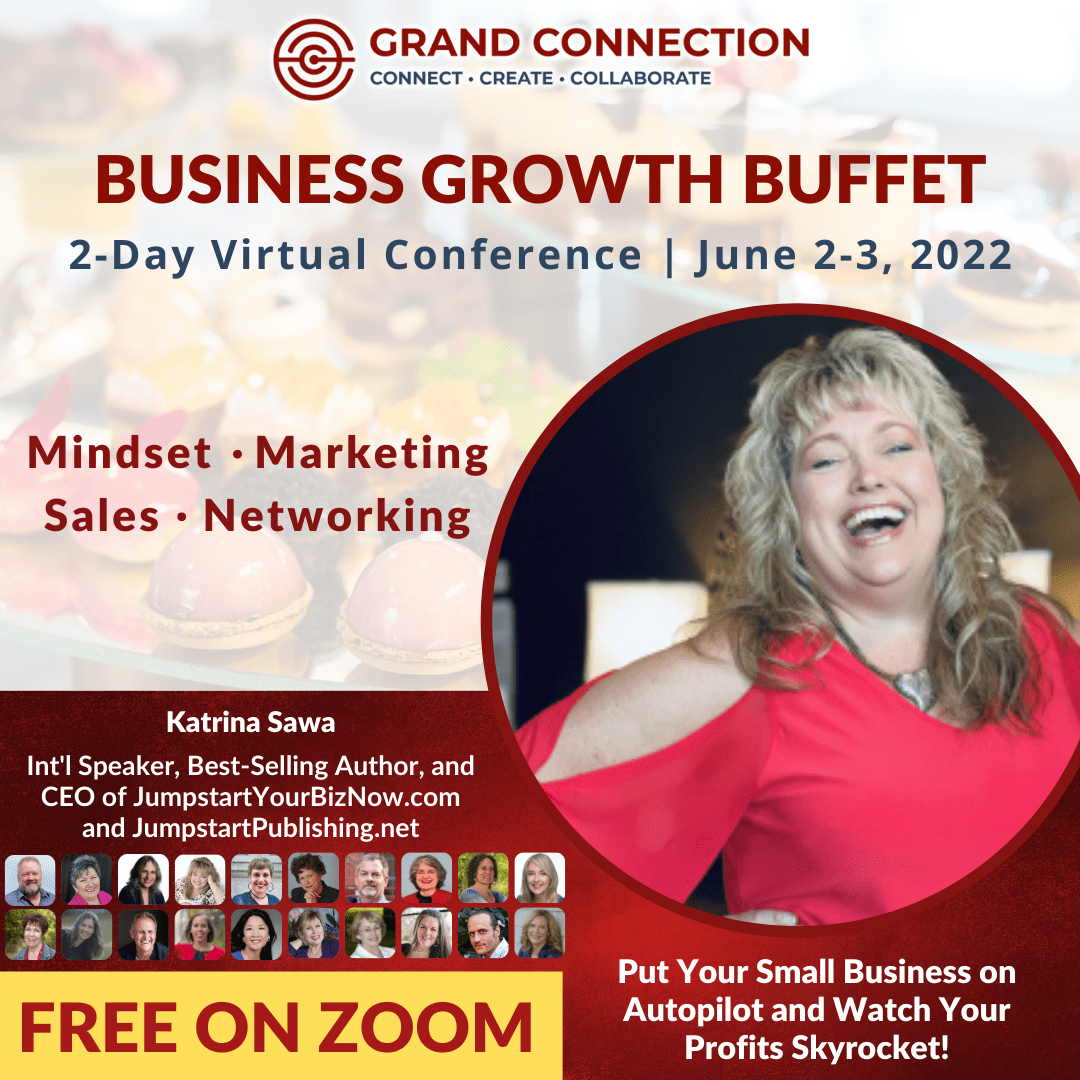 Put Your Small Business on Autopilot and Watch Your Profits Skyrocket!
I'm speaking at the Business Growth Buffet on June 3rd. I am honored to be a part of this transformation EDUnetworking event hosted by the Grand Connection Community, and invite you to come as my guest for FREE.
This unique mini-conference will be packed with so much value and networking over 2 half days. You'll hear from 20 expert speakers (including me!) giving valuable snack-size tips to fill your plate with new strategies, insights and practical tips to grow your business.
I will be sharing my talk on Put Your Small Business on Autopilot and Watch Your Profits Skyrocket!
We will take you on a delicious business journey that will give you tastes of the many flavors of business success. In between each course, we will have the opportunity to meet other businesses from around the globe in our breakout rooms to network and connect, create and collaborate.
As a bonus there will be thousands of $ in gifts too to help you succeed!
And Yes, there will be lots of NETWORKING – to help you connect, create and collaborate.
After the buffet we invite you to stay for the after party to mingle and make more grand connections.
See our Menu and Reserve your seat!
Hors d'oeuvre: Mindset & Motivation

Appetizer: Marketing & Sales

Main Course: Networking & Collaboration

Dessert: Inspiration & FUN!
This event promises to provide sweet connections, zesty ideas and a large dash of inspiration!
Dates: June 2-3, 2022 (Thursday & Friday)
Time:
11am – 2pm PT
2pm – 5pm ET
7pm – 10 pm BST (UK)
Plus everyone attending will receive a complimentary Interactive Conference Book With Recipes for Grand Success +  Thousands of $ in FREE Gifts from fellow Members.
We can't wait to share our success recipes with you and network during breakouts! 
Haven't been to a Grand Connection event yet?
The Grand Connection is a supportive global community that provides the education, inspiration and support you need through EDUnetworking to reach your Grand Potential. Connect, create and collaborate with like minded leaders who share the values of Grand Giving. 

Let's make this YOUR BEST YEAR ever!
I know how to show you how to tweak what you're doing to get really BIG RESULTS in 2022! Book a 1on1 strategy call with me here now!
Here's to creating and enjoying a life full of lots of Love & Money!
"Katrina gave me the push I needed to implement changes in my business and helped my marketing take off with her "jump start your business" bootcamp. IF you're not happy with how your business is going, it's not going to get better until you gain the right knowledge and learn the right way to proceed. I had been listening to different teachers, a little bit here and a little bit somewhere else. But no one gave me the methodology Katrina has. Hire Katrina and watch your results!"
"In just 3 short months in your Live Big Mastermind, wow, you helped me get clarity around my entire planning schedule, and how to make sure I keep the balance in my own business and life, especially since that's what I teach. I've simplified my website, and lead generation systems so things run a lot smoother now which is taking a lot of stress out. I've taken advantage of more speaking opportunities, online summits and am collaborating a lot more with other experts that are growing my reach tremendously. Plus I finally created and launched the high-end mastermind that I have been called to lead for years now and filled it with 5 new people in 30 days! I can't wait to see what else we create as I'm on target for my best year yet!"
Get Started Today
Sign Me Up!
Sign Up Now to Receive My Email Newsletters, Video Tips, Articles, Advice, Free and Paid Events and Opportunities, Plus, Tools and Resources to Grow Your Business Every Week!