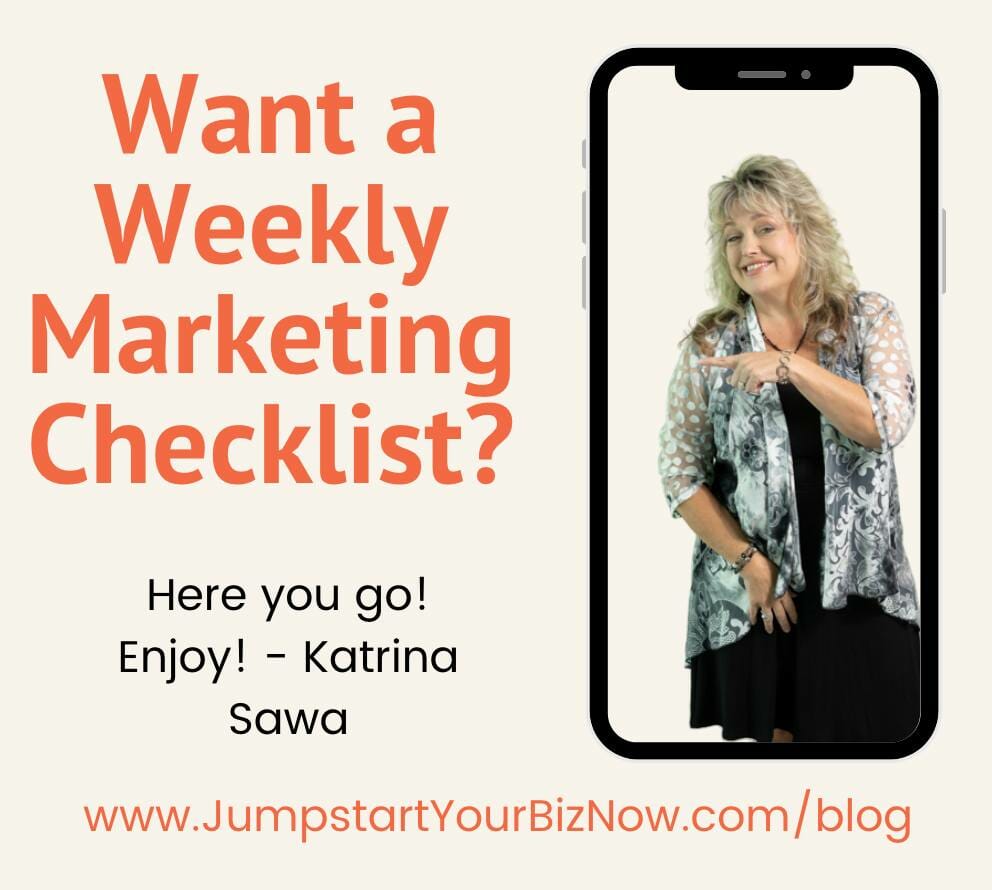 Watch out! Overwhelm in action right here!
I shared this a few years ago on my blog and just found this, thought I would share again… it's been updated for 2023 and what I'm doing and recommending a lot of my clients do.
Weekly Marketing Checklist:
Want to know the things I do regularly to grow and expand my business? Entrepreneurship isn't for the faint of heart. If your goal is to reach the masses with your message and/or make a minimum of $3000/mo – to over $20K/mo, I would say, in this day and age, you'll want to be doing MOST of these things regularly as well!
Get in front of more people, more often and in more ways is the #1 goal…ways you can do that include the following:
in person networking

in person speaking

in person vendor/exhibiting

host a FB/LI live/YouTube Live yourself

host a FB/LI live w/ a guest

be a guest on podcasts, radio shows all over

Attend Virtual zoom networking events and network in chat, especially those events that allow commercials with who is on live

ask others who do FB/LI/YT lives to bring you on as guest

offer to collaborate with peers on joint lives

nurture and interact with your community, your groups, and clients, etc. often so they will spread the word about you

host live events – there are so many kinds! Free webinars for lead generation, 2 hour workshops, all day workshops, client appreciation events and more. Get creative!

participate and network, share tips and advice inside FB or LI groups – then take conversations off to a private message and then a phone call




go after publicity in your local marketplace, get on local TV, radio and in print media. It's not as hard as you think




get published with your articles, blog posts and video tips on other people's blogs, websites and directories. There are often submission guidelines on their sites or just reach out and ask!




pay attention to online summits and giveaways and be a part whenever possible in those types of events




travel to larger conferences and targeted events throughout the country and possibly be a vendor there if you aren't chosen to speak




host your own 1, 2 or 3 day training or what we call an "enrollment" event – virtual or in person, price it right and/or enroll from it




get listed in online directories and maximize your profiles everywhere such as social media, your professional membership websites and wherever your target market looks – sometimes there is an opportunity to be a partner of a website such as a catering association needs website designers, but normally web designers don't join catering assoc. they can sometimes be a partner member which means you have access to that entire membership directory

find a dozen or more people to do regular joint venture swaps and collaborations with
Other ways to engage your Database/Community:
send an update letter, postcard, card or SOMETHING in the mail




send an update email




call through your database a couple times a year, yes on the phone!




send twice monthly newsletters or emails of some sort (min 2x/mo, weekly is better)




share more stories with them to get them to connect with you more




friend or connect with each customer or person in your email database over on social media as well – sending a private message to them over there

sending more private messages and/or segmented messages to specific groups within your database so it speaks more directly to them and their needs. (example, someone who signs up for your Grief ebook, may be different than someone who signs up for Purpose workshop)




actively ask for referrals




ask them to take surveys, quizzes, or give their input




offer free coaching calls every once in a while




send holiday cards anytime of the year – more direct mail regardless




send a print newsletter in the mail



send fun surprise gifts in the mail too
promote friends and clients

send a private video message just to them, one by one, there's a system for that




start a text message campaign, get them to give approval to add them to it and then start sending texts to certain clients and people who want info that way




host free group calls on conf line or zoom to give them support and do Q&A




host free webinars and calls brining in other experts to share
What will you add to YOUR marketing plan this year?
Who's doing all of this? I want to know! 
Who wants more info about how to incorporate MORE of a few of these things in 2023 as easily and inexpensively as possible?
One of my BIG goals this year for example is to send more direct mail to people in my database, to let them know I'm thinking of them, and to create more of a WOW Customer Experience. I know it will make a much bigger difference! (PS If you'd like to RECEIVE some of that direct mail or WATCH me, then go over to this page and make sure I have your correct mailing address now.)
Please reach out if you love to talk with me about how to help you do that, sooner than later! I have all kinds of ways and opportunities to work with me or learn from me or get inspired so you can focus on what matters most and reap the rewards!​
Let's make this YOUR BEST YEAR ever!
I know how to show you how to tweak what you're doing to get really BIG RESULTS in the next year! Book a 1on1 clarity session with me here now! Here's to creating and enjoying a life full of lots of Love & Money!
Katrina Sawa, The Jumpstart Your Biz Coach
One of Katrina's strengths is that she has the systems you need to automate your business with ease. From sales scripts, to social media marketing plans, to email marketing guides, she has it all figured out for you.
When COVID hit, I was unexpectedly furloughed from two jobs and thrust into a position of uncertainty.  I met Katrina and knew, immediately, she was the one to help me launch the business I've always wanted.  As a Doctorally prepared Nurse Practitioner, I have wanted a business on my own for many years yet unsure where to start.  Katrina has helped guide me from day one!  In four short months, I went from a panic state of, "I'm not working!" to effectively running my own business and generating nearly $5,000 in just one month! Katrina helped me discover my true value and has encouraged me to charge an hourly rate which is definitely what I am worth–which is much higher than being an employee.  Her work has guided me to grow a business very quickly from simply an idea to reality. If you are considering starting a business or looking to take yours to the next level, jump now!  Katrina is the one to jump start your business!  She truly is a gift and is one of the best business decisions I have ever made!
Get Started Today
Sign Me Up!
Sign Up Now to Receive My Email Newsletters, Video Tips, Articles, Advice, Free and Paid Events and Opportunities, Plus, Tools and Resources to Grow Your Business Every Week!