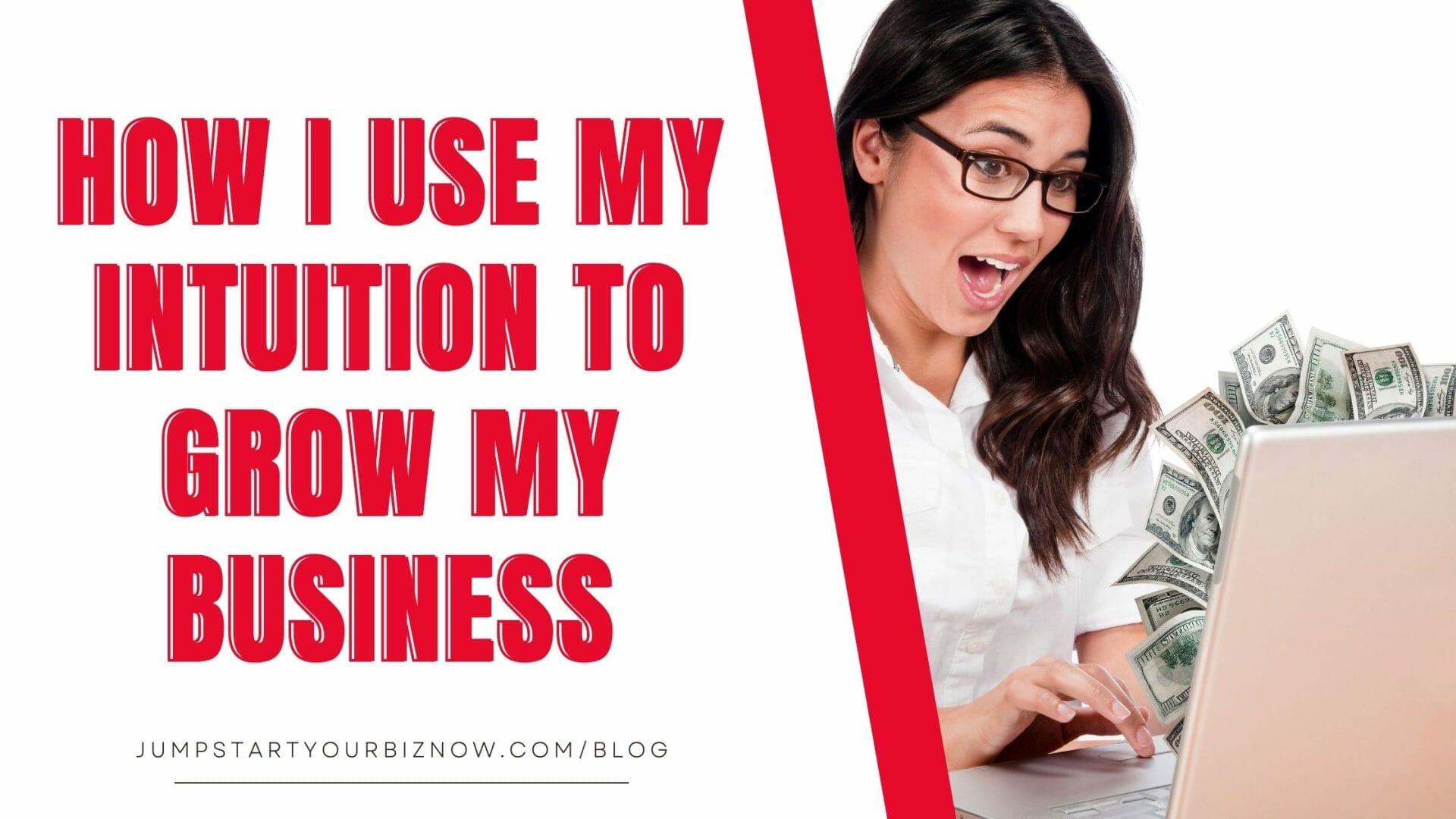 How I use my intuition to grow my business
Entrepreneurs pay thousands of dollars for training, coaching and consulting to help them figure out how to grow their businesses and earn more money. I know, I've done it as I'm sure you have too…
Yet we often overlook the best source of guidance available to us: Our intuition. 
Intuition is how your soul speaks to you.
Your soul is the eternal piece of you that's connected to everything and everyone in the universe.
It already knows what to do.
And if you learn to listen to, trust and follow the guidance your intuition gives … will lead you step-by-step, moment-by-moment to the people, resources, actions and inspirations that will help you create the life you dream of – the life you're meant to live.
I had to learn this lesson too… it took me quite a few years however and I don't want you to wait any longer to truly tap into your best business-growth resource either!
That's why I'm so excited to invite you to this one-of-a-kind online summit…
= = = = = = = = = = = = = = = = = = = = = = =
Intuition to Income
21 Days of World-Class Training
Reserve Your Complimentary Pass Here: Register Now! 
= = = = = = = = = = = = = = = = = = = = = = =
Intuition to Income Global Summit is hosted by my friend Abby Gooch, the founder of Life Force Connection. She's a talented intuitive coach who helps her clients learn to listen to, trust and act on the guidance their intuition provides.
Intuition to Income Global Summit features a faculty of entrepreneurs from around the world who have learned how to tap into and follow their intuition to create rewarding and lucrative businesses.
Each day for 21 days, you'll get access to a new interview via email, it's easy. Listen to it at your leisure. Soak up the energy. Start to implement the proven strategies these entrepreneurs have proven will work.  It's meant to support you on your soul path.
I'm humbled to say that Abby has invited me to participate. I hope that you'll tune in to hear what I have to share about how I've tapped into my own intuition!
Learning how to listen to, trust and act on your intuitive guidance transforms your life.
As you align with your soul, you feel more connected and "on purpose." You create better relationships and attract the perfect clients. And you build the right business for you – one that is lucrative and that changes lives.
I know because I've done it. And I'd love to share what I've learned.


Join me in Virginia Beach, VA Aug 29-31 for another deep dive mastermind with a handful of my clients and a few of YOU who want to be!
Jumpstart Your Biz 3-Day Mastermind
Come learn, network, plan, play and uplevel yourself and your business!
The International Speaker Conference is open for registration, did you see?!
We have 15 HOT, HOT, HOT speakers and speaker trainers who are ready to help you elevate yourself to a very profitable speaker!! It happens August 1, 2 & 3 – 3 half days to make it easier for you… tons of networking too.
When you register early you get access to 3 BONUS PRE-CALLS where you'll meet and talk with speakers in a more casual environment plus get tons of HOW & WHAT to do to get started speaking more, better or for more profit.
Let's make this YOUR BEST YEAR ever!
I know how to show you how to tweak what you're doing to get really BIG RESULTS in 2022! Book a 1on1 strategy call with me here now!
Here's to creating and enjoying a life full of lots of Love & Money!
"Katrina gave me the push I needed to implement changes in my business and helped my marketing take off with her "jump start your business" bootcamp. IF you're not happy with how your business is going, it's not going to get better until you gain the right knowledge and learn the right way to proceed. I had been listening to different teachers, a little bit here and a little bit somewhere else. But no one gave me the methodology Katrina has. Hire Katrina and watch your results!"
"In just 3 short months in your Live Big Mastermind, wow, you helped me get clarity around my entire planning schedule, and how to make sure I keep the balance in my own business and life, especially since that's what I teach. I've simplified my website, and lead generation systems so things run a lot smoother now which is taking a lot of stress out. I've taken advantage of more speaking opportunities, online summits and am collaborating a lot more with other experts that are growing my reach tremendously. Plus I finally created and launched the high-end mastermind that I have been called to lead for years now and filled it with 5 new people in 30 days! I can't wait to see what else we create as I'm on target for my best year yet!"
Get Started Today
Sign Me Up!
Sign Up Now to Receive My Email Newsletters, Video Tips, Articles, Advice, Free and Paid Events and Opportunities, Plus, Tools and Resources to Grow Your Business Every Week!