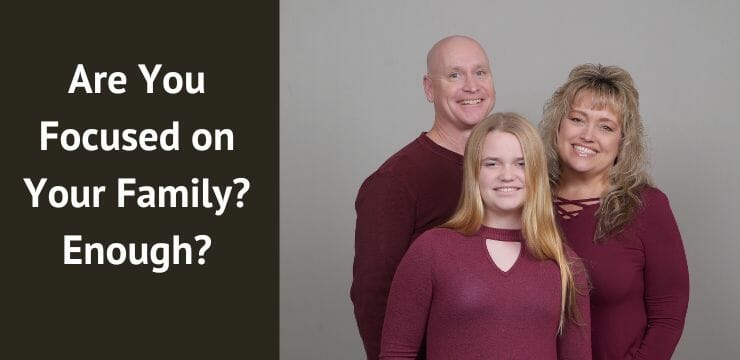 Are You Focused on Your Family… Enough?
One of the things that matters to me and might matter to you as well, is family
Whether you're still raising your kids in the household, or they're out of the house and maybe have their own kids now? Maybe you're taking care of a spouse or enjoying time together, or time alone? Or if you're starting to take care of your own parents, let's face it, family is a big part of our lives and we have to make time for it.
I realize this now as I'm on a business trip in Wisconsin right now, missing my family, Luna too…
But I realized this in a big way in 2014 when my husband Jason proposed. We'd been talking about getting married and we were going to plan it that year and he surprise proposed to me at one of my live events on stage and on video thankfully so I can watch it back.
But little did we know that 3 weeks later he would be diagnosed with throat cancer. Immediately we had to shift into treatment and survival mode. Jason had five surgeries on his throat and neck along with necessary biopsies in a couple different places. That was followed by 8 weeks of daily chemo and radiation. That time is sort of a blur to me honestly, not to him, but I was just in motion doing the best I could.
My business had to take second stage to caring for him (and of course the various stages of worrying!). I remember saying and thinking every single day: I just found you you can't go anywhere now.
When that kind of stuff happens in your life whether it's with you, a loved one, or a family member you want to be there. You have to be there.
That means that your business has to run without you, and continue to make money regardless. You can't afford not to have any money coming in for 3 weeks, 8 weeks, or 6 months! I can't afford it either. Luckily, by the time this happened I had set my business up with a lot of automation, technology and ease, and a team to support me. You have to set yourself up for this before you need it! You can't say, "I can't afford to hire anyone right now." You can't! Because the 'what if' happens regardless if you can afford it or not.
Over the last 5 months I've interviewed and vetted a lot of virtual assistants, techie people, copywriters and such. Because the more people I have on my team the more freedom I have in my life, and frankly the more money that comes in in my business! I've got resources for you, and recommendations for team that doesn't have to break the bank. Please reach out because you can't afford to wait one more day without getting your business set up for it to run without you just in case. (And I happen to have an online training about Delegating for Freedom too, how to hire, what to delegate… it's one of the trainings that I'm giving away in the Focus on What Matters Gift Giveaway below! Go get access… you want to do this sooner than later and my training and resources can help.)
I'm telling you, this should matter to you. If you're in business for yourself you must, must get more systems, automation, technology, and team set up to have your business run without you or I'm afraid of what could happen to you and your income if someone or something happens in your life that you have to take time for.
If you never want to have to go back and get a job again and you want consistent revenue coming in in your business so that not only you can pay your bills, but you can save for retirement, the what if, and your future dreams and desires, then you can't afford not to hire someone like me to at least have a few phone calls with you to help you get organized, be more strategic, set up your business to run without you, and make a whole lot more money doing what you love. (One of the BONUSES in the VIP ticket for the Focus on What Matters by the way, is a 30 minute coaching session with me! You'll be shocked at how cheap it is when you register for this event as a VIP!)
Now, most people work with me for 3 to 5 years. But you don't have to commit to that now. Let's just get you a jumpstart on what you need to spend time on and what to focus on so that you stop wasting money and time in the wrong places. Because I guarantee you're wasting both now somewhere.
There is ONE THING you can do today to get that jumpstart.
👉 👉 👉 👉 Sign up for the Focus on What Matters Summit & Gift Giveaway that I'm hosting this month with a couple dozen friends and other speakers where we're going to talk to you about all different things that could matter to you right now. There is a free ticket or the $77 VIP ticket that you'd be silly not to take advantage of frankly. People normally pay me $1,000 an hour so jump on this if you know there have to be many changes you need to make to create your consistent money making business.
Click the link below if you're interested and let's partner up to have you finally build the business in life of your dreams!
Let's make this YOUR BEST YEAR ever!
I know how to show you how to tweak what you're doing to get really BIG RESULTS in the next year! Book a 1on1 clarity session with me here now! Here's to creating and enjoying a life full of lots of Love & Money!
Katrina Sawa, The Jumpstart Your Biz Coach
One of Katrina's strengths is that she has the systems you need to automate your business with ease. From sales scripts, to social media marketing plans, to email marketing guides, she has it all figured out for you.
When COVID hit, I was unexpectedly furloughed from two jobs and thrust into a position of uncertainty.  I met Katrina and knew, immediately, she was the one to help me launch the business I've always wanted.  As a Doctorally prepared Nurse Practitioner, I have wanted a business on my own for many years yet unsure where to start.  Katrina has helped guide me from day one!  In four short months, I went from a panic state of, "I'm not working!" to effectively running my own business and generating nearly $5,000 in just one month! Katrina helped me discover my true value and has encouraged me to charge an hourly rate which is definitely what I am worth–which is much higher than being an employee.  Her work has guided me to grow a business very quickly from simply an idea to reality. If you are considering starting a business or looking to take yours to the next level, jump now!  Katrina is the one to jump start your business!  She truly is a gift and is one of the best business decisions I have ever made!
Get Started Today
Sign Me Up!
Sign Up Now to Receive My Email Newsletters, Video Tips, Articles, Advice, Free and Paid Events and Opportunities, Plus, Tools and Resources to Grow Your Business Every Week!