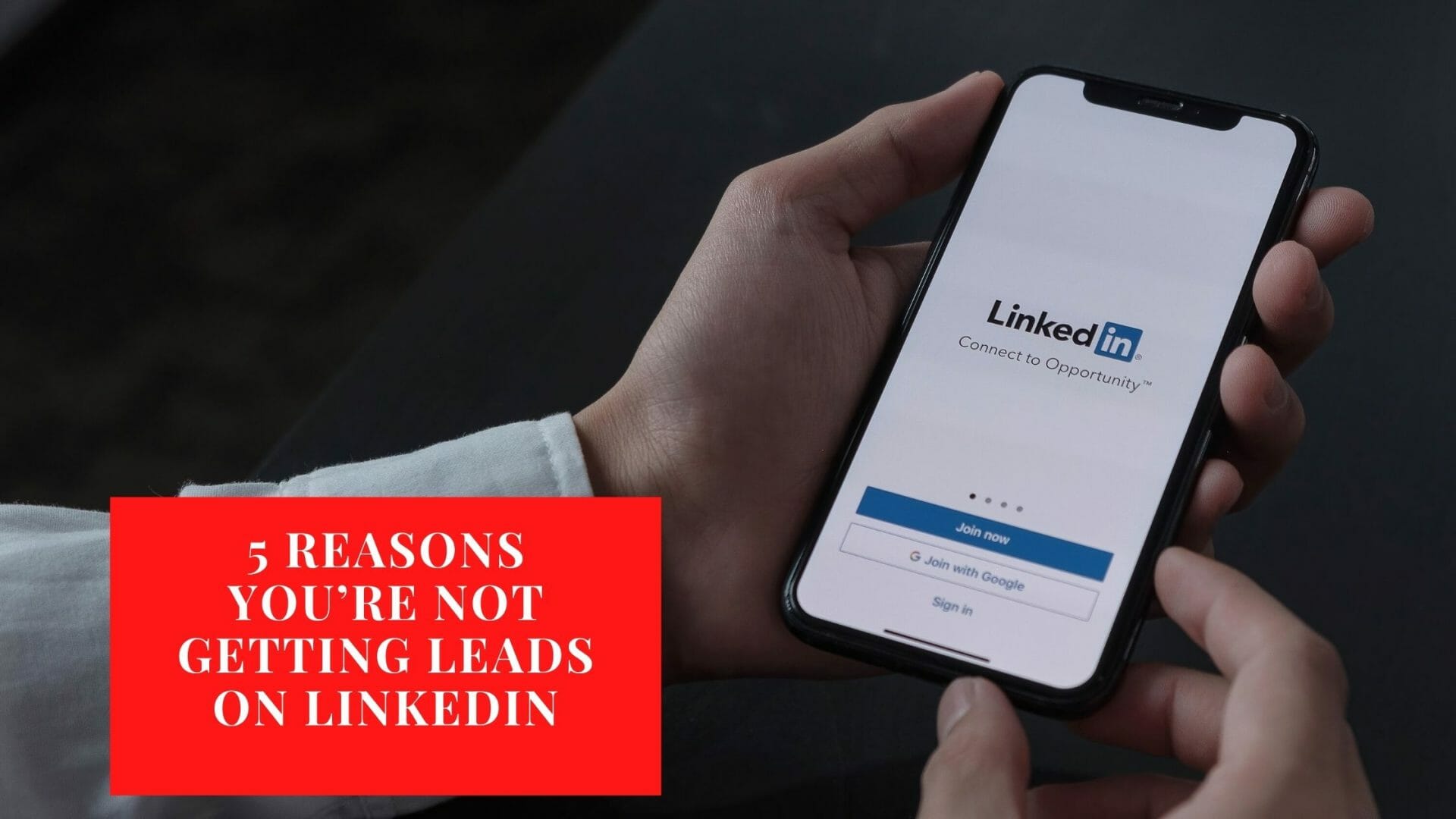 Guest article by Jennifer Darling
Q: Jennifer, I'm making posts on LinkedIn each week, yet I'm not getting any leads. Why isn't this working?
You're sharing your knowledge on LinkedIn through posts, memes, articles or videos, but you aren't seeing any inbound leads coming your way and you're frustrated. Here are four reasons why you might not be seeing incoming leads:
5. Inconsistency: you think you're posting often, but you're not really. You put effort into LinkedIn for a week or a month, and nothing happened. That's not going to end up in any results. I've been working out for 6 weeks. I've dropped 6 pounds. It's an awful lot of effort for only 6 pounds. If I just looked at it from that viewpoint, I should quit. However, there are other results coming from it such as increased energy, better mood, and momentum.
It's the same with LinkedIn. If you're expecting overnight results, you need to change your expectation. By posting consistently (click here to read my article: How Often to Post on LinkedIn), you are building a following, you ARE getting on peoples' newsfeeds, and you're developing top-of-mind awareness. I had one client follow me and read my articles for a year before he contacted me and said, "I'm ready to hire you." Funny thing is, I had no idea who he was, but he knew me.
Post a minimum of 4x a week, with some major value pieces 1x a week. Commit to a year of doing this because that's what it's going to take.
4. Post and Ghost: this is a very common problem, and it won't get you anywhere. It's either that you post your content and don't engage with the commentors, or you don't go to other peoples' content and comment on their posts. When you write an article, publish a document, or make a video and someone comments on your post, you want to reply with more than five words and make them relevant. Super Tip: comment back with a question or insight to keep the conversation going. LinkedIn rewards you for this by sharing your post with more people. Plus, you are now moving into building on the "know, like, trust" factor.
In addition, start focusing on other peoples' posts. It's not enough to share your knowledge in posts, you must interact with others. Make a list of who you want to get to know more, who you would like to support, or who you would enjoy working with and start engaging on their posts. My client Craig did this with one of his prospects and after a very short exchange of comments on the prospect's post, he found himself with a new client. It works, but you need to work it.
3. Using LinkedIn as the "Silver Bullet:" LinkedIn is my primary social media platform for business, but I don't use it exclusively and think it's the only outreach I need. In fact, speaking is my #1 platform for outreach. Speaking in person to groups, at networking events (virtual or in-person), podcast guesting, live video, or hosting webinars. I speak, then I invite my audiences to connect on LinkedIn. Once there, I know that I can continue building on our relationship.
Speaking, referrals, networking and social media are the four areas I focus my attention on to get leads. It's not one of these, it's all of them. The mix is what works. I am also on Facebook because I get a fair number of referrals from FB which are tremendously valuable. If you are focusing only on LinkedIn and thinking that you'll have a rush of leads, think again. It takes more effort than that (unless you're buying paid ads, but we are talking organic leads in this article).
2. No Lead Magnet: You are sharing content and you have no call to action or no lead magnet on your posts/articles or in your profile. As a best practice, you want to get prospects onto your email list so you can continue to develop your relationship on your terms. To get people to want to be on your list, you must give them something of massive value. I give away my Ultimate LinkedIn Profile Checklist. People LOVE it and it's super useful.
Asking people to get your newsletter is not enticing enough. No-one wants another "newsletter," but many people want a free gift and one that's useful to them. "Buyers Guide to Buying a New Home," "Tech Tips to Run an Online Business," "Annual Sales and Profit Planner" have all been very well-received. Your lead magnet should be on every article and document post and prominently displayed in your features section in your profile. Once they download your free gift, you need to follow up with at least three automated emails that give them even more value, then continue to give value with a weekly or bi-weekly article.
When you establish trust, you can start to make offers and watch the cash register ring!
For My #1 Reason, click here and scroll to the bottom of the article!
Can you think of other reasons why people aren't getting leads on LinkedIn? If so, message me, I would love to add them to a future article.
Happy Selling!
Jennifer
p.s. If you're ready to upgrade your LinkedIn account to ensure you're speaking the right language to entice your prospects on your LinkedIn profile, book a LinkedIn Profile Assessment and Marketing Strategy call with me, click here.
About the Author:
Jennifer Darling is a revenue-generating machine and in-demand keynote speaker, she led her teams to record-breaking results in sales. During the recession, her team posted a +40% swing in the national average in advertising sales and made more money than ever before (she even helped her boss earn his bonus to buy a new Audi, yay him).
Jennifer knows what works to turn frigid calls into smokin' hot prospects. She is loaded with ideas that break through the traditional molds and create innovative solutions to stand out.
Jennifer is one of the world's foremost LinkedIn experts, and the ONLY one who has 20+ years of advertising and sales experience. Jennifer has trained thousands of salespeople and business professionals to optimize and maximize their LinkedIn results. She is the author of Increase Your Sales Leads with LinkedIn: 52 Tips for Sales Success.
Let's make this YOUR BEST YEAR ever!
I know how to show you how to tweak what you're doing to get really BIG RESULTS in 2021! 
Here's to creating and enjoying a life full of lots of Love & Money!
"I wasn't sure what to expect and I was pleasantly surprised by the wealth of information Katrina shared throughout the event .I have a solid plan of what I am going to implement after the event. When other participants say they keep coming back to her events because they either learn something new or they are finally able to hear and implement something she's presented before, I GET IT! I will definitely attend more of her events because she is authentic, funny, and really cares about you becoming successful! Thank you Kat!"
"Katrina gave me the push I needed to implement changes in my business and helped my marketing take off with her "jump start your business" bootcamp. IF you're not happy with how your business is going, it's not going to get better until you gain the right knowledge and learn the right way to proceed. I had been listening to different teachers, a little bit here and a little bit somewhere else. But no one gave me the methodology Katrina has. Hire Katrina and watch your results!"
"In just 3 short months in your Live Big Mastermind, wow, you helped me get clarity around my entire planning schedule, and how to make sure I keep the balance in my own business and life, especially since that's what I teach. I've simplified my website, and lead generation systems so things run a lot smoother now which is taking a lot of stress out. I've taken advantage of more speaking opportunities, online summits and am collaborating a lot more with other experts that are growing my reach tremendously. Plus I finally created and launched the high-end mastermind that I have been called to lead for years now and filled it with 5 new people in 30 days! I can't wait to see what else we create as I'm on target for my best year yet!"
Get Started Today
Sign Me Up!
Sign Up Now to Receive My Email Newsletters, Video Tips, Articles, Advice, Free and Paid Events and Opportunities, Plus, Tools and Resources to Grow Your Business Every Week!