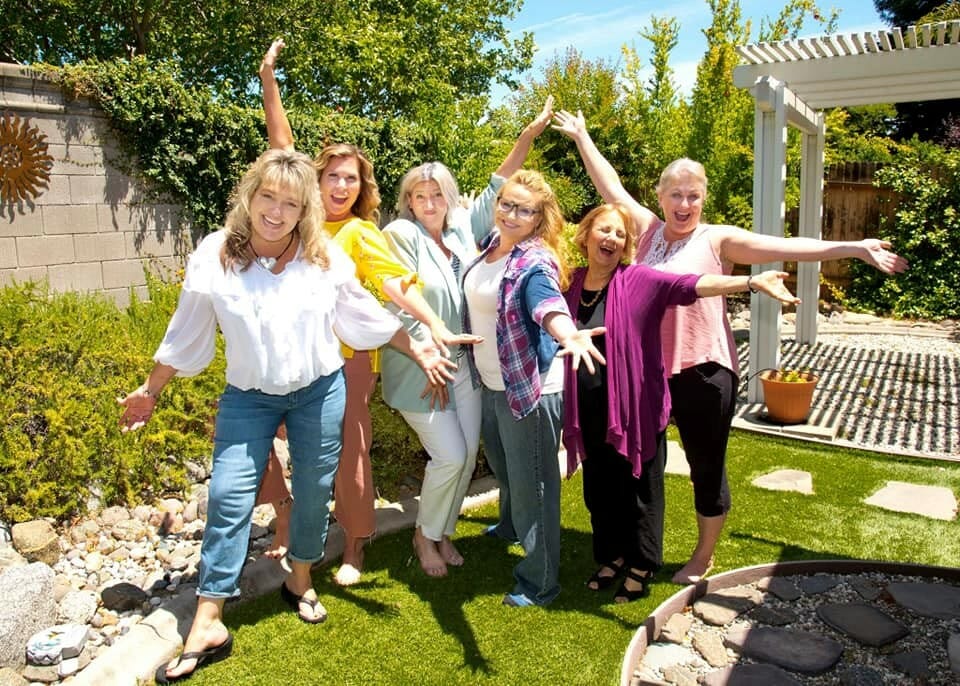 Play…
Yep, I'm calling you out right now, those of you who don't PLAY very often… 
A couple weeks ago I talked about this a little when I asked what you have planned for Summer, right?
So what have you done about it?
Did you schedule a vacation or at least a 3-day getaway?
This past week I had 7 clients come to my home and do a deep dive mastermind, we did a photo shoot too where they get to keep all their photos (I paid) plus we went to an Escape Room… it was soooo fun! (and highly productive)
And one of the things that came up on the last day was HOW?
How will we/they get the things done that they proclaimed they wanted to. How will they make time for new ventures, offerings and ideas?
Well, one way is to plot out CEO days on your calendar every month.
In the beginning, you can use those days to "catch up" if you need to, but do the work ON the business during those days, the things that are on YOUR to do list, not your client's.
And they need to be uninterrupted days too. Some were saying they would go rent a hotel room and unplug from social and their phone so they could concentrate.
Others who had more established businesses wanted to use that CEO day as a spa day or turn it into a 3-day getaway.
Whatever you need, you NEED to do!
In fact, I just got off Zoom where I gave a talk to a dozen or so women (some entrepreneurs, some employees) on the topic of: Putting Yourself First
On that talk, I told my story of leaving my first marriage because my "starter husband" wasn't that supportive of me doing my own business. He was a naysayer and toxic to my entrepreneurial energy. I had to have faith that it would all work out in the end so I could leave and go out on my own.
I spoke about how I continue to set new boundaries for myself and in my business – some that I need to stick to (like saying yes too many times when I shouldn't) and some that give me more freedom to do the business and life the way I want (like reducing the number of hours on my online scheduler to when I really want to be working).
You can do these things too, you just have to have faith in yourself and believe that you're worth it and deserve it.
You may also have to have HARD conversations with loved ones or clients (or those who should never have become your client because the undervalue you!).
Why am I suggesting you PLAY?
Because the majority of the entrepreneurs I talk to and see on networking calls are NOT playing. In fact, they're pretty darn overwhelmed and stressed.
If that is NOT you then fantastic! Play on!
But if it IS you, then what are you going to do about it?
What if I told you that you are LOSING BUSINESS because you are taking on too much and NOT making time for your own stuff (website, marketing, follow up, speaking, admin, bookkeeping, etc.)???
Yep, I can almost guarantee this without even knowing which of you are reading this… challenge me and I'll show you!
What is ONE thing you can do today to get yourself on the road to more fun, freedom and alignment with your true values and core desires?
I'd love to hear!
Want a 1on1 call with me to discuss what you need to do or what's going on and how you can do things differently? I can share on this one call I know it… I'm very intuitive and I see these things all the time…hopefully you're open to listening??  Sign up here.
OR Check out my online trainings then and pick one to start there… they start at $27.
I'm ready to talk with those of you who KNOW you need to make some changes big time in order to enjoy a smooth-running, consistent moneymaking business!

Join me in Virginia Beach, VA Aug 29-31 for another deep dive mastermind with a handful of my clients and a few of YOU who want to be!
Jumpstart Your Biz 3-Day Mastermind
Come learn, network, plan, play and uplevel yourself and your business!
The International Speaker Conference is open for registration, did you see?!
We have 15 HOT, HOT, HOT speakers and speaker trainers who are ready to help you elevate yourself to a very profitable speaker!! It happens August 1, 2 & 3 – 3 half days to make it easier for you… tons of networking too.
When you register early you get access to 3 BONUS PRE-CALLS where you'll meet and talk with speakers in a more casual environment plus get tons of HOW & WHAT to do to get started speaking more, better or for more profit.
Two of my clients are hosting a Free Masterclass tomorrow, Wed June 22nd and it's vitally important to helping you get what you want!!
They are doing a strategy I recommend MOST of my clients do (you may want to also) – they are collaborating on a call together because they speak the same language to an extent around money mindset. They are both very insightful and I know you'll get a lot out of it if you can attend. They'll be sharing inspiration and tips on how to significantly increase your income with more meaning impact and joy!
The Heart & Soul of Profit Masterclass
Some of you know I belong to an organization called Polka Dot Powerhouse and it's an amazing group of heart centered women!
I want to invite you to 'try it out' for free and see what you think! You can attend this call tomorrow, 9-10:30 am Wed June 22nd and I'll be there to introduce you, just reply back and let me know you've registered. This is the Diamond level of PDP – this level of PDP is very powerful, some big players who will lift you up and cheer you to be your best.
Join me this Friday, June 25 from 11-12 pm PST for the Power Lunch Live show on YouTube with host Michael Whitehouse!
Michael brings together 3-4 entrepreneurs on his podcast every week who collaboratively have something to share about a certain topic. No doubt if I'm there it will be a very lively discussion!
Let's make this YOUR BEST YEAR ever!
I know how to show you how to tweak what you're doing to get really BIG RESULTS in 2022! Book a 1on1 strategy call with me here now!
Here's to creating and enjoying a life full of lots of Love & Money!
"Katrina gave me the push I needed to implement changes in my business and helped my marketing take off with her "jump start your business" bootcamp. IF you're not happy with how your business is going, it's not going to get better until you gain the right knowledge and learn the right way to proceed. I had been listening to different teachers, a little bit here and a little bit somewhere else. But no one gave me the methodology Katrina has. Hire Katrina and watch your results!"
"In just 3 short months in your Live Big Mastermind, wow, you helped me get clarity around my entire planning schedule, and how to make sure I keep the balance in my own business and life, especially since that's what I teach. I've simplified my website, and lead generation systems so things run a lot smoother now which is taking a lot of stress out. I've taken advantage of more speaking opportunities, online summits and am collaborating a lot more with other experts that are growing my reach tremendously. Plus I finally created and launched the high-end mastermind that I have been called to lead for years now and filled it with 5 new people in 30 days! I can't wait to see what else we create as I'm on target for my best year yet!"
Get Started Today
Sign Me Up!
Sign Up Now to Receive My Email Newsletters, Video Tips, Articles, Advice, Free and Paid Events and Opportunities, Plus, Tools and Resources to Grow Your Business Every Week!