Now more than ever you may want to look at starting a group program online course or membership.
Whether you're leaving the house or not, some of your prospects and clients may not be leaving the house as much right now. This means perhaps less people at in-person networking events, less coffee dates, and less clients to do one-on-one sessions with if you're a service practitioner. 
It's time to stop "thinking" about getting business online and actually DO SOMETHING ABOUT IT.
Let's face it, some of us don't try something new until we're forced. Well… the time has come and I'm going to make this SUPER SIMPLE and convenient for you to learn.
I'm the Queen of teaching the HOW-TO!
My clients tell me that they love my calls and trainings because I literally teach them step-by-step what they need to do, say, send, click and post to become more successful in their business – online or offline – no matter what I'm teaching.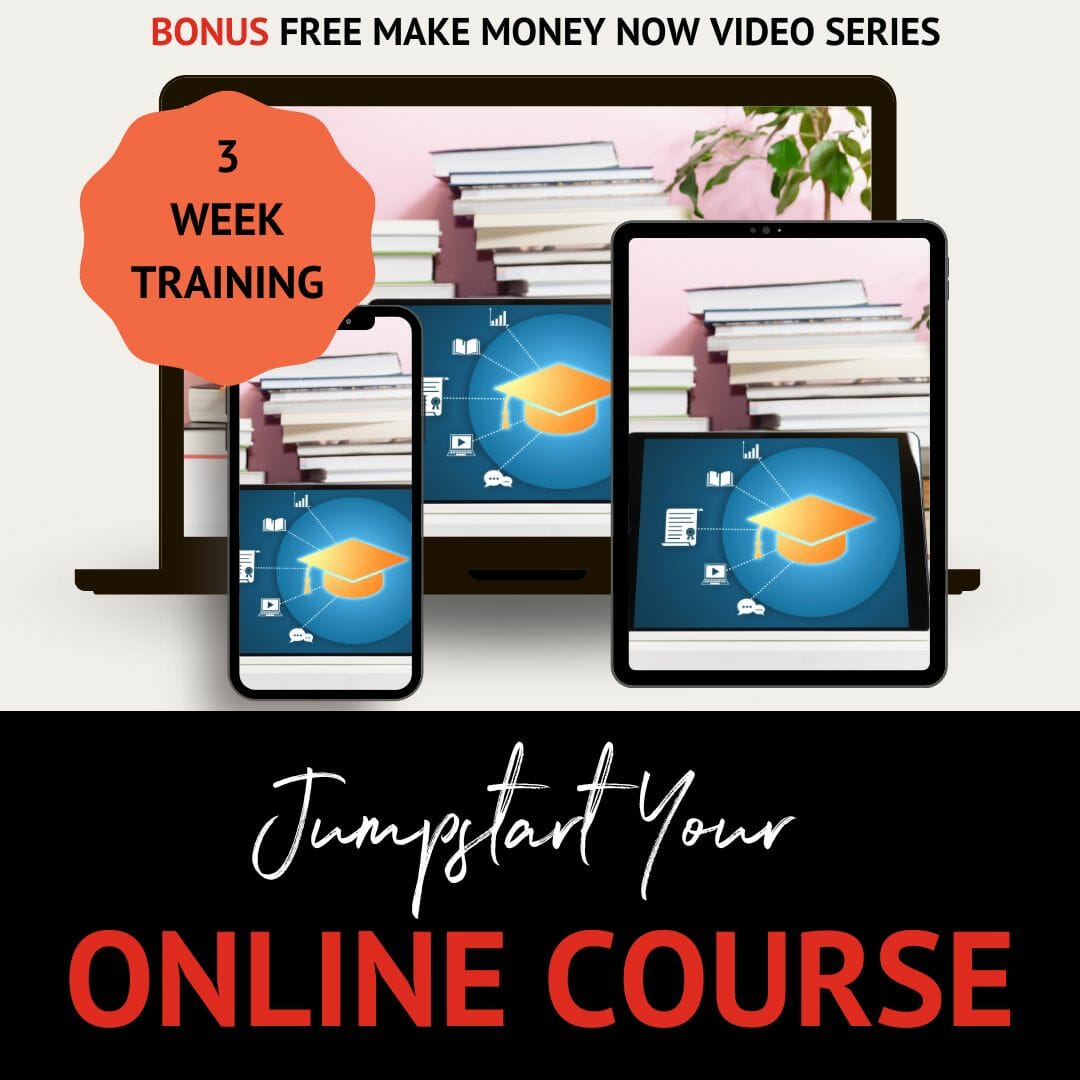 Here's how you can benefit from this course:
I hosted an online training for 3 weeks all about how to leverage your expertise into online courses, products, group programs, memberships, online retreats and workshops, virtual events, calls and just plain one-on-one sessions if you want. The training classes are now recordings that you can get access to immediately once you enroll.
It's more than just learning how to use Zoom or signing up for some online course software. There's more to all of this if you want to make money doing it at least. There's:
1. The Big Idea
2. The Strategy Behind IT
3. The "What You're Doing" and How to Price IT
4. The "What Else You're Selling From IT"
5. The Process You'll Take People Through IN IT
6. The Technology to Use to Make IT Happen
7. The Marketing OF IT
8. The Selling OF IT (different than marketing!)
9. The Fears or Doubts to Get Over So You WILL DO IT
10. And then The DOING IT
This is what what was covered and you want to access this ASAP because you probably need to start selling other courses and programs FAST! Stop overthinking whether this is a good time or not or if you're ready to do this or if you have enough content. Stop it. You have enough, you know enough and you can do this with my help.
You will know EXACTLY what you're doing when you're done with this and should even have it FOR SALE within a week or two max! 
I will show you how to do it all or who to do it for you during this process. This program will help you brainstorm what to do in the first place. Trust me, I've worked with dozens of different types of businesses and helped them create hundreds of products, programs and offerings like this and I went over all different industries and types of businesses during this program, yours will be covered too.



Ready for this? Let's go!

 
Program Details:
What else have you got to do if you don't have enough clients and can't pay your bills? Learn how to make thousands of dollars every month running online courses, trainings and other leveraged and online offerings.
There are 3, 60-120 minute training calls where we brainstormed, masterminded and I shared everything I know about doing all of this – all 18 years experience running my own business and online programs plus the trainings that I've invested in – it's all in here! 

There is also a private Facebook group to discuss what you're creating, get feedback from participants and myself. The Facebook group will be live and open through 2020.
You can do this, let me just show you HOW.
I typically charge a lot of money to clients to teach them this type of stuff one-on-one but I think this is so important of a skill to learn as an entrepreneur these days that I made this available for a super easy investment of just $97.
You have a choice. Sit back and hope your business isn't affected by this scare or DO SOMETHING ABOUT IT and SELL SOMETHING DIFFERENT.
Katrina Sawa is known as the Jumpstart Your Biz Coach because she literally kicks her clients and their businesses into high gear, online & offline, and fast. 
The Jumpstart Your Biz Coach, Katrina Sawa helps entrepreneurs make more money doing what they love. She is the creator of the Jumpstart Your Marketing & Sales System, a tell-it-like-it-is speaker and International Best-Selling author with 20 books including: Jumpstart Your New Business Now, the Jumpstart Your _____ (blank) compilation book series, and Love Yourself Successful.  She has been featured on the Oprah and Friends XMRadioNetwork, ABC and TheCW and she was awarded the National Collaborator of the Year Award by the Public Speakers Association and a 2-time Nominee for the Wise Woman Award by the National Association of Women Business Owners. She speaks to groups of all sizes, holds live training events annually and she's the founder of the International Speaker Network.