What Are Your Next Steps?
You do have a few options for "Next Steps" depending on where you are now in your business and how fast you want to get to the next level…. here are a few I can help you with!
I KNOW THERE ARE A LOT OF OPTIONS.
Don't sit in "indecision" or "overwhelm"
about them, just come have a discussion with me after the event and we'll brainstorm and pick the right option for you ok?
(Email Marta on my team now to schedule that call: team@jumpstartyourbiznow.com or fill out the form on this page (regardless of which options you're interested, this is the ONE form we're having you fill out from the event.)
If you're in the first few years of your business and you still need to generate a lot more leads, clients and income regularly whether you have a website or not or know what you're doing in your business fully or not, I would suggest the following:
Live Big Mastermind Annual Program (if you want ALL of the BELOW + Unlimited Calls w/ Kat THIS is honestly your best bang for your buck – you get everything and every learning style – 1on1, group calls, masterminding, training, events, resources, templates, and you can bring a significant other for free!) $24,997 is regular price, enroll and commit this week for one year or receive a $7,000 discount (free 3rd year) when enrolling for 3 years. Plus reduce your monthly payments significantly! We have very flexible payment plans… and they are tailored to YOU.
Love Yourself Successful book and/or teleclass (to help you put yourself first, stop settling, take charge of your life, set better boundaries and more) $16.95 – $197
Ticket to more of Kat's Upcoming Events (Love & Money Live, Jumpstart & Speaker events) – Watch your emails!
Jumpstart Your Marketing® Training (to help you understand and implement more marketing – top 10-20 strategies included in training, video and templates – DIY) $497
Jumpstart Your Sales Training (to help you master the sales process and conversations, walking you through some of the hardest concerns, objections and process of holding an effective and converting sales conversation – DIY) $197
Jumpstart Your Online Course Training (to help you outline and launch your programs, group courses, curriculum, memberships, pricing of it all, what to include and how to run them -DIY) $197
Jumpstart Your Website and Techy VA Services – Typically $2,500 for a new website and $50/hour for techy services but we don't take everyone on, please ask.
VIP 1on1 Coaching with Kat (if you want a personal, walk you through what you need to do and how to do it journey) – need to schedule a 1on1 call with Kat to discuss options ($12,000 for 6 months is regular price) Discounts and shorter programs available to those in attendance this week.
If you are doing pretty well with a pretty full practice/ business and know you need just a few tweaks, new marketing strategies, updates to your website, team building and more, I would suggest the following:
All of the above will also be very helpful…. plus
Jumpstart Yourself as a Dynamic Speaker Training (to learn how to develop your talks, speak to sell or not, get booked often, and monetize all of it – DIY) $497 for you today, regularly $997 plus get access to the bonus live calls July/July 2021.
Write a Chapter in the next Jumpstart Your _____ book and become an author! Learn what this opportunity entails here – oh and this includes some coaching calls with Kat and the group too! (Commit within a week of the event and get in for $1800)
Jumpstart Yourself as an Author Training (to learn how to get a book written, published and marketed – DIY) $497 (includes some awesome bonuses get $200 off this with coupon code 200OFF)
Jumpstart Your Events Training (for learning what to do to create, market, sell and monetize doing virtual and in person events of all kinds – DIY) $197
Jumpstart Your Facebook Groups Training – learn how to create and start growing a community using FB groups. $27
Delegating to a Team eBook – how to hire, manage and grow your team $27
Watch the Videos to Give You More of a Feeling on How I Work and What You Will Accomplish/Learn/Implement/Transform.
After this event… you have to decide. This event will not be all you need. You have to trust, decide and perhaps leap out into faith even if it scares you…to give yourself permission to VALUE yourself and what you truly need in order to build the business and life of your dreams!


Complimentary Strategy Session
Do You Have More Questions? Come Talk with me in a Complimentary BONUS 1ON1 CALL NOW!
"I believe you need to build your business the right way from the start if you're really SERIOUS and want to make a LOT more MONEY doing what you LOVE!" – Katrina Sawa
Taking Action in Complete Faith
When I first started my business, I was trading hour for dollar with clients in a typical marketing consulting business. I had some clients on retainer and some just paid me when they needed me. All of my income however depended on how many hours I worked. Can you relate?
Obviously with that type of business model it was hard to get ahead (or take a vacation!), even with raising my rates every so often.
Plus, in addition to that, I was living in an unhappy marriage with a husband who wasn't very supportive of me being an entrepreneur. He was always worried about the roller coaster of income and he would worry when I wanted to invest money back into my business which I knew I needed to do to learn and grow.
Not too supportive huh? That's where the concepts for my book, Love Yourself Successful, came from. I learned soon after that so many of my clients were going through the same lack of support in their lives as well.
My hope is that this DOESN'T sound familiar to you but I do unfortunately see this all the time with my coaching clients and it literally breaks my heart. I stopped settling and broke free of that marriage in 2005 and have increased my business every year since.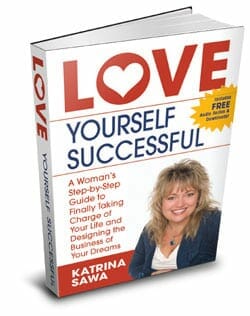 Now I live the life of my dreams!
I have a business that I'm passionate about, helping other entrepreneurs make money doing what they're passionate about. I am married to a man who adores me and who is the perfect fit for me. He and his beautiful little daughter light up my life and are now my "big why".
But it wasn't such an easy road for the three of us, 6 months after we started dating I discovered that I had to have two total hip replacements done – big surgeries that I did both in 2013. After I got up and running after that second one, he was diagnosed with cancer that he beat thankfully but it was not an easy 2014 either!
In those two years it really solidified in my mind the crucial aspect of having systems in your business! If I hadn't had a small team of people plus massive systems for lead generation, marketing, follow up and sales I would have lost about half my income for about an 18 month period.
This is important for you to read (and most importantly to 'hear') because if you're still trading hours for dollars, or still working in a job that you hate or feel like there's more to life than what you're living now even if you're already in your own business….then YOU'RE RIGHT! You could be SETTLING!
Let me help you and show you how to transform your life, your new business or even your existing business into a smooth-running, PROFITABLE and SUSTAINABLE business doing what you ABSOLUTELY LOVE to do!!