Online Speaker Success Training

Are you ready to generate more money in your business than you've ever dreamed imaginable?
If so….then you'd better get speaking!
Live events are coming back – are you ready to get booked?
Do you "LOOK LIKE" the expert on your website, on social, with your marketing materials and new attention getting talk titles? If not, this training I'm doing this summer is for you… I'm always working on honing my speaker skills, talks, and materials and I get booked 2-3 times a week!! You can too if you follow my lead.
Speaking is one of those HUGE OPPORTUNITIES!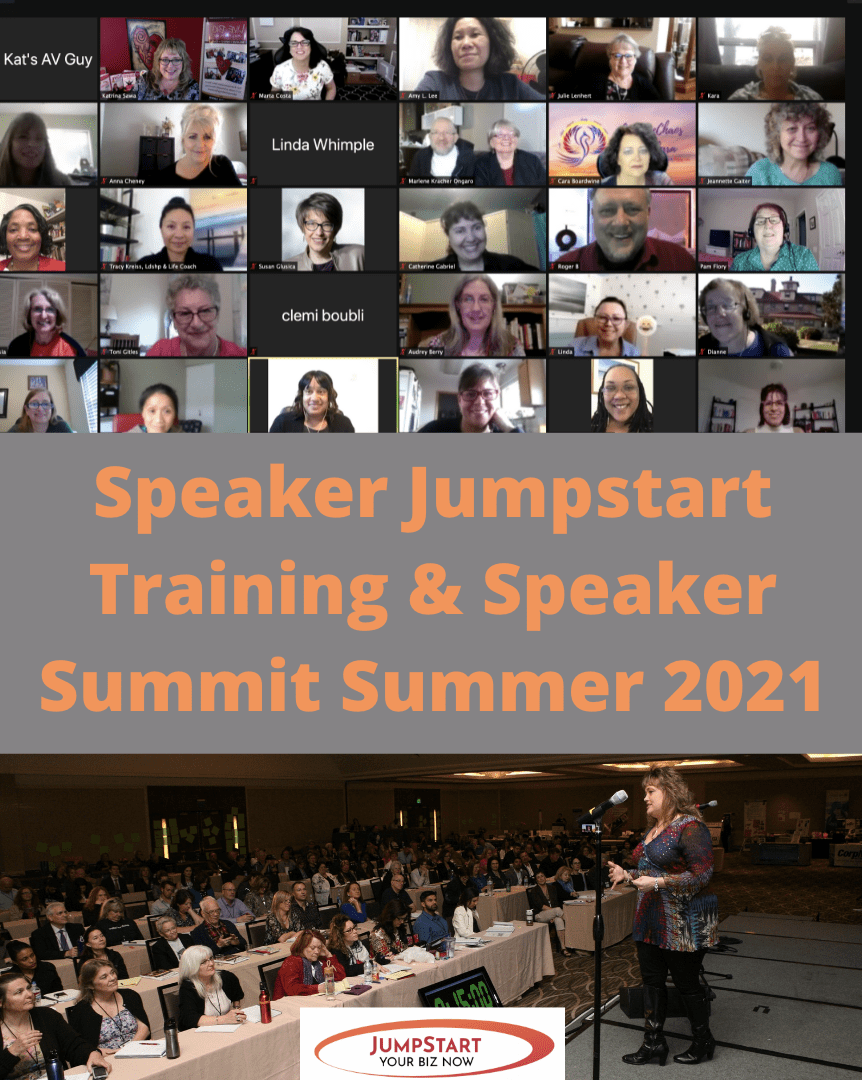 If you are NOT already speaking in your business either way, regardless, then you might be…
Missing out on thousands of dollars in sales and new clients every single month depending on what you offer/sell.
Lacking the easiest way to build credibility and exposure for yourself and your business
Not helping all the people who are waiting for you to help or serve
Are not getting your message out to the masses in a big way
Could be playing small
Could be hiding from your own insecurities and "head trash"
If you ARE already speaking in your business – for free or for pay then you may be….
Missing out on thousands of dollars in sales and new clients due to not effectively closing sales from the stage or the back of the room
Missing out on thousands of dollars in sales in the follow up too if you don't have a set, well organized process
Losing leads and contact information you could be gathering if you were more prepared
Not speaking enough (are you the best kept secret in your industry?)
Missing connections that could be made in person by not having the right marketing materials, networking skills or special offers
Not getting repeat invitations due to poorly designed presentations or talks that aren't content or audience focused
Not maximizing each event or presentation due to lack of systems, technology, team or follow up
FACT: Your website MUST, MUST, MUST be the HUB of your business in this ONLINE WORLD!
Not only have I been speaking in business for 19 years but I also am the Queen of Follow Up – that's how I built my multiple six-figure business!
Are you aware there are 3 Types of Speaking?
Speaking for FREE, as a marketing strategy in your business, is one of the fastest, easiest, least expensive and most effective marketing strategies that you can do these days. It's very easy to GET BOOKED OFTEN if you're PREPARED & PAYING ATTENTION!
Speaking for a fee, on the other hand, is a business model and it's not such a quick cash generator. It's a much longer sales process however can still be a very good thing to focus on if that's your desire, it just requires A TOTALLY DIFFERENT MARKETING APPROACH.
Paying TO speak is a marketing model too, more like advertising or sponsor dollars is what you equate it to. I've done this a few times and it can be very lucrative if you know how to market, sell, close deals and follow up well.
If you don't know the difference between the types of speaking or why you should care about the difference then you really need this training.
YES, YOU can do this too – you just may not know what to talk about or how to get started!
That's where I come in.. I'm the HOW – TO – DO – IT – EXPERT!
I teach all my clients the HOW of everything they need to do to start, grow and market their business successfully to create a smooth-running, passion-driven, freedom-based, moneymaking business machine. I can show you how to do this too.
Speaking is one of the main marketing strategies I teach to all my clients and in almost all my programs. They've all been chomping at the bit for me to put a program like this together where everything they need to know about speaking is in ONE place, one program and in just 6 weeks. How great is that?
"I've needed systems for years. I've been in programs and I've had Kat create a system, except I have never understood the steps involved. I now understand what a 'system' means and what is involved."
"This is a great environment to learn and build fellowship with other entrepreneurs. Kat knows how to build and nurture a creative, prosperous community."
I would love to invite you to decide to learn everything you need to do, set up, create and tweak to make speaking one of your main marketing and business strategies like it is mine and most of my clients.
Oh and I don't care what type of business you're in or what you're selling – you still need to speak. BUT…you may NOT want to speak specifically about YOUR particular product or service. That will depend on what you do or sell, sometimes we need to get creative with what talks you do to position yourself as the expert you really should be known as.
I've helped create talks and speaking presentations for:
Coaches / Consultants (obviously easier right?) – Health, Life, Business, PR and more
Virtual Assistants
Day Spa Owners, Massage Therapists and Estheticians
Interior Designers
Roofing Company Owners (not so easy folks but doable!)
Hypnotists
Astrologers
Social Media Marketers / Web Designers
Copywriters (you'd think they have it down but not always!)
Energy Healers
Pet Sitters
Network Marketers
Accountants / CPAs
and so many more….
 Here's how YOU will get PREPARED to GET SPEAKING!
I have a very specific (pre-recorded) 6 Step Jumpstart Yourself as a Speaker System that teaches you what to do to be prepared to get booked, go find speaking opportunities, position yourself as an expert speaker so speaker bookers are excited about booking you AND monetize all those opportunities even if you're not allowed to SELL in your talks. You get this 6 step system as a BONUS to the previously recorded training calls (4) and 20 templates, checklists and handouts. The outline of these 6 steps and what's covered is below and you can work through all of this at your own pace. It would be best, though if you dive into it asap once you register. 
If you've been thinking about creating a talk or getting more speaking gigs or getting started as a speaker at all but you've been procrastinating it, then…
  This is the perfect training for you because you will not only learn
IT ALL HERE in this one training. 
DURING THIS TRAINING PROCESS, YOU WILL FINALIZE YOUR

:
Speaker Sheet (including your bio, one or two speaker topics and descriptions with bullets for your takeaways, full contact info, links, and whatever else fits for your business)
Signature Talk Outline, Talking Points and more
Presentation Flow complete with Introduction story, transition points, seeding wording, call to action
Special Offers – from free, to Easy Yes Offers, to Higher End
FollowUp Strategy – with emails and strategy and even direct mail items
Powerpoint or visuals at least
Printed Handouts and Order Forms for in Person events too
Speaker page on your Website
Zoom Room Layout – you have to make a great first "virtual" impression too!
AND the earlier that you enroll in this NEW Online Speaker Success Training, the sooner you can get this all done so you can get booked!! These recordings were done with a small live group of entrepreneurs in various industries so you'll get to hear what each of them is doing, creating, etc. There are handouts to go with each recording and you work through each one as slow or as fast as you want.
"Before I started working with Katrina I did not know how to get my new business off the ground or how to revive our existing business. Katrina helped me do both with enthusiasm coupled with "out of the box" ideas. I now have road map for my website business and our graphic design business has had more interest and activity than we've had in over a year. Thank you Katrina."
"Katrina has so many tools and systems to help business owners to elevate their business and get them on automatic. She took my new website with beautiful graphics and made it state of the art to handle every aspect of the technology age of business. She is my "go to" for so many things and she's just amazing! I highly recommend her and her team."
"Katrina Sawa is an experienced, savvy speaker that presents with her heart. She is authentic and direct as a speaker, and cares about her clients. She is quick on her feet, is brilliant with her constructive criticism – which is well received by all. I always learn something more with every event."
What's Included in that Jumpstart Yourself As a Speaker System You Might Ask? (This is the BONUS pre-recorded training you'll get and YES, it's still very relevant in this online world.)
Well here's a brief overview of what you'll be learning and doing in that program that you'll have to work through. This program you can take your time with if you want. Call #3 is especially critical because I walk you through WHERE to find speaking gigs!!  (ALL THIS CONTENT IS AVAILABLE AS DIGITAL DOWNLOAD.) 
Everything I teach is very relevant still even in a Zoom speaking world because it's all about being and looking the part, positioning yourself as the expert people want to book.  Also, live events are coming back and YOU MUST BE PREPARED!! The speaker world has new expectations, are you ready to meet those expectations or do you even know what they are?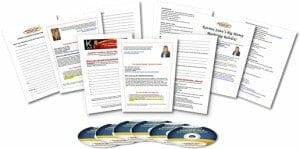 WEEK # 1
This first week is all about what are you an expert in and what will you focus on. Evaluating what you're selling or offering too so we know what we need to funnel people/prospects into from a talk; maybe even creating new leveraged programs or offers that make sense. This is the big picture that a lot of speakers don't focus on first and they just dive right in and start speaking but they never really make any money doing it.
WEEK # 2
This week is then where we start developing your talks, topics, talk descriptions and all the necessary items and deliverables you'll need to get you booked in the first place plus what all promoters or speaker bookers need to be able to market your talk. If you don't have or make available all the information they need pretty quickly they may decide against booking you or definitely won't recommend you to their other promoter friends.
WEEK # 3
Then we focus on where to get you booked and no matter where you live I have strategies that will help you in any city or geographical area or online too as need be. We will focus on what to say to generate interest, get booked, reaching out and strategize on how to systematize all this so it's easily duplicatable by you or your assistant down the line too.
WEEK # 4
Now it's time to create your actual presentations. Creating powerpoints were one of the things I shied away from in the beginning of my speaking career, now I can create one 10 minutes before I talk easily and with an awesome special offer too that gets results! The wording the flow of your presentation will (powerpoint or not) will make or break your results so this is nothing to take lightly. If you've never made a lot of money doing this before then I wouldn't depend on yourself here.
WEEK # 5
The last two steps are where most speakers or business owners drop off, they just typically don't do the rest which is a shame because you are 7 times likely to create the majority of your sales in the back of the room or in your follow up. Week five is all about what you need to create, what it will say, look like, how you'll do your back of the room display and so much more to be totally, and confidently prepared for all talks – online or in person.
WEEK # 6
This week is all about the lead capture and follow up for ongoing marketing, sales and referrals. No one does enough follow up period, not from speaking, from their networking or even following up with their paying customers. We're going to change that for you and I'm going to show you what to do, say, send, etc.
So, here's the RECAP:
1)  When you enroll in the NEW Online Speaker Success Training for $497 or 4 easy payments of $135
2)  Then you also receive my (previous) 6 Step Jumpstart Yourself as a Speaker System for FREE! (This program is regularly $497 by itself!)
So the main speaker training I have plus the recent "update training – specifically for zoom events".
Find out how to maximize your time and investment for any speaking gig, live or on the phone/internet and you will see how SPEAKING can be your ONE main marketing strategy that could triple your business revenues this year!
"This event and Katrina's genius is the kick in the pants I needed to get serious about my business. It's great having her action steps and strategy as a guide. As a speaker and sponsor of Katrina's event, I meet qualified and high quality prospects. I actually more than doubled my revenue at the back of the room. It is a pleasure working with her and her team!"
Let's jumpstart yourself and your business shall we?
The investment for this program is $497 or you can split it into 4 easy payments of $135.
People pay me $5,000-35,000 in coaching fees to teach them this stuff and help them "get it done". This is a steal – you can make this back with one client sale from your next speaking gig if you set up your offerings and business the right way!

Plus a BIG BONUS of my previously recorded Jumpstart Yourself as a Speaker Training that has helped hundreds of entrepreneurs add speaking to their business. I still use these strategies today, even in this online world!
In addition, I am giving you 20 templates and checklists: samples of order forms, flyers, display materials and more that you can edit and use to get your stuff done!
Katrina Sawa is known as the Jumpstart Your Biz Coach because she literally kicks her clients and their businesses into high gear, online & offline, and fast. 
The Jumpstart Your Biz Coach, Katrina Sawa helps entrepreneurs make more money doing what they love. She is the creator of the Jumpstart Your Marketing & Sales System, a tell-it-like-it-is speaker and International Best-Selling author with 20 books including: Jumpstart Your New Business Now, the Jumpstart Your _____ (blank) compilation book series, and Love Yourself Successful.  She has been featured on the Oprah and Friends XMRadioNetwork, ABC and TheCW and she was awarded the National Collaborator of the Year Award by the Public Speakers Association and a 2-time Nominee for the Wise Woman Award by the National Association of Women Business Owners. She speaks to groups of all sizes, holds live training events annually and she's the founder of the International Speaker Network.