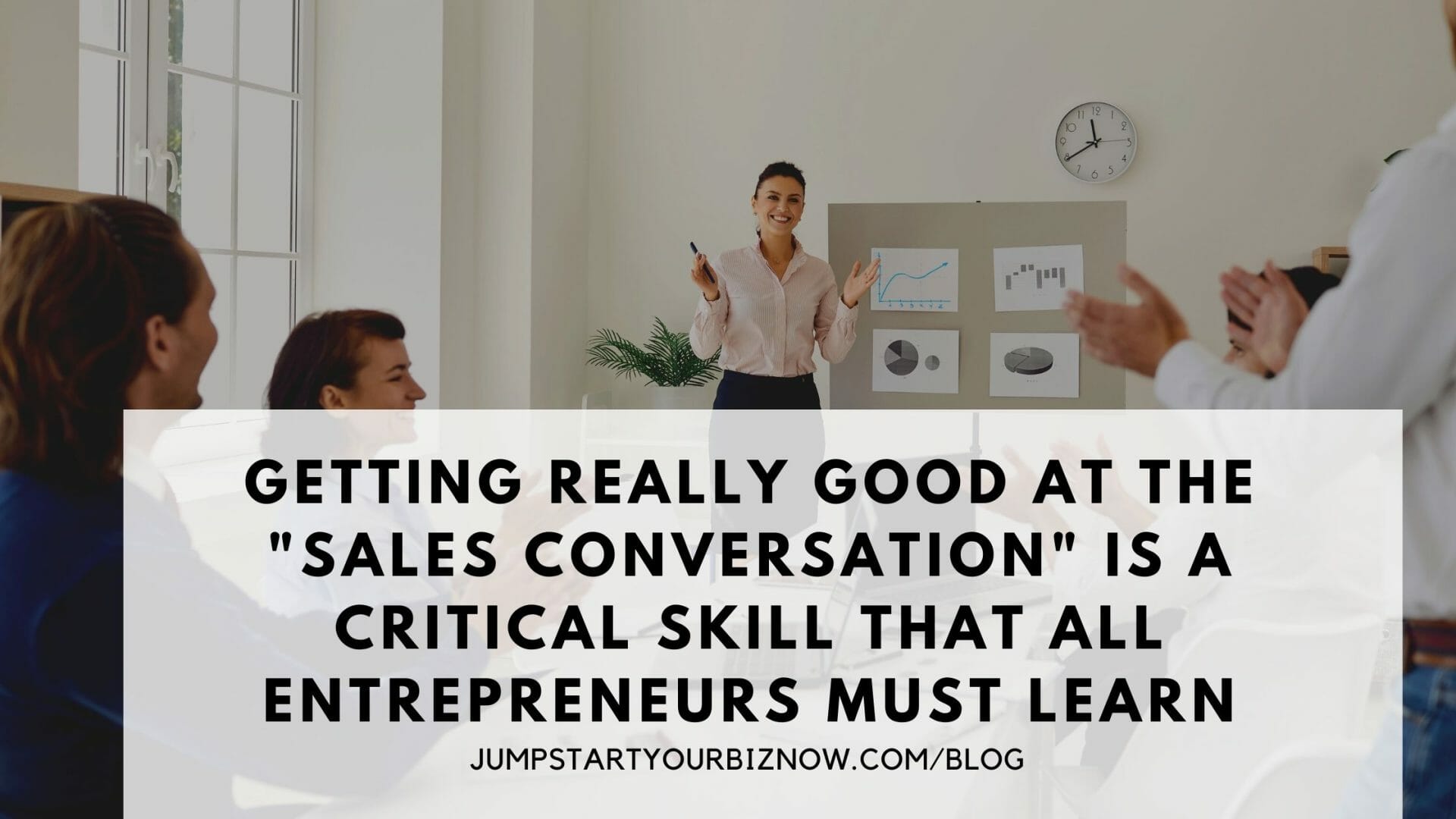 Do you struggle with sales or selling?
I'm not perfect at it but I think I've been pretty successful at it over the last 35 years and all the different jobs I've held as well as with my own business.
How did I learn initially about sales and selling?
I think, being an only child craving attention, helped to form my strategic negotiating skills.
Then in my first handful of jobs, Ice Cream Scooper at Thrifty's, Sales Associate in a clothing store in the mall and as a waitress in various restaurants, it was about the sell up or add on sale as well as building relationships.
I learned early on the power of the "like, trust, connect factor".
College helped more with shaping my "consistent, stick-to-it habits", having to stay consistent with my classes and studies in order to pass, which is a must in sales.
Then after college came a few paid sales trainings, either in the corporate hiring process or just on my own with Zig Ziglar and Brian Tracy cassettes leading the pack.
I learned to get really good at the consultative sales approach and talking though objections as they called it then. (Some people now call that "Dancing with Concerns".) Basically, you learn as much as you can about your customer, find out what their biggest challenges or struggles are, and then figure out how you can solve them.
This approach still works today. Many of you are probably doing this to a certain extent now, however the marketplace has shifted over just the last 5-7 years or so and even just since January of this year. 
Do you feel the shift?
It's not just about:
Prospecting
Following up
Consulting and
Closing anymore
It's more about:
Attracting community
Giving, Giving, Giving
Sharing, Sharing, Sharing
Nurturing and relating
Inviting to join/buy/become a part of/experience
Striving for referrals back to the community
You still need the basic sales skills however:
Negotiating
Dancing with concerns
Offering or Introducing upsells, addons
Showing massive value that you bring/offer
Consultative conversations, videos, tutorials
Ability and courage to ask for the sale/make offers and invitations when appropriate
Problem solving
Listening
Confidence to charge your worth
Assertiveness – you're not annoying, you're assertive, there's a difference!
Persistent and consistent follow through and follow up – this last one is soooo important!
You just may want to present some of these skills in a different manner is all.
It's possible that some of your ideal clients have been "sold to" before in good or not-so-good or friendly ways and they could be gun-shy.
Maybe that's been true for a few of you regarding me? It's ok, I get it. Just like I hope though that your ideal clients let go of that when it comes to hiring YOU so they can get the support they need from you. I hope you can let go of that and TRUST ME to help and support you. Because I get where you are, what you're going through, where you want to be and most importantly, why you're not there yet.
By the way, it's not being salesy if you continue asking someone if they would be interested or if you don't immediately stop a sales conversation once someone gives their first 'no'. You could be stopping too soon and enabling them to stay "in their story".
If you are truly here to help those you serve with your gifts and talents then you have to be persistent, assertive and confident in your approach. You can't back down just because YOU are uncomfortable. Often times we do have to push people out of their comfort zone so they can start believing in themselves.
Most of the time your "attempts" aren't even being seen so you're HELPING them to find you and making it EASIER for them to buy or learn more by continuing to follow up or reach out in other ways.
In addition, you also often have to help your potential clients "find money" to hire you or buy from you. That means, asking about their finances and giving them ideas for ways they CAN invest with you rather than letting them get off with saying "I can't afford it". Many people use that as an excuse to get you off the phone when they just don't see the VALUE yet, don't TRUST you yet or haven't felt like you can truly solve their problem yet. You have to get good at having them see the true value and transformation that working with you will provide them – this is critical.
Getting really good at the "SALES CONVERSATION" is a critical skill that all entrepreneurs must learn, I don't care what business or industry you are in. There is NO way around learning this and becoming better at sales. 
Just like it's easy for you to see exactly what YOUR ideal clients need, I'm extremely good at helping you figure out:
Your exact next steps
Your blocks
Solutions to your challenges
The WORDS you can use to do better in sales conversations, marketing and more that are true and authentic to you (not my words – yours!)
This is why one of the best things I've found over the last 10 or so years that you can do to attract and connect with more of your ideal clients is to have an option for them to "TRY YOU OUT".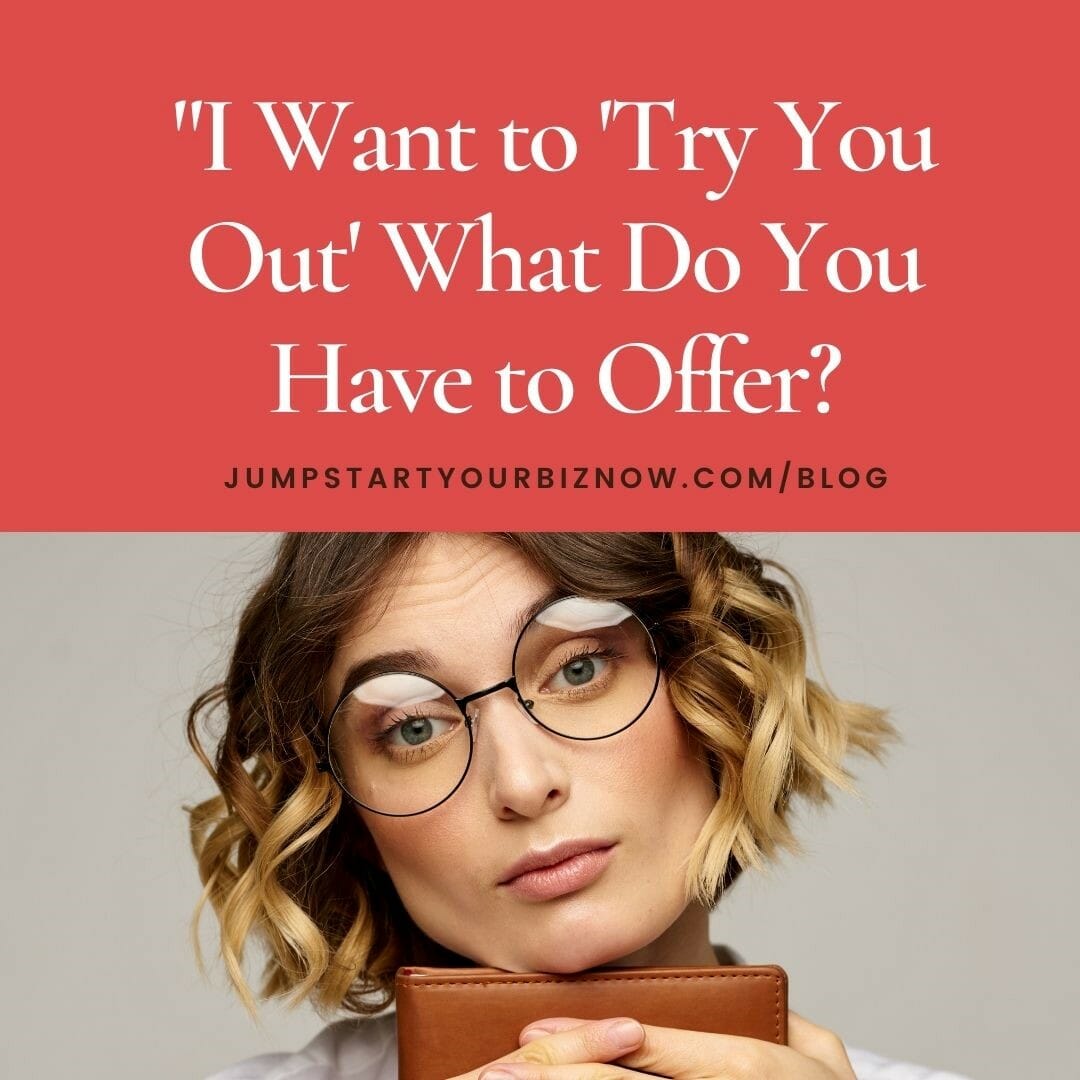 Some people are skeptical and want to make sure first a few things about you such as:
What you say is true
You do deliver
You walk your talk
You'll "get them"
They can trust you
Do you have a "TRY ME OUT" option? Is it working?
If you don't have one or you do and it's not working, it might need a little tweaking to be more of what your people want. OH and your "TRY ME OUT" option is not always a call with you by the way… some people consider that way too much (on a first date).
A little tweaking can make a big difference. You may have to test a few approaches out. But I'm going to caution you here because when I was in advertising sales for the local newspaper, a business couldn't just run an ad one day or one week and get massive results. They needed more frequency. And even now, you can't just NOT DO a marketing strategy because YOU don't like it, you have to do what works.
For example, if you don't like it when people call you, email you or send you stuff in the mail, that doesn't mean you can decide NOT to do those things when marketing your business. In fact, all of these three strategies are pretty critical still. You just have to do them in a way that works for you and your ideal clients.
If this all makes sense to you and it could be POSSIBLE that there are some "missing pieces" to YOUR sales process then why not "TRY ME OUT"? 
Let me help you figure out what those are for you (sooner than later)?
Registration is NOW OPEN for the October Jumpstart Your Biz Event!! Go sign up now while tickets are only $97… that price won't last long! This is my bi-annual business and marketing 3-day training event that always has new content, new strategies and I give out new templates and resources too. Plus receive a huge bonus of my entire Jumpstart Your Sales online course when you register! (This bonus will help you create and close more sales, especially high-end sales and it is a $297 by itself… you get it for just $97 when you register for the event!)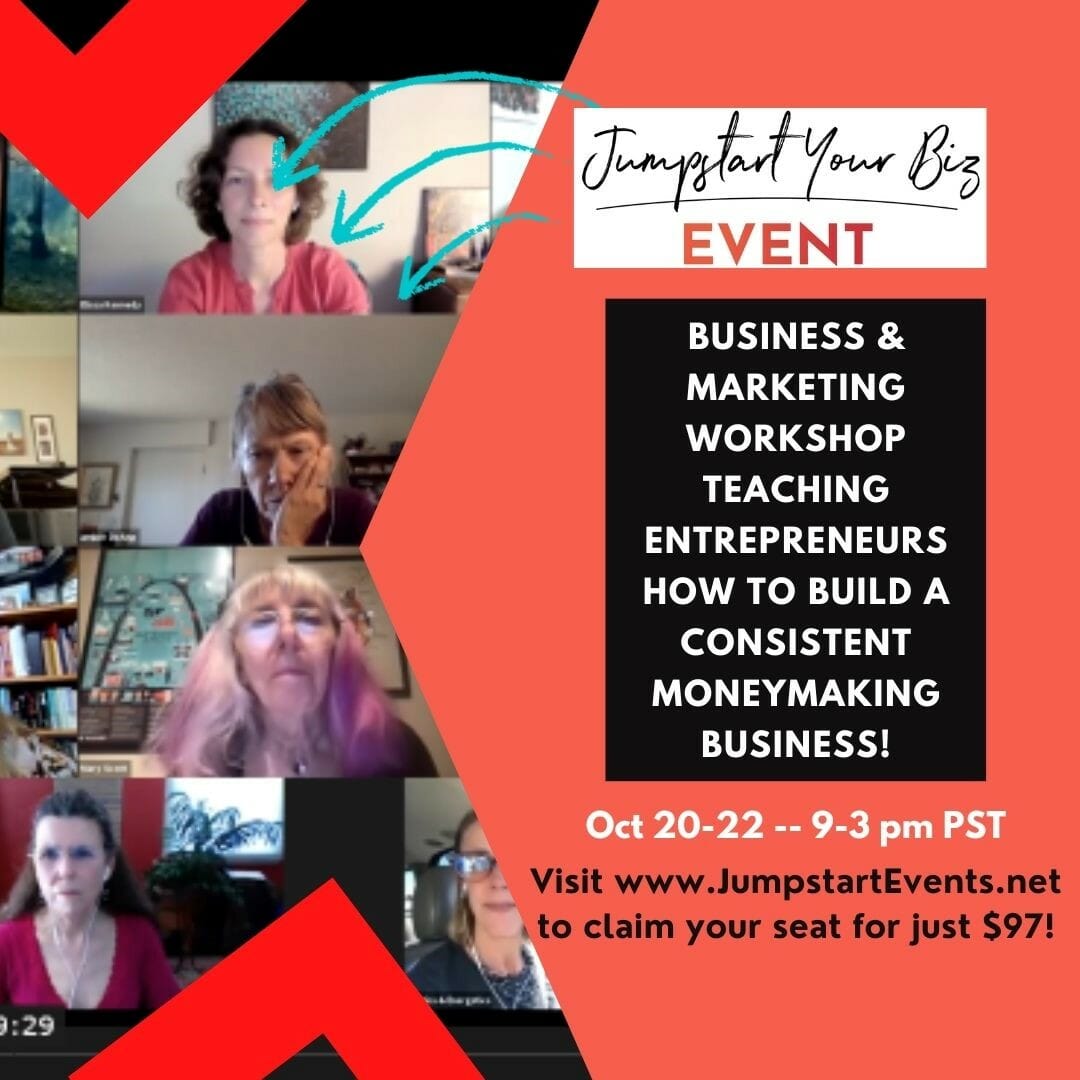 Let's make this YOUR BEST YEAR ever!
I know how to show you how to tweak what you're doing to get really BIG RESULTS in 2021! 
Here's to creating and enjoying a life full of lots of Love & Money!
"Before I started working with Katrina I did not know how to get my new business off the ground or how to revive our existing business. Katrina helped me do both with enthusiasm coupled with "out of the box" ideas. I now have road map for my website business and our graphic design business has had more interest and activity than we've had in over a year. Thank you Katrina."
"I spoke with Katrina twice in two weeks and as a result I have some new ideas that I'm very excited about regarding how to market my business and how to structure my services and products. More importantly, Katrina helped me get focused with an action plan and defined goals. Plain and simple, saying that my experience with Katrina was "worth it", does not nearly do it justice. This was an invaluable experience, one that potentially could completely change my business."
"Katrina is serious and fun when it comes to helping you zero in on your business model and structure. She's got a knack for finding possible streams of income that you can start building and implementing right away. I also find her to be honest and upfront about her own business experiences which is so refreshing."
Get Started Today
Sign Me Up!
Sign Up Now to Receive My Email Newsletters, Video Tips, Articles, Advice, Free and Paid Events and Opportunities, Plus, Tools and Resources to Grow Your Business Every Week!