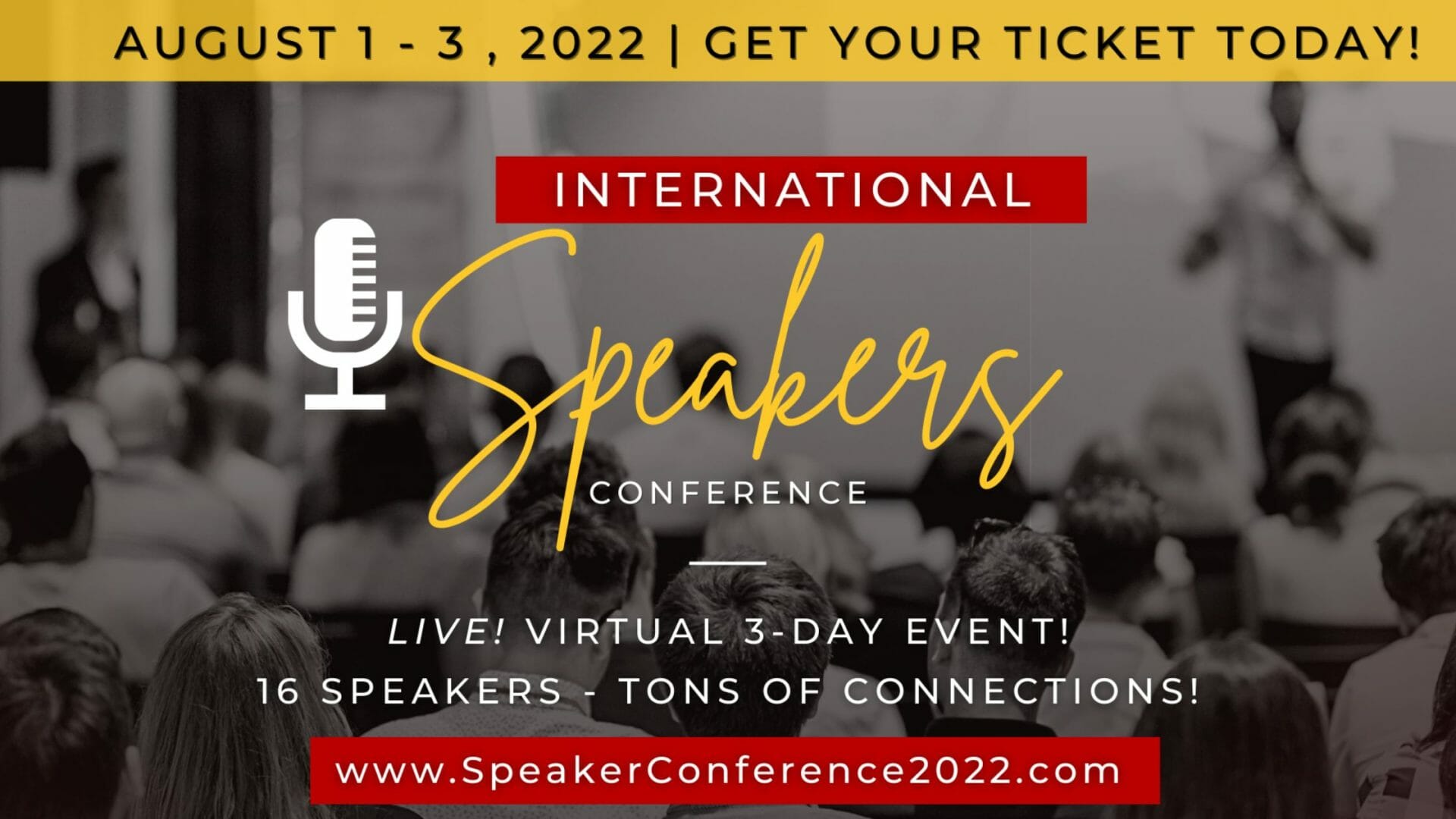 Take your speaking to the next level
For all my speaker friends (and those who want to speak more), you're in luck today!
First, I want to share 15 reasons that speaking is the #1 way to grow and expand your business.
Speaking brings you more:
Credibility
Visibility
Influence
Joint venture opportunities
Cash flow
Leads
Immediate client generation
Expert status
Proof of concept
Confidence
Reach
Connections
Travel opportunities
Podcast guest opportunities
Usable content
Why do you think you see me speaking all over the place plus hosting my own calls and events?
Yep, speaking is one of my main marketing and business strategies. I love teaching more about speaking to clients also and I want to invite you to an event where I'll be sharing what I'm best at:
Jumpstart Your Credibility & Bookability with a Book (or 2 or 10)!
This is an opportunity for you to take your speaking to the next level too!
Join me at the upcoming Int'l Speakers Conference happening on Zoom this August. Registration is open now… I'd love to see you there!
Click here to learn more and get your ticket!
Regardless of where you are in your speaker journey, this Int'l Speaker Conference will be a great thing for you to attend, here's why:
This event is focusing on 3 main areas of speaking:
The Business of Speaking – There will be speakers at this event training on everything you need to know to use speaking as a marketing strategy to get clients and/or a business model to get paid and everything in between, such as websites, sales, materials, image, video, presentations, visuals, mindset, positioning, hosting events, podcasting, writing books and more.
Speaker Resources – Knowing how to find the right people to support you in growing the speaking side of your business is essential. From Virtual Assistants to Website Designers to Photographers, Videographers, Image Consultants, Course Creation Experts or Software, Speaker Organizations and Certification Programs… this conference will have everything you could need all in one place.
Speaker Skills – being an effective speaker, where you either get paid to speak or you earn the trust of your audience enough for them to want to hire you or buy your products and services, requires many skills. This conference will provide a wide array of training to learn those varied skills such as: body language, stage presence, storytelling, presentation, engagement, making offers, authenticity and much more.
Oh, and one BONUS focus of getting as many attendees BOOKED as possible too – there will be speaker bookers and podcast/show hosts in attendance!
Here are a few DOS AND DON'TS about speaking just in case you aren't aware.
Common Speaking DOS:
Start with a story
End with a story (or just weave in stories throughout)
Make a clear (and deep if you can) connection with your audience
Engage your audience in some way throughout with questions, exercises, feedback, sharing amongst themselves, writing something down, repeating back to you, taking action, etc.
Dress for an impeccable first impression (in person OR on Zoom people!)
Speaking DON'TS:
Thank people for having you when you first take the stage – BIG NO, NO!! (Thank them later when it's over) You need to capture the audience's attention immediately when you take the stage (in person or virtually)
Apologize for ANYTHING you think you've done wrong or mistakes in your presentation or materials – Most may not notice, don't draw it their attention!
Pack your slides with too much text and worse yet, READ it all.
Can you think of other DOS and DON'TS that I missed? Reply and tell me!
Moreover, when you decide to attend, you will network, connect and build Joint Venture Relationships with hundreds of other industry-related professionals which will help you build and grow your business or career, as a result.
Showing up at conferences like this, whether virtually or in person, it gets you visible. I'm sure you'll also find a few opportunities for yourself too as there will be podcast hosts and speaker bookers at this event!
And this event, although virtual, will be VERY interactive. You will really get a chance to network, talk with speakers, private message people about what you do and more.
I hope you join us August 1, 2 & 3 for 3 power-packed half days of training, networking and even some speaking opportunities for those who show up!

Join me in Virginia Beach, VA Aug 29-31 for another deep dive mastermind with a handful of my clients and a few of YOU who want to be!
Jumpstart Your Biz 3-Day Mastermind
Come learn, network, plan, play and uplevel yourself and your business!
Want to become an author this year?
Check out 3 books that are currently seeking authors… email me back if you want more info about any of these! Become an author in the Jumpstart Your ____ book, Six Figure Chicks book or Wise Women Wisdom book.
Plan ahead to attend the Int'l Speaker Network's next  call How To Craft Profitable Virtual Events on Friday, July 15th from 9-10 am PST!
Steve will be focusing on sharing tips to fill the room with your ideal audience, and how summits, workshops, networking events are amazing to gain traction and sell your services.
Let's make this YOUR BEST YEAR ever!
I know how to show you how to tweak what you're doing to get really BIG RESULTS in 2022! Book a 1on1 strategy call with me here now!
Here's to creating and enjoying a life full of lots of Love & Money!
"Katrina gave me the push I needed to implement changes in my business and helped my marketing take off with her "jump start your business" bootcamp. IF you're not happy with how your business is going, it's not going to get better until you gain the right knowledge and learn the right way to proceed. I had been listening to different teachers, a little bit here and a little bit somewhere else. But no one gave me the methodology Katrina has. Hire Katrina and watch your results!"
"In just 3 short months in your Live Big Mastermind, wow, you helped me get clarity around my entire planning schedule, and how to make sure I keep the balance in my own business and life, especially since that's what I teach. I've simplified my website, and lead generation systems so things run a lot smoother now which is taking a lot of stress out. I've taken advantage of more speaking opportunities, online summits and am collaborating a lot more with other experts that are growing my reach tremendously. Plus I finally created and launched the high-end mastermind that I have been called to lead for years now and filled it with 5 new people in 30 days! I can't wait to see what else we create as I'm on target for my best year yet!"
Get Started Today
Sign Me Up!
Sign Up Now to Receive My Email Newsletters, Video Tips, Articles, Advice, Free and Paid Events and Opportunities, Plus, Tools and Resources to Grow Your Business Every Week!