Facebook and Facebook Groups
Wondering how to get more clients and jumpstart your sales in your business? You want to learn how to effectively utilize Facebook and Facebook Groups!
In this day and age you have to look at Social Media Platforms as HUGE NETWORKING EVENTS! There are billions of people on these sites, no matter which you prefer to use and hang out on. Every time you log into Facebook or another platform you literally want to think about it as "walking into an in-person networking event".
You wouldn't walk into an in person networking event though and just start throwing your business cards around the room though would you? No. So don't just promote your stuff and leave. (whether on your profile, your page or inside groups)
You would however walk up to someone and say: "Hi, my name is _____, what's your name? What do you do?" Right? So don't be afraid to reach out to people you don't know online. Other people there want to network too, especially other business people. 
You can still do plenty of one-on-one sales conversations and calls on Zoom or other conference lines from leads and people you find and connect with using Facebook and other social platforms.
It's time to learn what you need to do to MAKE MORE SALES during this time. That could mean that you need to DO THINGS DIFFERENTLY or take a class on using Facebook and other social platforms to connect with MORE PEOPLE. 
Let's face it, some of us don't try something new until we're forced. Well… the time has come and I'm going to make this SUPER SIMPLE and convenient for you to learn more about how to effectively utilize Facebook and Facebook Groups especially on this one-time training call.
I'm the Queen of teaching the HOW-TO!
My clients tell me that they love my calls and trainings because I literally teach them step-by-step what they need to do, say, send, click and post to become more successful in their business – online or offline – no matter what I'm teaching.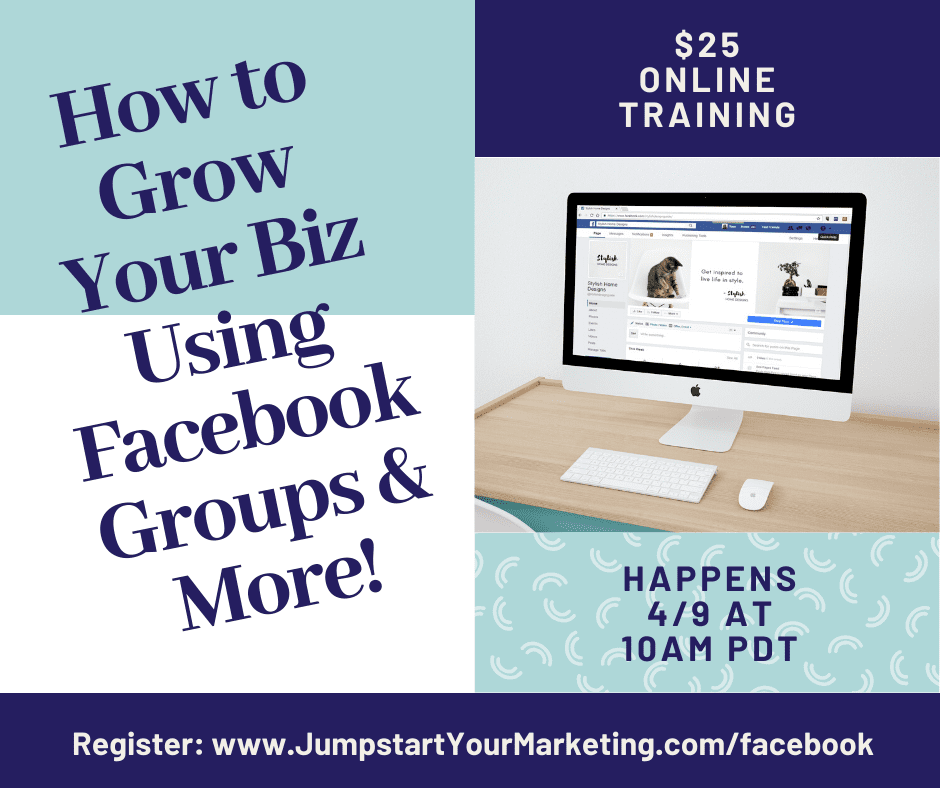 Training Details:
This event happened LIVE on Zoom already but you can get immediate access as soon as you sign up!
Training included live screen-sharing onto Facebook to "show" you everything while we talked about what to do.

Everyone who registers can also connect into my Free Public Facebook group as well, there is no private group for this training.
You can do this, let me just show you HOW.
I typically charge a lot of money to clients to teach them this type of stuff one-on-one but I think this is so important of a skill to learn as an entrepreneur these days that I did it for a super easy investment of just $27.
You have a choice. Sit back and hope your business continues on as usual or DO SOMETHING ABOUT IT and learn how to GET BETTER WITH YOUR ONLINE MARKETING NOW.
"Kat this was an excellent class. I learned a lot. Facebook groups are a great way to add value to your community. I have had a facebook group for a while and Katrina helped me tweak it and add some more value: personalized url, engagement techniques and marketing ideas."
Here's what I'm doing and how you can benefit and participate:
I recorded a one-time online training for 90-min all about using Facebook and Facebook Groups to find leads, follow up, build relationships, do marketing, take it to a sales conversation, promote your stuff, engage and more.
I focused this call just on Facebook because there is so much just to know about this one platform and also because it's my favorite. I may do others later on other platforms like Twitter, LinkedIn or Instagram but frankly I have friends who are teaching those types of programs already so email me if you want to learn about those sooner than later and I'll refer you.
Ready for this? Let's go!
Get Started Today
Sign Me Up!
Sign Up Now to Receive Kat's Email Newsletter, Video Tips & Free Jumpstart Your Biz Audio & Checklist!