FREE AUDIO TRAINING AND CHECKLIST
Top 10 Revenue Producing Activites Biz Kit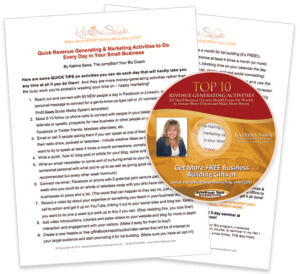 TOP 10 REVENUE PRODUCING ACTIVITIES 
AUDIO TRAINING & CHECKLIST
Do yourself a favor, save tons of time and money that you could end up spending on the WRONG ways to build, grow and market your business. Instead invest $0 today and get your ROADMAP to success!
No more guessing at what will work and what won't
No more worrying if you'll be able to pay your bills
Focused, clear action steps that you can implement now to get more clients
Clarity on what next steps you REALLY need to take and which you should wait on
Empowered and smarter thinking about the way you run your business
Knowledge of which marketing strategies will work to attract more of your ideal clients

Sign Up Now & Receive Your FREE Jumpstart Your Biz Kit Now
The JumpStart Your Biz Coach, Katrina Sawa helps entrepreneurs make more money doing what they love. She is the creator of the JumpStart Your Marketing® System, a tell-it-like-it-is speaker and International Best-Selling author of: Jumpstart Your New Business Now, Jumpstart Your _____ and Love Yourself Successful.  She has been featured on the Oprah and Friends XMRadioNetwork, ABC and TheCW and she was awarded the National Collaborator of the Year Award by the Public Speakers Association and a 2-time Nominee for the Wise Woman Award by the National Association of Women Business Owners. She speaks to groups of all sizes, holds live training events annually and she's the founder of the International Entrepreneur Network.
Ready to take YOUR business to the next level and fast? Or want to know how Kat can potentially help YOU JUMPSTART your business? Schedule a 1on1 call to find out. There are many options. 
Or perhaps you're more of a Do-It-Yourselfer? Great! Go check out Kat's huge list of various trainings, webinars, and books and grab something to get started today!